As a HubSpot user, you want to work as efficiently and effectively as possible.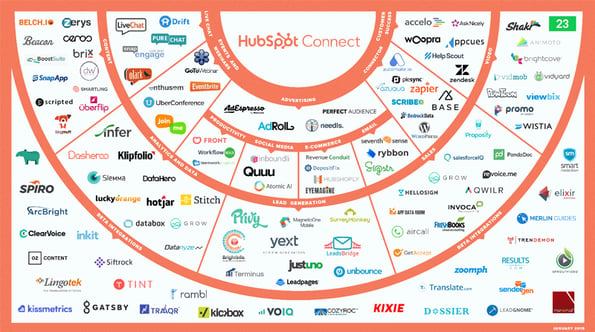 The HubSpot Connect program helps you do just that by bringing new companies into the platform to deliver helpful solutions to you, our customer.
We're building an ecosystem of product integrations that help you expand and improve your marketing and sales capabilities — all while using HubSpot.
Each month, we showcase several of our newest product integrations and beta integrators to let you know how that ecosystem is growing.
Maybe you're already using one of these technologies and you're excited to learn about how it now integrates with HubSpot, or maybe you're in the market for a new tool to increase your team's productivity.
The HubSpot Connect program is growing rapidly. You can find all of our integration partners here. For now, let's get in to some of the newest beta integrators and certified partners in the HubSpot ecosystem.
New Product Integrations
If you're a user of both HubSpot and one of these technologies, enable the integration in your HubSpot account to check it out.
Socedo (certified) — For the social media marketer.
Add new, warm contacts to your HubSpot database from your most engaged prospects on social media. Use enhanced data points to create email nurturing workflows, segment lists for retargeting, and pass leads to the sales team.
Rambl (certified) — For sales reps and managers who want the details captured from every call.
Unlock the value of sales calls across your entire organization with Rambl, your intelligent sales phone system for growth.
OrgChartHub (certified) — For the employee interested in
customers' organizational structure

.

Build and store customer organization charts on each of your accounts without leaving the HubSpot CRM. Relationship mapping and customized sales personas help your team visualize the key stakeholders and close more deals.
Toky (certified) — For the sales/services rep always on the phone.
Connect your virtual phone system and Hubspot CRM and increase the productivity of your sales and support teams. Call with a click inside your CRM, automatically log inbound and outbound calls, and much more.
Elixir (certified) — For the strategy-driven salesperson or marketer.
Visualize your HubSpot contacts from a geographical perspective on Google Maps.
Swoogo — For the event marketer who wants to track registrant data.
Automatically push Swoogo registrations into HubSpot. Add new records, match up to existing records, and update event registration history directly into HubSpot.
WorkCast — For the marketer who wants to optimize webinar automation and attendance.
Automate entire webinar workflows directly in HubSpot with one click. Improve your webinar registration and viewer numbers and feed your sales team in real time.
PrompterAI — For the customer-facing employee who needs that pre-meeting refresher.
Automate your meeting preparation with an executive briefing. Connect your calendar and sales tools and receive a digest containing the latest communications and updates before your scheduled meetings.
Paperless Proposal — For the salesperson eager to streamline the proposal process.
Quickly create, manage, and track your proposals in HubSpot. Leverage HubSpot's follow-up automation based on proposal viewing behavior.
Import2 Wizard — For the all-in-one data guru.
Import from CSV files, clean up and export contact lists, identify missing data and fix duplicates.
FlowWright — For the sales rep who wants additional automation capability.
Automate your sales process in three easy steps and drive up revenue with productivity, consistency, and efficiency. Tasks and decisions are immediately assigned, sales artifacts are automatically captured in your CRM, and milestones are automatically advanced per your process.
Fomo — For the marketer looking to build brand credibility.
Create social proof and increase conversions by showing off recent leads and contacts, live on your website with Fomo.
MoData — For the salesperson obsessed with optimizing pipelines.
Combine all of your sales and marketing data across CRM, marketing, sales, and customer outreach systems. Hundreds of ready to use sales reports, history tracking, pipeline inspection, forecasting, deal predictions, and more.
Let us know what you think of these integrations. Know of any other technologies you'd love to integrate with your HubSpot account? Email us at connectmarketing@hubspot.com.