August has absolutely flown by. Can you believe INBOUND is almost here?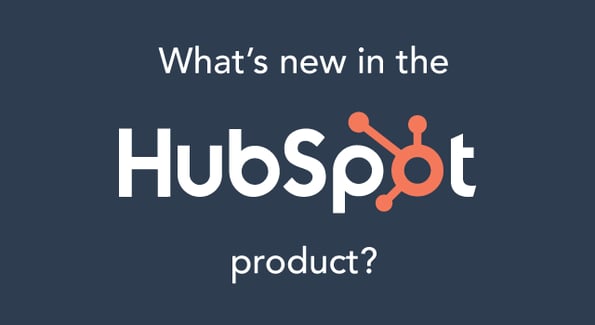 Take a moment to step back and catch up on all the incredible new tools you have available in your account.
Here's what's new in HubSpot this August.
What's New in the HubSpot CRM?
Introducing Conversations.
The way you communicate with your customers has changed.
Most customers want to have a conversation over messenger, email, or on the phone, and they expect to have a seamless experience regardless of which channel they choose. In reality, communication channels are often kept separate, leading to lack of context and a poor customer experience.
No more with Conversations. With live chat, team email, and an easy-to-use chatbot builder within one shared inbox, HubSpot gives you the messaging tools and context to have personalized conversations with prospects and customers at scale — for free!
Ready to build better relationships with your customers?


Learn how here.
Manage all your subscriptions without a single export.
Managing your contacts' subscription preferences should be painless and hassle free. In the old world, you would have to export contacts, manipulate data in a spreadsheet, and finally re-import them with different values. With the ability to bulk update subscriptions right from the contacts view in HubSpot, you no longer have to jump through hoops to ensure your contacts receive the communications they expect to see.
Want to handle all your subscriptions within HubSpot?


Learn more here.
An improved integration with Salesforce.
If you integrate with Salesforce, you now have access to a faster, more secure, and more flexible version of the Salesforce connector. There are a number of important changes to the new connector.
First, your reps can now leverage all your HubSpot data within the new Visualforce to improve their prospect interactions. In an effort to further protect your data, Salesforce users will now need a HubSpot login to view HubSpot data within Salesforce. Finally, we are no longer syncing the HubSpot Intelligence Object in Salesforce integrated portals, and we're encouraging that you use our standard field mappings instead. By eliminating this custom object, the integration will take up far less storage within Salesforce, saving you money.
Imports that make your life easier.
No one likes manual data entry, so it's important that your import process runs as smoothly and efficiently as possible. The new HubSpot import UI does just that. We've added a number of new features to enhance imports within HubSpot this month, including:
1. The ability to import tickets and products.
2. Imports now support .XLSX and .XLS files.
3. New ways to create lists off your imports.
4. Easily create contacts, companies, and deals filters.
5. Lifecycle Stages and GDPR Settings have moved to contacts.
6. An object ID to import, search, and deduplicate contacts, companies, deals, and tickets.
What's New in Marketing Hub?
Get targeted with your advertising audiences.
Being targeted with your ads is the hallmark of any good ads strategy. It's the difference between your content being viewed as intrusive or truly relevant and helpful within the buyer's journey.
This past month, we've added two new targeting options within the ads add-on: Google Ads Audiences and URL based website audiences.
Create a Google Ads audience so you can get targeted, or adjust your bids for specific contacts in search. Use URL-based website audiences to serve ads to only those people who have visited specific pages on your site. For example, you can target an ebook offer toward visitors of your blog, while targeting a sales demo offer at visitors of your pricing page.
Discover your next great topic in content strategy

.

In order to get found in search results, you need to organize your content around a broad topic and include backlinks to a pillar page that alerts search engines to your domain's authority on that particular topic. What's the first step? Pick the right topic for your business.

Topic discovery in content strategy will let you quickly research topics and compare them against each other. You'll see stats on monthly search volume and difficulty to rank for a specific topic phrase. With this information, you can make smarter decisions around the content you'll create.
What's new in Service Hub?
Target the right customers with your support survey

.

Feedback is critical to your company's success. Knowing when a customer has a poor or fantastic customer support experience enables you to take corrective action when needed, or identify those customers who your support team is turning into promoters of your brand. But of course, not every survey is meant for every customer. With this in mind, you're now able to target customer support surveys only at tickets in a specific pipeline. This will ensure the feedback you receive is relevant to the experience your customer had with your brand.
Want to learn more about targeting support surveys?


Check out this blog post.


Create the exact report your service team needs

.

When we first launched Service Hub, we included a number of pre-built reports within the reporting library. These pre-built reports covered a wide range of reporting use cases, but you couldn't create a custom tickets report if your service team had more advanced reporting needs. By adding custom ticket reports within HubSpot, you can further rely on HubSpot as your system of record when it comes to analyzing and sharing data amongst your team.
HubSpot Connect
We're constantly looking to add new integrations to make your life easier in HubSpot. From creating custom reports with Zoho Reports to using AI to engage your prospects with Conversica, our Connect integration library is growing to help you customize your experience within HubSpot to meet your needs.
That's all for August. We'll be back next month with even more exciting product updates.