As a HubSpot user, you want to work as efficiently and effectively as possible. The HubSpot Connect program helps you do just that by bringing new companies into the platform to deliver helpful solutions to you, our customer.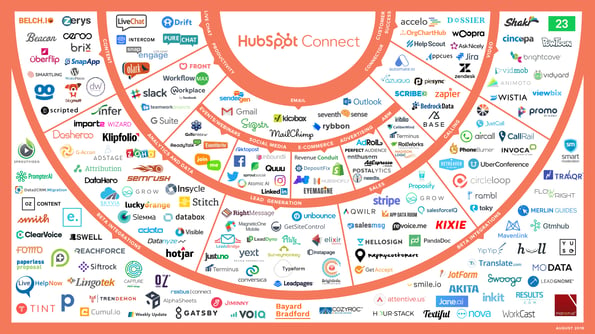 We're building an ecosystem of product integrations that help you expand and improve your marketing, sales, and service capabilities, all while using HubSpot.
This month we're talking about Oktopost, atEvent, Sprout Social, and more.
Each month we showcase several of our newest product integrations and beta integrators to let you know how that ecosystem is growing.
Maybe you're already using one of these technologies and you're excited to learn about how it now integrates with HubSpot, or maybe you're in the market for a new tool to increase your team's productivity.
The HubSpot Connect program is growing rapidly. You can find all the integration partners here.
For now, let's get into some of the newest beta integrators and certified partners in the HubSpot ecosystem.
New Product Integrations
If you use both HubSpot and one of these technologies, enable the integration in your HubSpot account to check it out.
Oktopost (certified) — For the marketer leveraging social media insights
Oktopost is a social media management and employee advocacy platform for B2B companies. With Oktopost, you can track lead engagement with your brand on social media then leverage these insights to build highly personal marketing campaigns in HubSpot.
atEvent (certified) — For the event marketer
atEvent is a universal lead management solution for events, conferences, and trade shows. Stop the cycle of RENT, LEARN, SCAN, REPEAT. atEvent scans and qualifies lead information directly from your personal iOS or Android device to seamlessly integrate with your CRM or HubSpot.
Jiminny — For the sales and success team manager
Improve team communication and productivity with Jiminny. Capture every customer conversation for the best visibility, and simplify how teams work by integrating coaching, web conferencing, and a dialer in one place.
Fireflies.ai — For the efficient salesperson
Put more focus on the conversation and create more powerful relationships by no longer needing to take notes during calls with clients. Your meeting notes and full transcription will automatically route straight to your contact and deal records inside the HubSpot CRM.
BEE Pro — For the email marketer looking for beautiful templates
BEE Pro is the complete email design suite for creating beautiful emails, fast. Over 100 professionally designed email templates to start from, custom template management, message review and approval, user roles and permissions, brand settings, and quick export to HubSpot.
XeroSync — For the business looking for easy invoice tracking
Make deals and easily manage your Xero invoices all in one place. This plugin will let you invoice your HubSpot deals without leaving HubSpot. Once you create an invoice in HubSpot it will automatically be available in Xero.
Sprout Social — For the support team that manages customer interactions on social media
Create real connection through social customer care. Easily manage helpdesk tickets from social media, and enable your teams to collaborate on social media engagement and customer service through the Sprout Social and HubSpot Service Hub integration.
AdStage — For the marketer reporting on ad campaigns
Analyze, report, and optimize ad performance alongside analytics and CRM data, in one easy-to-use platform. Import your Facebook Ads, Google Ads, Twitter Ads, LinkedIn Ads, Google Analytics, and HubSpot accounts to find insights and take action at scale.
Triblio — For the account-based marketer
Connect your HubSpot lists to an ABM platform to run targeted ads and web personalization. As known and unknown visitors respond, track account-based intent data to deliver sales enablement insights and trigger relevant outbound campaigns.
Leadfeeder — For the analytical marketer
Leadfeeder shows you which companies are visiting your site, how they found you, and what they're interested in — all via your existing Google Analytics. Get this information to HubSpot to empower your prospecting.
Vertify — For the business trying to connect data across disparate applications
Vertify provides pre-built, unparalleled HubSpot integrations. Vertify was built to feed HubSpot with customer information from other applications like NetSuite, SugarCRM, BaseCRM, Microsoft Dynamics, and many more.
nDash — For the content marketer
The nDash platform gives brands the tools, talent, and topics they need to scale content creation. This integration makes it easy to push completed content into HubSpot's blog editor and execute on your inbound marketing strategy.
NeverBounce — For the email marketer focussed on improving email deliverability
Improve deliverability and protect your sender reputation with NeverBounce: the email verification and list cleaning service. The HubSpot + NeverBounce integration allows you to import your HubSpot lists into NeverBounce and send the validation results back to HubSpot.
Let us know what you think of these integrations. Know of any other technologies you'd love to integrate with your HubSpot account? Email us at connectmarketing@hubspot.com.