Successfully starting a conversation with a potential B2B customer is a challenge. Before you begin, you need to consider the most relevant communication channel, your future client's first impression of your brand, the level of personalization in your campaign (so you're precise but not creepy), the easiest conversion path for a lead to follow, and the possible micro-conversions you can offer to those who are not ready to completely convert.

With all these factors to consider, you might be wondering What do I do now? Well, you need meaningful data.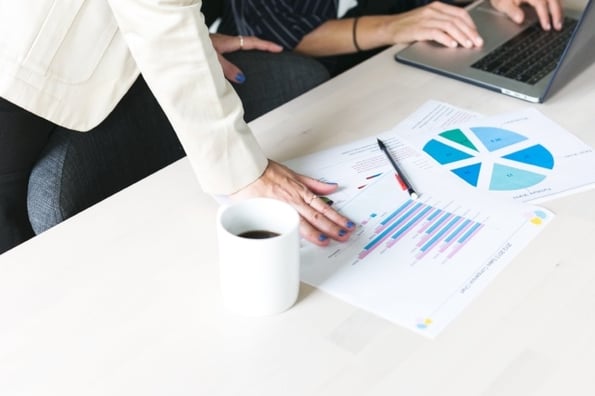 One of the most convenient ways to get and analyze this meaningful data is through the combination of Hubspot events and contact information, LinkedIn audience insights, and Google Analytics data. Read on to learn more about our success story here at Gift Baskets Overseas, an international gift and flowers delivery company. You might be inspired to follow our example and find success, too.

Choosing the Most Valuable Action with Hubspot Events
We started by selecting the most important touchpoint on the potential client path to the partnership: a detailed request form submission. We tracked this event using the Hubspot event analytics tool.
To set up this tracking, log in to your HubSpot account, and then follow these steps:
Navigate to Reports > Analytics Tools.
Click Events.
In the upper right-hand corner, click Create event.
In the pop-up box, give your event a name, and tag it.
For the Event type, select Submitted form.
Click Next, and then use the Form dropdown menu to choose the particular form you want to track submissions from.
Click Save.
Simultaneously, taking into account the information we collected about our B2B customers, we started analyzing data about the first touchpoint a lead had with the business that then resulted in the form submission and becoming a corporate customer.
To understand what message worked best for this purpose, we analyzed two contact properties in HubSpot for our most valuable corporate clients: Original Source of the customer's first visit and First page seen.
With this information, we knew the specific type of the contact's first interaction and on what marketing channel it occurred — for example, a particular display banner or a text ad in a specific campaign with a white paper, product information, or information about the business as a landing page. We used this insight to make data-driven decisions on what interactions and marketing channels performed best to move leads toward submitting the form that kicked off communications between business and potential customer.
So, by collecting the information that performed best for the acquisition and defining the most valuable form, we defined a marketing message and a landing page for the campaign. For this, we used the following tools:
HubSpot event analytics: You can find this in your HubSpot account under Reports > Analytics Tools and then under Events.
HubSpot contacts data: We used filters (described in more detail below) and analyzed the Original Source and First page seen contact properties.
To build the filter, navigate in HubSpot to Contacts > Contacts. On the left, click + Add filter. Search for the following properties, and select the following for each:
Type | B2B: This filter selects only the corporate clients. However, this isn't a default HubSpot property. We had to create this as a custom property.
Lifecycle stage | Customer: This filter selects only the buying customers who already converted.
Form submission | [form name]: This filter selects only the contacts who submitted the specified form, which will be the same form indicated earlier.
Using these tools, we gained insight into the original source of each contact visit (e.g., organic search, paid search, or social media) and the first page seen by each contact.
Equipped with this data, we could then use the most effective landing pages for different channels before leading visitors to the form submission page.
Selecting Targeting Criteria With Hubspot Contact Information and LinkedIn Audience Insights
Thanks to Hubspot collecting all possible data on the business leads and clients, we already knew who our corporate buyers were, their titles and roles, industries, company size, etc.
At the same time, we wanted to collect even more data on the first time visitors engaged with the corporate content (product catalog, case studies, customers' success stories, and the blog). So we installed the LinkedIn Insight tag.
Now we had a comprehensive targeting options list:
Industry
Title
Company size
Location
Working on the Most Reliable Path to Purchase With Google Analytics Data
B2B buying cycle is rarely completed in one step, even if the touch point is very carefully selected. That's why we wanted to retarget the first-time visitors with different messages through different channels, analyzing the customers' path to the B2B purchase and using different types of content as landing pages for the retargeted audience that visited the initial page of the campaign but didn't convert.
Results
With all the data collected, we were able to launch a B2B marketing campaign on LinkedIn, generating 4 times more traffic and 30% more new leads than control B2B campaigns. We targeted potential leads based on title, industry, business size, and location, and we used the most compelling message in the promotions and landing pages for our existing customers. We then retargeted them after the first visit to the website with ads and messages relevant to different steps in the purchase path.
Final Thought
Collecting meaningful data and using it effectively is key to advertising campaign success. HubSpot's tools gave us data about the most valuable leads and visitors to the website. We also gained the flexibility to combine it with the insights from web and social media analytics platforms. The end result? Precise targeting, informed decisions on the customer journey, and the most effective messaging.
For a marketer, such combination gives more confidence when launching and scaling advertising campaigns as well as the ability to fine tune them when needed. You definitely don't want to miss any opportunities in your marketing arsenal!