The best types of leads are strangers that match your ideal buyer profile AND are active in their buying journey. But you'd be surprised how often sales pipelines become populated with passive buyers, who have no real intention of purchasing anything anytime soon.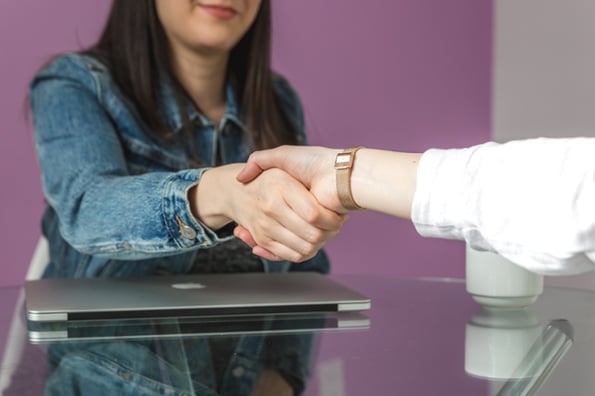 It's therefore crucial that your sales team knows how to prioritize these active buyers and that you ensure your HubSpot CRM is set up to alert them of any hot leads.
In this article, we'll give examples of active buyers your sales team may come across, how they can identify them in the CRM, use their time wisely, and ultimately sell better. We'll also throw in some useful reporting tips along the way.
Inbound Leads
One form of active buyers is visitors completing forms on your website, often referred to as inbound leads. The moment an inbound lead comes in represents a moment of interest by the buyer — one you can't ignore.
An inbound lead is, hands-down, the most valuable of all leads. By providing their details, a buyer is basically giving you permission to get in touch with them, as they're intrigued by your proposition.
With the HubSpot CRM, you can assign a salesperson to get an instant email notification whenever someone submits a particular form.
How and when to follow up
A good salesperson will connect with inbound leads as soon as possible, as an important aspect of buyer context is timing. The closer they can be to help the buyer at this moment of interest, the more helpful and successful they'll be. We live in an instant world, and we want answers now — not when we're caught up in something else the next day.
However, a salesperson may decide to leave a prospect with marketing for a while longer to be warmed up if they're not exhibiting signs of readiness to be sold to. For example, Contact A who filled out a form to request a demo is much further down the buying journey, and therefore a "hotter" lead, than Contact B who handed over their details in exchange for a downloadable eBook.
Ultimately this decision lies with the assigned salesperson — if they don't have a lot of high-quality prospects in their pipeline, they'll probably choose to call them both, regardless.
Inbound Companies
Companies visiting your website, often referred to as inbound companies, also make great leads. A best-in-class website may convert 5% of visitors into inbound leads. That means at least 95% of the potential buyers finding your website won't fill out a form and identify themselves. Just because these visitors don't fill out a form doesn't mean they're not in an active buying journey.
How and when to follow up
Salespeople should still make every effort to engage with these potential buyers. While it's usually not possible to connect an anonymous website visitor with a specific buyer, modern sales and marketing software such as HubSpot enables you to identify the company from which an anonymous visitor originates.
Using HubSpot's prospects tool, you can gain insight into who visits your site. It detects the IP addresses associated with each page view on your site and then provides you with your visitor's company name, location, number of visits, and more.
So if you notice a lot of visitors to your site from a company in your target market, they may be interested enough in your offerings for sales to call them and start the sales process. This often works with great success because you're catching them in the moment and making sure it's the right time for them, not you.
Trigger Events
A final source for active buyers is found through "trigger events." The concept of trigger events has been around for a while. For example, decades ago, if a salesperson noticed a newspaper article about a potential buyer, the salesperson may reach out to the potential buyer by referencing the article. In the same way that the internet has empowered buyers with more information, it has also empowered salespeople with more information — and more trigger events! Salespeople should listen for the trigger events online that may suggest a buyer active in a buying journey.
Pro tip: It's always best to call prospects who are active in the buying cycle. By prioritizing such individuals, your sales team will not only increase their success rate, but also increase their productivity and job satisfaction (no one likes being told to get lost repeatedly!).
Lead Scoring
Another way to separate the good, quality leads (active buyers) from the people who are just starting to look around is by using lead scoring in your CRM.
Lead scoring is a methodology used to rank prospects against a scale that represents the perceived value each lead represents to your business. The score or criteria could be based on job title, company, or what type of engagement they've had with your website.
For example, you'd likely rank a vice president at a company in your target market who has visited your pricing page multiple times higher than a junior-level person who has shown similar behavior.
Reaching out to leads in the right order is critical for a salesperson's success. Instead of responding to leads as they come in, prioritizing the hottest ones based on behavior and demonstrated interest is the easiest way to convert prospects to customers. And it's even easier to achieve when you have a killer CRM like HubSpot.
The HubSpot CRM has a great stack of reporting abilities that you can use to get the best insights of your sales team and help them succeed.
To make sure you're getting the most value from your HubSpot CRM, below we look at the best reports that every management member should deploy to help sales teams sell better. You can also check out our video to find out the three best features in HubSpot CRM we use to prioritize leads.
The Top HubSpot CRM Reports to Help Your Sales Team Succeed
One of the best ways to evaluate success is with quantitative data. The following HubSpot reports will give you insight into how your sales team's hard work is paying off:
Forecasting: This report shows the amount of revenue for deals in each stage of your deal pipeline. The forecasted revenue is calculated by multiplying the deal amount by deal stage probability.
Sales funnel conversion rates: A great way to inform your forecasting reports is to create a separate report that draws data from how often opportunities move from one stage of the sales process through to the next. This will help you set the correct probability of closure against each of your deal stages and also will give you insight into where opportunities are dropping off in the sales process.
Sales performance reports: A sales performance report spells out exactly what you need to know, such as how many contacts have been created from marketing and prospecting, how many have been assigned to a sales person, how many of them have been actively contacted, and how many have turned into opportunities or customers.
Contacts reports: This report will help you prioritize opportunities based on contact characteristics that indicate they're either a good or bad lead. For example, within the CRM, you'll have access to all the information relating to the source of your contacts, when they were last contacted, what stage of the sales process they're at, and whether or not they've been assigned to another member.
Activity reports: Creating activity reports will show you how many emails are being sent, calls are being placed, and meetings are being booked by your sales team. This can then be compared against the forecast reports or revenue reports that show how much revenue each sales person is generating. This way, you'll be able to identify themes and pinpoint needs for improvement if there's a correlation between the amount of activity and the amount of revenue created.
Probability relates to the chance (in percentage) of converting a lead into a customer. For example, someone at the first stage of the sales process may have a 10% chance to become a customer, whereas someone who has been sent a proposal should (hopefully) have a much higher percent of closing.
For example, if you have a high conversion rate all the way through to the point you present a proposal, and then the majority of opportunities drop out, then this would indicate that there hasn't been any pre-qualification or selling of your businesses USPs — you'll just be competing on price.
Pro tip: Get a clear picture of all correspondences with all your leads by connecting your inbox with the HubSpot CRM. This way, every interaction made by your sales people against individual contact records are all in one place.
What other tips do you have for nailing your lead management in HubSpot CRM? Share with us on the HubSpot Community.