What is easily accessible online, full of helpful content, and tremendously informative all over? Sounds like your own resource center to house all of your content to help your customers.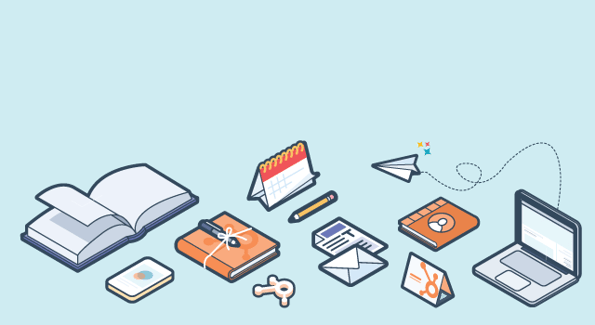 Creating a resource center (or a knowledge base, as we often call our own) is one of the best ways to give back to your customers while growing your own thought leadership in your industry.
But how do you build one? Let's cover what makes a good knowledge base, how it helps your business, and how to set up your own.
What is a Resource Center or Knowledge Base?
A resource center is a collection of content to help you inform and teach your customers about different aspects of your business. (As we mentioned above, it's also commonly called a knowledge base.) The content can take multiple forms, such as articles, tutorials, videos, and infographics. Overall, it should be easily accessible online so your customers can rely on it to get their questions answered and learn best practices.
Picture this with me: Let's say you're in the landscaping business. You primarily do residential work, and one of the main tenants of your business is to encourage your customers to become familiar with their own lawns, trees, and flowers so they're motivated to do their own minor upkeep -- and then hire you when big jobs come around. That means your knowledge base might consist of video tutorials ("How to repot a hanging plant") and written Q&A articles (FAQs related to maintaining perennials), to name a couple of possibilities. Make sense?
What Can You Achieve With Your Own Resouce Center?
1. Show your Customers Love
A resource center is a gift that keeps on giving. Think about it -- it's meaningful to your current customers by helping them be more successful. Creating this resource shows them that you would never leave them (or their precious peonies) out in the cold.
2. Attract more Prospects and Leads
The same way establishing a blog helps your SEO and lead generation, a carefully constructed knowledge base helps you build even more pages with educational content that can attract visitors to your site.
Not only will your customers love this content, but it's also great for prospects and leads. It helps establish you and your business as the expert on landscaping (or tax software, or air mattresses). Make sure you have strong calls-to-action on your pages to drive your visitors to a landing page (like a free consultation form) so you can use this content to generate new leads. Tip: If you are currently using Smart content, perhaps show those CTAs to your visitors only and not to your customers. (After all, your customers don't need to fill out a consultation form!)
3. Empower Self-Service
In addition to securing your role as an authority in your industry, a knowledge base provides a self-service alternative to more reactive support models.
So let's say that you just resodded Jill's yard. Perhaps after your team left, she realizes that she forgot to ask about the ideal time to have her sprinklers run. Jill can give your office a call, but that takes up her time (picking up the phone, waiting on hold if you're busy, and talking to someone on your team) and more resources on your end (needing enough staff there to answer the phone).
When you have a knowledge base in your arsenal, your team can encourage Jill to use it for quick answers -- like the sprinkler question. Of course there is no replacement for the personal touch, especially in more complex situations. However in Jill's case, the "What is the best time of day for my sprinklers to run for maximum lawn happiness?" article would get her question answered fast and save her a phone call.
How to Make Your Own Resource Center
At this point, we can agree that knowledge bases are useful resources. Building a knowledge base is an investment that requires time and dedication, so we've put together some tips based on what we've learned at HubSpot to help you get started.
1. Understand how your users like to access information. Experiment with multiple types of content and take feedback into consideration. Find out whether your users prefer to read tutorials or watch how-to videos. Avoid tackling too many formats, though. It is better to excel at a couple of formats than to create a mess of imperfect components. Choose two or three content types -- for example, quick answers, long-form tutorials, and a few videos -- and devote your energy to making them the best they can be. Test, test, and test again!
2. Create individual pages to answer the key questions your customers have. These could be site pages you build via HubSpot, or blog posts you write over time. Include the content formats your customers prefer on these page. Then create a home base where someone can search for answers. Perhaps try Google's site search tool.
3. Answer one question per page. Keep the information focused. Make it easy to get a single answer on each page, and provide easy-to-follow steps and screenshots. For example, at HubSpot our Quick Answer articles are intended to answer only one question per article. In this article, we only tackle how to edit the text of a form submit button and nothing more. Readers can click through on related articles linked at the bottom if other questions come up. This method prevents each article from getting weighed down by trying to accomplish too much at once.
Also, include links to relevant information (other articles, related blog posts about best practices, etc.) anywhere possible. If you create videos, keep them short and engaging. Whatever you do, keep in mind that your user doesn't want to spend all day looking for the answer to their question.
4. Accept and listen to feedback. Knowledge bases are living, breathing entities that are constantly in need of maintenance. There is no better way to improve your knowledge base than to listen to the people who read it, because they depend on your articles to learn.
At HubSpot, we use Tally to provide our knowledge base users with an easy way to submit compliments, criticism, and comments in general. Because Tally feedback can be submitted without having to navigate away from the article a user is reading, the process is simple and doesn't require a significant time commitment. We receive invaluable feedback every day from our readers who point out those sneaky outdated steps, tell us how the article could better serve them, and much more.
5. Don't forget to respond. If users take time to submit feedback and they never hear back from you, they'll get discouraged. Treat your readers like members of your team. If a user asks a question that another help article answers, send it along. If you took action based on the feedback, let the reader know. Make sure your knowledge base users understand how meaningful their input is.
6. Promote your knowledge base to your audience. If no one knows about your knowledge base, it doesn't really exist. Get your team on board and promote your knowledge base every chance you get. Provide a variety of access points to your knowledge base by linking to the articles from other pages on your site, via your product, on your blog and social media, and so on. When users reach out to you for help, introduce them to the knowledge base and show them how to use it. Let them know that they can get their questions answered there, too
Building a useful knowledge base doesn't happen overnight. It is an effort that takes time and dedication, but the long-term benefits to your business, customers, and prospects make creating and maintaining a knowledge base well worth your while. We've learned a lot from our knowledge base journey, so we hope this article gets you started on your own. Don't forget to check out our work on knowledge.hubspot.com and let us know what you think!