A version of this post originally appeared on HubSpot's Designers blog. To read more content like this, subscribe.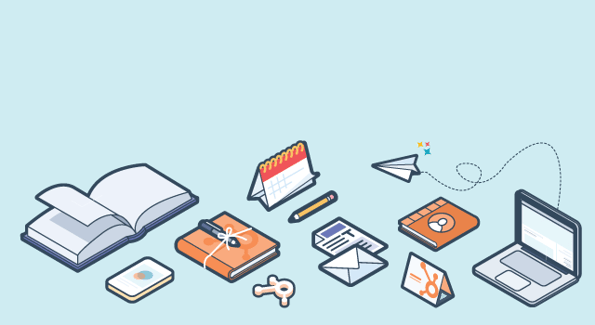 Congratulations! You have a new project, and it's a redesign for the COS -- how cool! I know it's tempting to just dive in and get started, but there are some things you should think about first to make sure you're fully prepared right from the start.
Before we begin,
what is
the COS? That's HubSpot's
Content Optimization System
, or COS for short. It's part content hosting system and part personalization engine so you can make your content appear differently to different people via "smart content" based on their interests, persona, and more. Many customers consider getting the COS in order to offer that very personalized experience. Whatever the reason, we always suggest doing a big website shift in the context of a redesign. That way your strategy is already in place, and you have a specific goal in mind.
Then to start your redesign, follow these tips and you'll save some headaches later.
1. Every website redesign starts with goals and personas.
That means you can't just jump into choosing site features, creating wire frames, and designing. You first need to define what the intended purpose of the redesign is and who it will be targeting. Site features, information architecture (that's a fancy phrase for site navigation), design, and content all need to have a purpose that supports the goals and the audience.
Setting clear goals and well-defined personas will also help create a clear compass for all future project decisions, and it also keeps you focused on the right people and intended outcome. A beautiful website won't do anything for you if it's not effective at communicating the intended goals of the project.
2. Speaking of strategy, don't forget about Smart Content.
HubSpot has all sorts of tools that help you make your website more effective at targeting your personas, depending on where they are in the funnel. One of the most powerful of these is smart content. (This is only for HubSpot Professional and Enterprise Users - but this feature alone makes the upgrade worth it if you use it right.)
Essentially,
smart content
allows you to personalize your website to each visitor, much like Amazon. This is especially helpful with life cycle marketing and dynamically (and automatically) changing your site's content and CTAs according to where that visitor is in the buying process. So,
automatically
, your website becomes more and more relevant as each person continues to visit. This is a powerful tool that will increase your websites conversion. Plan it into your redesign strategy from the beginning so that you can get the best value out of it.
3. There's a lot that goes into a website. Your stakeholders will have to devote some time to it too.
Do you ever watch those interior design shows on HGTV? (It's okay, I won't judge - I do too.) You know how the excited homeowners give the designers an example or two of what they like, then they go on vacation for a week or two? They come back and their house is totally redone and beautiful and exactly what they wanted.
Yeah. Web design isn't like that. (Neither is real interior design or renovation, but that's a different post for a different day.)
It takes a lot of effort from both sides in order to get a quality product out the door. Set the expectation from the beginning. After all, they need to do several rounds of reviews, provide and/or approve content, be available for questions that come up along the way, etc. It's a process that without stakeholder involvement would totally fail. Make sure they're aware of how much time they will need to commit to the process so it's not a surprise down the line.
4. Design is limitless but extra functionality is limited to what the API is capable of.
HubSpot is a wonderfully intuitive, beautiful, and powerful platform to build websites on. It's almost limitless on the front end. You can do some amazing designs and it's endlessly flexible in that sense. That does not mean that it is all-powerful. (Shocker, I know!) Extra functionality or plugins are, of course, limited to the API or any tools that already exist.
Before talking through site ideas and your stakeholders' wish list, make sure you're familiar with exactly what you can and can't do with the HubSpot COS so that you can keep your stakeholders grounded and ensure its the right fit for the project. (And also so you don't promise to deliver something that's just not possible -- at least without a lot of legwork and headaches behind the scenes.
A lot of things which weren't possible before are now within easy reach thanks to the new custom modules feature. Make sure to
check out the docs
to see all the cool things you can now do.
5. Just doing a redesign doesn't mean your website will get more traffic and become an inbound powerhouse.
That's not how the web works. Google doesn't care that your website is prettier. Don't get me wrong, redesigns are totally the way to go. But that old adage of "if you build it, they will come" just doesn't apply here.
What it can do, however, is modernize your brand and optimize your site so that your conversion rates go up. If you've done a redesign properly and tied it in with a comprehensive strategy (see goals and personas above), your website has the potential to turn into a lead-generating machine.
That takes time, testing, revisions, and patience, though. Make sure your stakeholder remembers that - it is not automatic.
6. You'll probably see a small drop in SEO results around launch time.
It's nobody's fault -- you have done everything right according to
Google's Webmaster Guidelines
, and you've
moved the site properly
. People aren't abandoning you. It's just that search engines take time to adjust when a website has changed, particularly if the change was drastic. No matter how fancy their new algorithms are, their robots still need to crawl all over your new website and identify that your website does indeed have relevant content for searchers. This takes time.
There is something you can do to counteract this, though. Launch a small SEO campaign around the same time as launch to try and earn some links at that time, so you don't end up hurting too badly. By the time your campaign finishes, Google (and other search engines) should have had time to crawl your website and everything should be back to normal.
7. If the end user has worked with other CMS platforms, make sure they get familiar with the COS.
I stick with my previous statement that working with HubSpot is intuitive, beautiful, and powerful. But if the end user has worked on other platforms like Joomla or Wordpress, it could take some adjustment before they're quite comfortable.
Fortunately, HubSpot offers some phenomenal training resources to help get them started, making everyone's lives easier. Make them aware of HubSpot's design resources like the
contextual marketing certification
and
Designers Training at INBOUND
. It'll help them be successful and put them on the fast track to a new beautiful site!
Now go get 'em.
I won't hold you back any longer. You're itching to get started, and now you're prepared to tackle the project.
So, what do you think? What are some things you wish you knew before starting your COS redesign? Disagree with any of the above? Let me know in the comments below, I'd love to start a conversation.