Google rules the internet. Everyone knows it. If someone can't find you on Google, you don't exist, virtually speaking.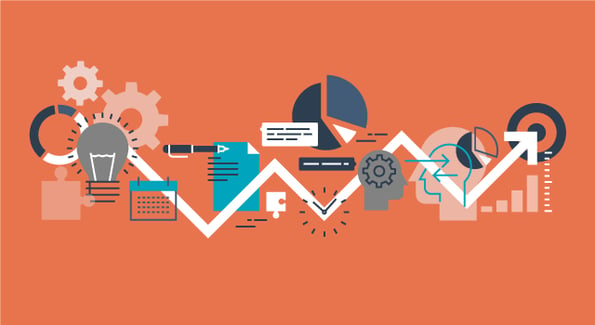 And so the marketing specialities of SEO, blogging, and link building were born. Inbound marketing in particular focuses on creating blogs and ebooks that your prospects find valuable and Google finds attractive.
Yet without a cohesive content marketing strategy, it may feel like you're just throwing spaghetti against the wall to see what sticks. One day, you're talking about the best music festivals in your area, and the next, you're covering football memes.
A cohesive content marketing strategy will tie together your efforts, allowing your team to focus on one area at a time while leveraging long-form content to attract Google and, thus, leads.
But first, a brief introduction.
SmartBug Media is one of a handful of HubSpot Diamond partners in the world and the highest-rated agency in the history of the HubSpot ecosystem. For 10 years, SmartBug has been helping businesses increase sales leads, close more customers, and enhance the reach of their brands.
In May 2013, SmartBug created The Ultimate Guide to Inbound Marketing Personas, which has been downloaded more than 4,500 times. In October 2017, SmartBug embarked on a journey to revamp this offer into a pillar page with a PDF download. SmartBug already had a bunch of blogs about marketing personas and used these posts to help form a topic cluster in support of the core topic of "marketing personas."
If you haven't been following HubSpot's content closely, you might be asking what's a pillar page. Well, the way people search has been changing during the last few years, and Google has responded with updates that favor in-depth content on websites. To that end, a pillar page is a long page (often with chapters and links to blog posts and external resources) that provides extensive info on a topic.
The SmartBug marketing personas pillar page was launched in November 2017 and since then has gotten more than 4,800 views and 1,000 submissions, which translates to a 22% submission rate (and a 13% new contact rate). So we considered it to be quite a success!
Our goal is to share what we learned throughout the process with the rest of the inbound community. To that end, we put together a guide in conjunction with HubSpot Academy incorporating best practices and pro tips so that you can replicate the steps in your marketing efforts.
Download the Creating a Content Marketing Strategy in HubSpot by clicking here.
This blog series is for marketers interested in implementing a content marketing strategy in HubSpot who want to learn how all of the different tools tie together and how to get from Point A (I want to do content marketing) to Point B (watch the organic leads roll in).
So let's dive in!
Getting Started Step 1: Set Up a SMART Goal
As with any marketing project, you should set a SMART goal at the onset. SMART goals are:
Specific
Measurable
Attainable
Relevant
Timely
In marketing land, SMART goals often equate to visits, contacts, and customers (although you can also make goals around social shares, email opens, and more granular aspects).
When beginning a pillar page project, start by looking at past results and ask what you can realistically achieve beyond that.
Visits: Though it might be your first pillar page, you can still look at web pages that have performed particularly well and estimate the number of visitors based off that.
Contacts: Number of contacts will be a bit more tricky because you are giving away the content for free, so you can't compare to your most popular gated offer. However, if your promotional plan is robust enough, the amount of traffic might make up for the difference in download rate.
Customers: Based on the number of contacts you expect to achieve, what is your typical new contact-to-customer rate?
Learn more about SMART goals in the HubSpot Master Class, The Secret Powers of SMART Goals.
Getting Started Step 2: Determine Buyer Personas
Buyer personas are semi-fictional representations of your ideal buyers. Before writing content for clients, SmartBug creates buyer personas so that all blogs, ebooks, and resources are targeting, valuable to, and attracting the right person. You can learn much more about buyer personas by reading SmartBug's The Ultimate Guide to Inbound Marketing Personas.
The primary persona for The Ultimate Guide to Inbound Marketing Personas is Marketing Mary, displayed below:
Once you've developed buyer personas for your company, add them to HubSpot (learn how to do this).
Getting Started Step 3: Do Keyword Research
Start your keyword research by brainstorming a list of keywords that you want to rank for. (A plain ol' Google Doc is fine.) If you have a certain topic direction that is calling your time, keep it to that area of focus. Otherwise, feel free to think about various foxholes when it comes to topics.
First, a quick definition: Short-tail keywords are one or two words; long-tail keywords are more than three words.
Once you're out of ideas, type each short-tail keyword into Google and scroll to the bottom of the first page, where you'll see other searches related to your key term. Add all relevant ones to your list.
For example, when searching Google for "marketing personas," these terms are at the bottom of the page:
Type some of those keywords into Google as well to get even more ideas.
Now you have a decent list of keywords that will start you off on the right foot. HubSpot recently announced that they are sunsetting their Keyword Tool, so to find even more keywords and to evaluate the effectiveness and obtainability of keywords, the SmartBug team uses Moz's Keyword Explorer. This tool shows you the monthly volume and how difficult it will be to rank for each keyword.
Keyword Explorer brings up the following for "marketing personas":
Start by uploading your brainstorm list into a new keyword list in Moz (or perhaps create several lists based on topic if you have many different topics to research). Then use the Keyword Explorer to find more keywords related to your term and add those to the list. (You can even search by domain to see what your competitors are ranking for to see if those are good keywords to add to your list.)
Pick keywords that have a decent amount of monthly searches and a relatively low difficulty score. From there, narrow down your list of keywords to the top candidates.
Next, use a page ranking tool such as Moz Pro or Alexa to see which keywords your current website pages are ranking for and where they rank. Sort this into two categories:
Low-hanging fruit: You have a webpage that is currently ranking between 11-30 for a good keyword, and you want to focus on getting it on the first page of Google.
Next-level targets: You have a webpage that is ranking 31-100 for a good keyword, and you want it to rank better.
You may decide to focus all your efforts on one low-hanging fruit term or perhaps several keywords from your brainstorm with a high priority score. In either case, the above methodology will assist you in identifying keywords for your pillar page and supporting blog posts.
Getting Started Step 4: Leverage HubSpot's Content Strategy Tool
Once you've identified the keyword (or keywords) you want to go after with your pillar page and blog posts, it's time to scour the web: Check out your top keywords in Quora and AnswerThePublic. What are people asking when it comes to that keyword? These will be great topics on your pillar page and/or supporting blog posts.
The content strategy tool in HubSpot will also help you identify blog posts to support your pillar page content with a "topic cluster." Once you type in your core topic, the HubSpot AI (artificial intelligence) engine will suggest subtopics that people might be interested in.
For example, the SmartBug team created the following topic cluster for "Marketing Personas":
From your web research as well as the content strategy tool, you'll want to define two things. First, what content will be on your pillar page? An outline or chapter headings will be helpful in nailing this down.
Second, choose your list of supporting pieces of subtopic content. (The content strategy tool currently supports up to 22 subtopics, but you could use as many as you want.) These topics should be related to the main pillar content but not exactly replicated on the page.
Pro Tip: Really take the time to plan your topic cluster before creating your first piece of content; you wouldn't build a house without a blueprint. Check out the HubSpot certification course on Content Marketing to learn more.
All Ready to Go
So, you've created the SMART goal for your pillar page, nailed down your persona(s), did your keyword research, and put together your topic strategy in the Content Strategy Tool in HubSpot. You are all set up and ready to go!!
The next step is to "go create the content." Admittedly, that is a bit of an understatement—as if it's easy to just go write all of this content. It's not. It takes a lot of work.
There are numerous resources for how to write compelling copy and provide value to your audience, but be sure to check out:
This workbook will allow you to apply learnings from HubSpot Academy's Content Marketing Certification.
Side note: You'll also need to consider the design of the PDF version of your offer. There are many templates out there, or you can hire a freelancer if you don't employ in-house graphic designers. HubSpot offers free marketing resources, including ebook templates.
The next blog post in this series will cover how to implement the pillar page in HubSpot from soup to nuts. Stay tuned or download the whole guide now.
If you need assistance growing a content marketing skillset, then check out HubSpot Academy's Content Marketing Certification.