The statistics on CRM user adoption paint a bleak picture: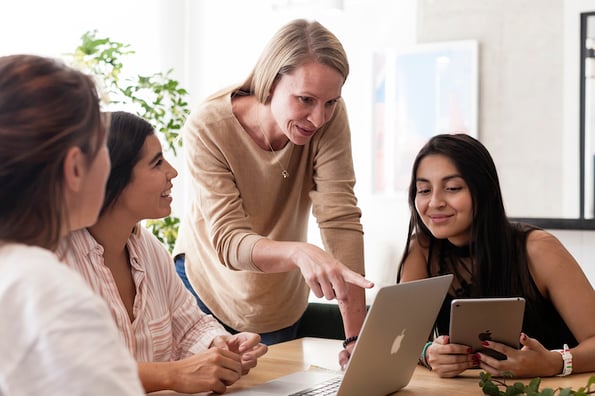 Merkle Group reported that 63% of CRM projects fail.
According to Redspire, almost 50% of CRM projects fail due to slow user adoption. Nearly 70% of project managers expect that their staff will be cynical about using a CRM solution.
CSO Insights' 2018-2019 Sales Performance Study revealed that only 46% of organizations reported CRM adoption rates greater than 90%.
The verdict is in. User adoption is the number one barrier to using CRM to accelerate revenue growth. The evidence shows the challenge companies face in driving CRM user adoption and achieving their ROI goals from the investment.
A CRM may enable reps to work more efficiently, but its use can't be optional. Data quality suffers without full adoption, which means management loses confidence.
For most companies, the emphasis in CRM deployment is on technology implementation. What's needed is a plan to purposefully build adoption in an organization to increase the ROI on using that technology.
The 3 Cs of CRM User Adoption: Convenience, Competence and Community
At Bayard Bradford, we design CRM deployments around our "3C" model for user adoption:
Convenience: Use a "frictionless" CRM
The critical first step is selecting a CRM that's designed from the ground up for a convenient user experience. HubSpot's philosophy, Frictionless Selling, rethinks sales to create convenient selling experiences for both buyers and sellers. HubSpot Sales Hub is easy to learn and use, even for salespeople who don't have CRM experience.
HubSpot CRM has the critical features for increasing sales velocity as you convert leads to satisfied customers. (And it's free -- forever). Delivering a frictionless selling experience for salespeople means adding the sales enablement and workflow automation tools available in HubSpot Sales Hub. (Learn more in this free 56-page ebook, The Ultimate Guide to HubSpot Sales Hub Deployment.)

Free Download: The Ultimate Guide to HubSpot Sales Hub Deployment
Once the CRM choice is made, the Convenience "C" is all about combining the intrinsic design features of the CRM with thoughtful, thorough implementation. The goal is a frictionless user experience, especially when the user is first interacting with the technology.
Intrinsic design features that drive CRM adoption typically include:
Sales intelligence such as prospect identification and automatic contact enrichment
Sales acceleration tools like email tracking and document tracking
Automation capabilities such as sequences, smart lists, task reminders.
Mobile app capabilities
During implementation, take the necessary steps to ensure a successful initial user experience before onboarding, training and initial use. For example, a critical implementation activity is ensuring that CRM data has been properly cleaned and migrated prior to the users' first login. You can learn more about the steps in CRM implementation in this HubSpot Academy lesson.
Competence: Building skills through adult learning
Competence is defined as "the ability to do something successfully or efficiently." Companies tend to place too little emphasis, beyond training, on what's needed to move new users from incompetence to competence. Adults learn differently from children (read more on adult learning styles here). Classroom-type training is "necessary but insufficient" to develop users' competency in CRM. A program of competency development goes beyond training to purposefully drive user adoption.
Three critical elements of competency development to add to your training program are:
Onboarding
Mentoring
Certifications
Onboarding
Adults learn best when they know "why" they need to learn something and when they can connect their prior experience with new learning. A well-designed onboarding plan provides both the "why" and the opportunity to immediately apply their work to the new technology.
Onboarding includes preparing for the user to have everything they need once they leave training to begin working. This mean having a workable and clean database. It means the hardware and software for their computer and devices are ready for login. It also means the support system is up and running in case there are issues and problems. HubSpot's Sales Hub Onboarding is a great option for companies just getting started with the HubSpot CRM.
Mentoring
Adult learners need to be able to reflect on their experiences in order to ask probing questions and acquire knowledge, both of which are critical to building competence. Having a mentor available will help the novice users jump-start their competence building. Mentors are developed by proactively identifying and developing a core of highly competent users to work with less experienced users when they need a little extra assistance or an occasional push. Additionally, mentors should proactively check in with these new users and monitor their progress.
Case Study: Competence-building with mentoring when deploying a new business-critical technology platform
In this example, the implementation team identified and recruited internal mentors to support a global roll-out of a new business IT platform. The mentors were trained by the implementation team prior to the first onsite user training.
During the first phase of implementation, business-unit leaders began to widely communicate the need for migrating to the new platform and the value it will bring both to the organization as well as to the individual users. This message was repeated often throughout implementation and during the subsequent adoption program.
When it was time for each business unit to migrate to the new system, the implementation team would install the system, clean up and migrate existing data. The new users took classroom training on the system. After training, users returned to their offices ready to use the new system on their own data (an important aspect for adult learners.) Mentors were available to support and assist users. As users' competence continued to grow, the mentors were available to continue encouraging increasingly sophisticated ways to using the system.
The result of this approach? The company had double the expected adopted rates in less than half the time.
Certifications
Certifications can provide a way to measure increasing levels of competence and adoption in the organization and can be motivation for users to strive for expertise while also developing a community of competent users.
A major benefit of using HubSpot is HubSpot Academy, HubSpot's official learning resource. HubSpot Academy offers a robust certification program for Inbound Sales using HubSpot's sales software. Certifications serve as a demonstration of user commitment. Users can be rewarded for obtaining certifications as part of building a community of expertise.
Community: Knowledge and leadership
A robust adoption program will establish and nurture a community of leaders, influencers, and mentors who can share their knowledge, ideas, difficulties, and successes.
To establish a successful community, consider using an app such as Slack or Microsoft Teams to organize community communications. Then plan for these elements:
Communication is critical throughout the planning, implementation, and operational phases. Leaders communicate their vision of the future, consistently support the CRM program, and demonstrate active use of the CRM in their daily work.
Support for users ideally takes the form of a help desk with a ticketing system. HubSpot's Service Hub is an ideal solution for ticketing and support. The support process will capture and publish FAQs, successful practices and approved solutions in a knowledge base.
Recognition helps define and sustain your community of CRM users. Recognizing and rewarding users for meeting key milestones and metrics (KPIs) builds a shared sense of ownership.
Case study: Building a community to sustain user adoption
A multi-national company learned that adoption of a business technology platform increased as leaders consistently communicated the value it brought to the individual users. By incorporating data and information from the new system into their employee communications, company leaders set clear expectations for others to use it as well.
As adoption increased, mentors and influencers decided that sharing knowledge would lead to increased sophistication in using the new platform.
They created an onsite user group to share innovative workflows, communicate successes, and involve the user community in solving challenging problems.
Leaders in the organization supported this developing community by recognizing and rewarding the implementation team, mentors and users when key milestones were met.
The results? High adoption rates, high numbers of competent users, and increased sophistication of workflows. All this meant that the organization exceeded their return on investment in migrating to the new technology platform.
CRM User Adoption with the "3Cs"
Use these "3 Cs" to drive user adoption on the first day of your planning process. Purposefully drive adoption by:
Selecting a CRM for convenient user experience
Building a program of competency development that reflects adult learning styles
Enabling a CRM user community for communication, support and recognition.