The Buffs are back!

To catch you up, WP Buffs is a 24/7 WordPress website maintenance service for serious website owners and white-label partners. Whether you're looking after 1 site or 1,000, our coined phrase is, "We've got your back!"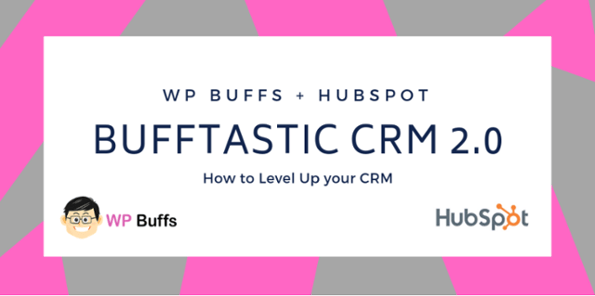 Last December, we migrated CRMs (and didn't freak out) to HubSpot, and we enjoyed sharing that experience with you as a customer story. Since then, we've been working daily to make it the best possible CRM for us. HubSpot makes it easy.
I'm Caylin White, Head Marketing Buff at WP Buffs, and I have dedicated quite some time to mastering the art of the HubSpot CRM. I'm going to show you how to make the CRM customized, organized, and 100% sales-optimized for all teams. It's all about the details.
Before we jump in, I'd like to introduce you to the team. That's the WP Buff squad in all our virtual high-five glory during our weekly stand-up meeting! We are a 100% remote global team and have fun while we work. We end each team meeting with a virtual high-five. (Isn't Helen's high five just the cutest thing you have ever seen?)
HubSpot CRM + WP Buffs = Bufftastic CRM 2.0
It all starts with settings, that familiar gear we all know and love that helps set the tone of all things in the future of the software.
We went through properties quite a bit in our last post, so make sure they are set up in a way that's best suited for your company.
The biggest and best one for us was contact type:
We have some cool customers at WP Buffs!
We also have white-label partners, affiliates, content partners, and WPMRR members. We don't just have customers — we have unique Bufftastic Peeps!
We created a dropdown option and added in all the people who are in our WP Buff world. This is the major kick-off to knowing what type of contact it is, which dictates the type of follow-up action required.
Here are the super important contact properties we've customized and are in our contact profile:
Contact Owner
Contact Type
Lifecycle Stage
Lead Status
Pro tip: You can add your own Lifecycle Stages outside of HubSpot's standard template to customize your style customer's stages through your sales pipeline. Just navigate to Settings, then click Properties, and then click Add New.
The reason they are important is because this is how the HubSpot Magic AI Makers (that's their unofficial name) filter their reports in the sales dashboard. You want your reports to reflect the right data, so you must tell HubSpot which data to filter. It's like CTRL F-ng your entire sales game in one report.
Our reports are on point because our filtering game is strong. If you're in the sales world, you know those leaderboards are a pretty big deal. The best part is that you can customize your own reports dashboard with any of the options HubSpot offers.
WP Buffs master the inbox and the art of tagging
It's time for WP Buffs Live...
chat
, that is! Featuring HubSpot Live Chat Conversations group inbox.
We went over how to integrate a group email into your HubSpot CRM Inbox and make it part of your conversations in our last post. This was a great collaborative effort for all leads coming in. Our group email inbox is now viewable by our sales team, and anyone can jump in and help out.
What we truly mastered, however, is the art of tagging the new lead appropriately for after the conversation is over. It's a new lead with some interest, and the conversation must go on outside of the Inbox.
"I really like how seamless the live chat inbox is and how we can all collaborate together on new leads. If we are all working together and tagging them as we go, it makes the process run pretty smoothly. Plus, it's fun!"

— Joe Howard, Head Buff, WP Buffs
The best way to do this is to start to fill in the information and associate the visitor with the chat or email right away. If you obtain the visitor's first name, fill it in on the right-hand side under "about this contact." If you get their contact type, add that in, too. This way, as you start to develop a relationship with your visitors, you can add them to your contacts database and follow up with all the appropriate tags.
When the conversation is over but needs to be continued, you can simply click on the contact on the right of the conversation and email them a sequence, then close the conversation without leaving the inbox.
Meetings, calendars, and integrations, oh my!
We were hesitant to switch our calendars over to HubSpot meetings because we didn't know how easy it would be to swap out the link and work it into the CRM.
We switched all calls to HubSpot meetings, which is a unified, seamless process of booking meetings that link right into your CRM. Our meetings are on a group Zoom link, and we synced up our calendars.
As you can see, we customized the calendar to fit our style. Our colors, branding, logo, and even a fun message was included to make it all more Bufftastic. Ultimately, we want this to be a fun process for all our awesome customers. The best part about syncing up calendars and HubSpot meetings is that when someone books a call with you, it takes them out of the current sequence so that they won't be blasted with unwanted emails. We'll go into sequences (my personal favorite) next.
Sequences, templates, and snippets for the win
I'm all about making my life easier. I don't know about you, but I feel like HubSpot gets that.
We're an inbound company, and we have a lot of inquiring people all day long that reach out to us. Our aim is to be as human, personalized, and down-to-earth as we can be throughout all communication at WP Buffs. That means that you'll get a real person on live chat, a real answer on email, and a video with our lovely faces on all introductory calls.
Templates and sequences help get our customer wherever they need to go. We wanted to set up an easy system where our inbound inquirers could get their questions answered without being annoyed by a salesy email. Sequences are a great way to help people get information in a timely manner.
"Before making the jump to HubSpot, our sales process was effective but manual. We had a template based sequence we'd customize for sales follow-ups and had a tough time tracking leads. HubSpot has helped me organize and visualize my leads but most importantly, we're able to automate our sales follow-up process while keeping things personal. It's the perfect recipe for sales success."

— Dean Burton, Customer Success Buff, WP Buffs
Zapping integrations
Zapier and I had to really sit down and become friends before I truly understood the power behind each Zap. What I learned is that with the integration of each Zap, we save time. We use 28 SaaS tools here at WP Buffs, and often, we need the tools to collaborate with each other.
HubSpot allows for all types of integrations. When we started the CRM transfer, we were scared because we used all these amazing SaaS tools and didn't want to abandon any of them. Luckily, it turned out that we didn't have to.
We integrated our sales metrics, our calendar invites, and our email subscribers into our CRM seamlessly. We found that just knowing exactly what information we wanted to transfer was most important. We also ran a lot of tests.
We're on Our Way to CRM Success
Overall, our leveling-up experience with the HubSpot CRM has been a learning experience. I wouldn't say we are 100% of the way there, but we truly have taken the bones of a CRM and made it into the Bufftastic CRM that we now know and love.
If you're interested in making your CRM work for you while you're using and setting it up, don't settle for things that don't make sense or waste your time. 9 times out of 10, HubSpot will have already thought of a way to make your life easier. When it comes to software and making sense of your time, HubSpot CRM masters it.
When in doubt, head back to the HubSpot Academy to school yourself on all kinds of knowledge; they've got your back!
We must have saved hundreds of hours alone just installing HubSpot CRM into our WP Buff world.
I hope this has helped to level up your CRM. Sending love from the WP Buffs team.
Want to connect with others on HubSpot tips, tricks, and updates? Head over to the HubSpot Community to join a conversation or start one of your own.