Every month we bring you a slew of new updates across the Marketing and Sales Hub to make you, and your entire team, more efficient and effective.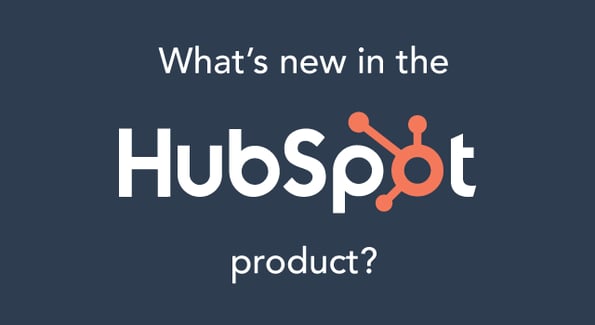 This month we have a lot of updates to share.
What's New in the Sales Hub?
Search for and view contacts right from Gmail
The ability to send email templates, documents, and enroll contacts in a sequence straight from Gmail with the Chrome Sales Extension is a huge time-saver. But what if you don't know which contact you want to reach out to next? This update lets you filter through lists, identify the next person you need to reach out to, and follow up with complete context - all without leaving Gmail.
Meetings now supports multiple calendars
The meetings tool makes it easy to connect and create relationships with your prospects and customers. But what if you manage multiple calendars and want to ensure your meetings availability takes into account your work schedule, your personal schedule, and whatever other calendars you might use?
With this update, you can connect any important calendars you have to the meetings tool to ensure that your availability is always accurate. To do this, simply navigate to the Calendar Integration tab within meetings settings.
For more information, check out this post on all the changes to the meetings tool.
Bring your company's branding to documents
Documents lets you know exactly how your leads are interacting with your sales documents. To better match your company brand, Sales Starter and Professional users can now customize the look and feel of their documents. This update makes the tool look more professional and visually appealing.
There are a few other improvements worth mentioning. Documents also now supports hyperlinks, and anyone viewing the document can now book a meeting or send an email to the person who initially shared the document. For a full overview of documents, check out this article.
Create custom meeting and call types
Understanding the context behind your calls and meetings is just as important as seeing how many you and your team have logged. With this update, you can now create custom types for your calls and meetings, set a type for each activity as you log it, and report on your activity types over time. To enable this feature, go to call and meeting types within Sales settings.
Check out this post to learn more about how you can use custom call and meeting types.
Sales notifications is now called "activity feed"
Sales notifications has been renamed the "activity feed" to differentiate it from the other notifications tools within HubSpot. The new activity feed will still be the go-to place to review all of your leads' recent engagements within HubSpot.
What's New in the Marketing Hub?
A new forms editor
The forms editor has gotten a brand new look, and several new features have been added that make it easier than ever to create dynamic conversion points for visitors to your site. Forms is the first editor to utilize the immersive editing experience, and all edits are now made within the left side panel so you can always see a realistic preview of what your completed form will look like.
Be sure to check out this post for all the details on what's new in the forms editor.
Better form validation
We've all gone to fill out a form and missed a required field or two - mistakes happen. Now Hubspot forms will provide your site visitors with a more detailed error response when they miss one of these fields.
These error responses will appear next to the submit button and the missed field, ensuring that you receive all necessary information from your customers. This update also creates a more seamless user experience on Internet Explorer, Safari, and Edge by allowing for redirect-less thank you messages in those browsers.
Social inbox has moved to social monitoring
Keeping track of what's happening in your social networks is imperative to providing your audience with great social content. We've combined the social inbox with your social monitoring tool so you can see in one place how your brand fits into the conversation. This update provides your social tool with a fresh new look and consolidates the tool for ease of use.
To learn more about how to use the social monitoring tool, check out this article.
Change to ads navigation
Prior to this update, users of the free ads tool and users of HubSpot's ads add-on would go to two separate locations to access their ads within HubSpot. This was, frankly, a little confusing. This update consolidates ads into one location under the content dropdown menu, giving all users one place to create and monitor ads.
Check out this post for more information on the new home for ads in HubSpot.
That's all for December. We'll be back in the new year with even more updates.