As marketers, you may spend a lot of money and time running campaigns to generate leads and acquire customers, but how do you know if your marketing efforts are paying off?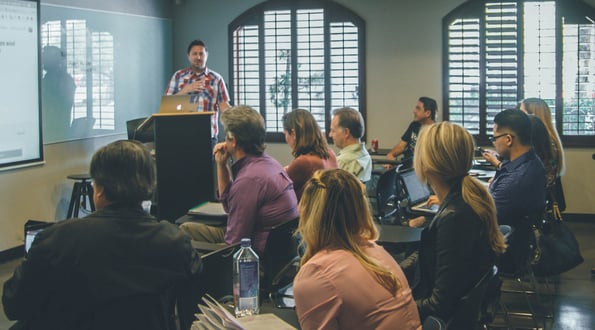 For your marketing strategies to translate into revenue and to provide value, it's essential to track and maximize return on investment (ROI). It's a tough goal, but HubSpot's marketing and sales automation tools can get you one step closer to achieving it.
Read on to learn how we at Brew Interactive, a digital agency in Singapore, helped one of our clients generate a 113% increase in enrollments from November 2018 to April 2019, using tools from HubSpot Marketing and Sales Hubs.
Our client, a premier English language training center based in Malaysia, provides academic and professional courses. Their programs are designed to prepare students for entrance exams, university studies and workplaces.
Access the Inbound Certification Course in Your HubSpot Account
They predominantly cater to young local students, international students and working professionals who want to improve their English. Spread across three centers in Malaysia, their key programs include an intensive full-day course, International English Language Testing System (IELTS) and Test of English as a Foreign Language (TOEFL) preparation and a program tailor-made for professionals.
The Challenge: Poor Prospects to Enrollment Conversion Rates
The client has a straightforward sales process on the website. Prospects who wish to know more about their services can fill out a contact form or engage with the live-chat feature on the website.
On receiving an inquiry, the client sends the prospect further information and creates a Deal in the HubSpot CRM based on their response.
But, for the longest time, they were struggling with poor conversion rates. As you can see in the graph below, there is a massive gap between prospects who inquired about their program (course & fees discussion: 185) and those who eventually enrolled (all documents received: 11).
In January and February, they saw an alarming conversion rate of only 5%, with most of the people dropping out in the first stage of the sales process.
The 5 Step Solution Using HubSpot Marketing and Sales Tools
Here's how we helped them streamline their marketing efforts, establish benchmarks and increase student enrollments with HubSpot workflows, lead scoring, and tasks.
Step 1: Identify buyer personas
The first step was to identify buyer personas to get a deep understanding of the client's ideal customer(s). This was essential because it helped us create personalized and relevant content to attract, nurture, and convert leads.
After analyzing existing data and conducting a series of interviews and discussions, we identified the following three persona groups.
Local students: 16 to 18-year-old local students who want to improve their English or are preparing for IELTS and/or TOEFL
International students: 16 to 18-year-old overseas students, mostly from Muslim countries who feel comfortable studying in another Muslim country like Malaysia
Working adults: working professionals whose first language is not English and who want to refine their speaking, reading, and writing skills
Step 2: Create marketing workflows
Next, we used HubSpot's workflows tool to automate the process of lead nurturing and cater to every new lead generated.
Workflows lets you automate email campaigns and deliver targeted emails to the respective leads. You need to set specific enrollment criteria and when a lead meets them, an email will be automatically triggered to them.
Here's an example of a workflow we created for people who showed interest in the client's flagship intensive full-day program.
Once a lead met these criteria, a deal was created and an automated email (Email 1) was sent.
Email 1 introduced the program while enlisting how students will benefit from it. It also threw light on the program schedule and mentioned the next steps on how students can register themselves for the program.
Further below in the workflow, we added another email trigger which was sent after one day, to those who did not take action after receiving Email 1.
Email 2 explained what makes the client's training center different from its competitors, reiterating the highlights of their program and encouraging enrollments. Email 2 was sent to stop the problem of leads dropping out after the 1st stage of the sales process.
Another email trigger (Email 3) was added and sent to people who opened Emails 1 and 2 but took no action. Email 3 included testimonials from past students. It was sent to foster trust and convert leads in the process.
The final email (Email 4) was sent to all those who did not take action in spite of opening all three emails. The fact that certain people were still not convinced meant that they still had some apprehensions. Email 4 was meant to be the final push and included a FAQ, addressing common concerns.
Step 3: Assign lead scores
Some leads are more valuable than others. Instead of spending equal time on all your leads, it makes more sense to focus your efforts on the more qualified ones because they are close to conversion.
Enter lead scoring. It is the process of identifying promising leads and assigning scores to every lead based on their level of 'qualification.' For example, if prospective students left their inquiries from the website's contact form, their lead scores will be higher than those who inquired from the live chat trigger. Through our lead scoring exercise, we've managed to assign lead scores to prioritize leads in a much more efficient way.
Navigate to Contacts and you can get access to data on every individual contact (who has inquired) and track how they interact with your website. Here's what a contact page looks like.
We established the lead scoring criteria with the client basis criteria such as inquiry source, pages visited, website behavior, and more. The higher the score, the more likely they are to convert.
For instance, walk-in customers or those who shared their mobile numbers (which was optional on the inquiry form) were assigned a score of 5 because this meant that they were more interested in the program.
Similarly, those who viewed the specific program pages were assigned a score of 2. However, those who viewed the 'How to Apply' page were assigned a score of 3 because it shows they were keener.
Step 4: Establish a sales level agreement (SLA)
We realized that there was a considerable gap between the sales and marketing team which is why we decided to establish a sales level agreement (SLA).
Establishing an SLA involves getting both the teams together to set clear goals and conducting regular reviews to track performance. It holds every team member accountable for their respective tasks and enhances performance.
Every salesperson is assigned tasks with specific deadlines which can be accessed by all team members to track progress. Here's a screenshot that displays the list of tasks due this week along with details such as the task name, salesperson responsible for it and the due date.
Step 5: Use the productivity report to identify low-performing salespeople and conduct training
All your lead generation efforts are bound to go to waste if salespeople aren't following up and closing deals. This is why it's crucial to identify under-performers, provide training, and guide them to do better.
We accessed the 'Productivity - Paid Search' report on HubSpot to keep a close check on how every salesperson's performance and if they're moving prospects through the sales funnel.
We then identified the low performers, assessed areas they needed help in, and conducted training sessions to improve performance.
Final Thoughts
By utilizing HubSpot tools to increase conversion rates, we saw a significant increase in student enrollments in just four months.
From identifying prospects and engaging with them to nurturing and converting leads — it helps to have all the tools and data in one place to implement strategies and fuel growth. HubSpot is one such automation tool that offers end-to-end support across every stage of the customer life cycle.
Want to connect with others on HubSpot tips, tricks, and updates? Head over to the HubSpot Community to join a conversation or start one of your own.