The two scarcest resources for inbound marketers are time and content. Smart inbound marketers ask, "How can I produce more content with less time?"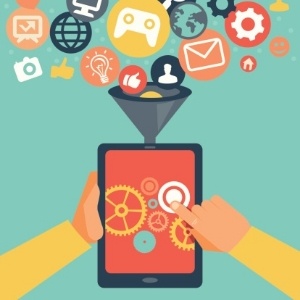 One of the most effective ways to produce more content in less time is to repurpose content that has already been successful for your organization.
Here are the four steps our business development team at Vanderbloemen Search Group has used in effectively repurposing our content to save us time while diversifying our content offerings.
Step 1: Identify your content goals.
In order to maximize your content development, identify your goals to make sure you are focused in your content. Is your goal to repurpose content at the top of the funnel in an effort to attract new visitors to your website? Is it to repurpose content to maximize middle of the funnel efforts in converting visitors to leads? For our team, one of our goals at the beginning of 2015 was to increase the number of visitors to our website through top of the funnel efforts.
How to do that using HubSpot:
Using your HubSpot dashboard and reporting tools, you can see a numeric and/or graphical representation of your organization's funnel. Take a look at that data with a keen eye for opportunity. If you have a huge top of the funnel then you could focus on creating repurposed content that's specific to your industry and what you're solving for to help move those TOFU (top of the funnel) leads down to MOFU (middle of the funnel). If your funnel is lackluster all around, maybe it's time to create extremely sharable (usually visual) content to increase the top of your funnel. No matter what you choose, make sure you're working towards a specific goal of increasing one area of the funnel.
Ask: "What is content we already have that is effectively driving organic search, and how can we leverage it for additional content?"
Step 2: Identify your most valuable content to achieve your goals.
This step will look different for every organization, depending on your marketing goals. For our company, we looked at which of our blog posts received the highest visits of all time, particularly through organic search. One of them was "6 Common Characteristics of Effective Communicators". We noticed that the title and content of the blog article was driving a good number of organic search traffic to our website, which aligned directly with our goal to increase visits to our site.
How to do that using HubSpot:
You've got a few starting points here. Once you've defined your goal, use these 4 methods to find the data you're looking for:
Use Page Performance and choose to see only your blog posts in the drop down options, sort by views and see which of your posts have had the most.

You can click into individual posts to see more on how you can further optimize that post to keep getting more views

Navigate to the Blog itself, choose to view all published blog posts, sort by views and click into the most viewed posts to see the sources of traffic
You can also create a Contacts Report either from scratch or using "Most Converting Offer" to see which offers have created the most converting leads

You can either recreate existing offers to include new information or just give it some more flare

Another report you could build is a Sources Report to see which keywords are driving the most traffic to your content
All of these options are bound to get you to the information that you're looking for and if you're hoping to see specific time frames, make sure to choose a custom date range. HubSpot's reporting tools give you a lot of flexibility to see the fruition of your work across all of your content, so use it!
Ask: "What other types of content can we create to leverage the success of this blog content?"
Step 3: Identify other types of content to use.
There are many ways to repurpose content besides blogging. Use the strengths of your team and the resources you already have to avoid outsourcing and increased expenses. Also, leverage content types that are already successful in your industry. Look at other companies in your industry that are doing inbound marketing well, and see what content mediums they are producing.
When thinking about how to repurpose our article "6 Common Characteristics of Effective Communicators," our team decided to create an infographic because we have a talented graphic designer on staff and it would add a new visual content medium to our blog. Because the blog article had six points, the key takeaways were easily translated into a simple infographic format.
How to do that using HubSpot:
We don't all have a designer at our disposal, but HubSpot has your back with these resources that you can use to build your next offer with ease:
Still need inspiration as to how you can repurpose your content? Here are other ideas to easily repurpose your blog content into other content mediums:
If you have three or more blog articles that provide resources on the same topic, consider combining them into a white paper or ebook.
If you have an ebook that has a high download rate, consider conducting a webinar where you go into more detail about the topic in the ebook.
If you have a blog post that was extremely sharable, consider creating a short YouTube video on the topic to publish and send out to your audience.
If you have several blogs on the same topic, consider taking the key points and making a checklist or 1-page resource as a downloadable offer.
If you have a webinar or ebook series on the same theme, consider creating a virtual education course.
Step 4: Publish, promote, and analyze your results.
Now that you have all the tools (and then some) to recreate your most popular posts, use them! When publishing your post make sure to include the pieces of your original high-traffic post that garnered the views, likes, shares, etc that it got. When promoting, you can mention that you've recreated a popular blog post of yours into content to reengage existing readers on top of your new promotional posts. You should also use images wherever possible when promoting your post because, according to Buffer, content with relevant images gets 94% more views than content without. That's a lot of percentages that you don't want to miss out on with your new visually appealing content creations!
Use the tools that we've talked about previously in this post to keep tabs on your content. Don't forget to include links and call-to-actions in your content to track what readers are interested in beyond this new offer you've created. On top of that, when promoting, don't forget to include metrics from all other sources that are pointing to your content.
While it can feel overwhelming at first, following these steps to repurpose the effective content you already have will maximize the efforts of your marketing team as you produce more content in less time.