I am often asked why an inbound marketing company -- like HubSpot -- would use social media advertising.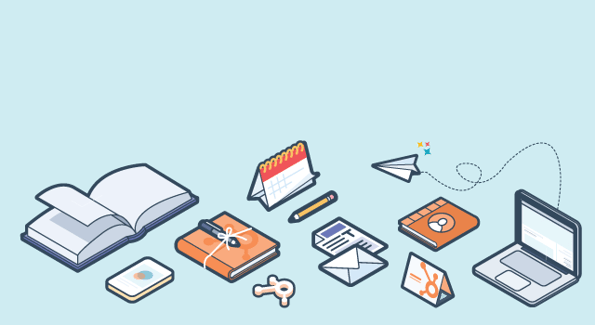 Isn't advertising the exact opposite of inbound marketing? Not if you do it in an inbound way!
Social media advertising done correctly can supplement your current inbound marketing strategy.

Let's learn how.
Use Facebook + Content to Generate Leads and Customers
Let's talk specifically about Facebook advertising. Sure, you can spend thousands of dollars advertising your homepage to millions of people and consequently see abysmal click through rates (CTR) and conversions on your page -- but why would you? Sounds like a waste of a time and money.
Platforms like Facebook have enormous amounts of user information that marketers can use to their advantage. Instead of casting a wide net and hoping to catch a few fish, be smart about who you advertise to and what you advertise. Catch the attention of those people that are already looking for and interested in what you have to offer.
Take your current lead generation strategy for example. You likely have several pieces of content, a blog, and educational materials that you promote to generate leads at the top of the funnel. Where are you promoting those offers? Perhaps on your social media pages, in newsletters, and through organic search? These channels all have one thing in common: interested people are using those channels to find content like yours. Think of Facebook advertising in the same way. Use advertising to offer your content to people who are already interested in topics related to your industry. That's how you get inbound!
Here are a few key targeting methods to make sure you're sharing your content with parties who are most likely to be interested, and thus could be a strong fit for your products or services.
1. Facebook Interest Targeting
To find people who are already interested in your industry or related content, you would use targeting within Facebook's ad platform.
Do you have a blog post on "How to Create Your Own Collage"? Lucky for you, Facebook knows which people are interested in DIY crafts! Sounds like a good audience for your awesome content. Some of the most powerful targeting capabilities within Facebook come from "Interests" targeting, where you can get as specific as you want, and target audiences that have the exact same interests as your own target audience.
2. Facebook Behavioral Targeting
Another form of targeting that is beneficial to marketers is the "Behavioral Targeting." For example, advertisers can chose to target users that are either "Likely to move" or "Planning to travel to Spain," (Yes, Facebook can now look at your activities and make assumptions about what you are doing. Spooky!) This allows marketers to target people with content based on activities happening in real time.
By targeting a group of people on Facebook based on a recent activity, you are likely to be seen by them at the right time in their buying process -- instead of randomly -- thus increasing the relevance and success of your Facebook ads. As someone in the process of moving myself, I would be much more likely to click on content related to "10 tips to make moving easier" than I was six months ago when I had no intention of packing up my life.
The key is to be relevant. Be in the right place at the right time, and your potential customers will be delighted to have "stumbled" across your ad.
3. Retargeting Prospects and Customers with Facebook
Now you have a growing audience and database for your company. What are you doing to try and move those leads down the funnel and close them into customers? Probably sending them emails weekly or monthly, seeing an average of a 25% open rate.
Wouldn't it be nice if you could reach that other 75% who aren't opening your emails? Enter Facebook's Custom Audiences. Custom Audiences allow marketers to target an exact list of people with Facebook ads that are relevant to the people in your list. You no longer need to promote something and simply hope you are reaching the right people -- you are targeting people who already are interested in your company.
Let's take a step back and talk about what Custom Audiences are. A Custom Audience is a list from your own database that you can use to target your advertising on Facebook, thus letting you reach current prospects or customers. To create this list, HubSpot customers can use the new GoChime integration launched just this week, which allows you to use HubSpot data to optimize Facebook advertising campaigns!
To start, create a GoChime Account and sync it to your Facebook account. Within GoChime, you can choose a specific list you have created in HubSpot, or better yet, target a list of people who did not open an email you sent through HubSpot.
Target Your Prospects and Customers with GoChime
When creating a new campaign in GoChime, you can select from various goals. For example, to set up a targeted ad campaign toward people who didn't open an email of yours, select "Reach More of Your Customers."
From here, you can select a recent email send:
Here's another option: If you prefer to target a list already created in HubSpot, but not associated with an email campaign, simply sync a list or upload a CSV file directly in GoChime when creating a new campaign.
Once your list is uploaded, you can start targeting specific ad content to this list. Why would this be beneficial? Well, why are you emailing your database to begin with? You want to give your existing audience more helpful content or information, and now you can do the same through another channel -- Facebook! Using the features in GoChime, you not only can target your existing database, you can target them with very specific content related to what they are already interested in.
At HubSpot, we use Custom Audiences to offer our existing leads more content and product information based on what we know about them. For example, if a lead has downloaded an ebook of ours on "How to Create CTAs," we might use ads to offer them another piece of content on "101 CTAs That are Ready to Use." We know this audience is interested in CTAs based on what they previously downloaded, and now we can segment our audience and use Facebook to deliver more content we believe they will find valuable. Talk about lovable marketing.
This all ties back to being relevant. Inbound marketing is about attracting the right people, not disrupting the wrong people. Use advertisements to promote high quality, educational content to your audiences, instead of pushing annoying and disruptive advertisements. Show helpful content to visitors at the top of the funnel, and offer additional relevant content to leads who are considering your product.
Always add value, wherever your leads and customers find you.
Do you use ads to offer your database more helpful content? How do you make sure you stay relevant and helpful? Share your advertising tips!