Here at HubSpot, our mission is to help millions of organizations grow better. In practice, that means we build software and systems to help companies like yours grow by creating great experiences for your customers.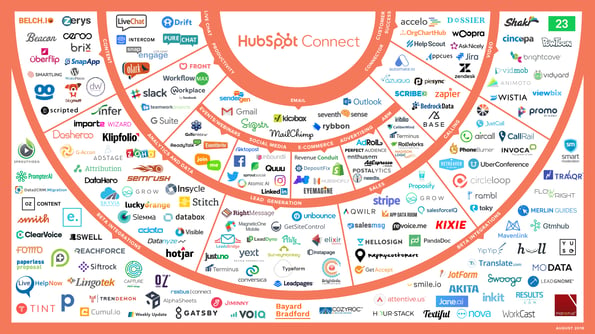 For many of our users, everything they need to create those great experiences lives inside the HubSpot platform. For others, third-party tools provide new angles to create great customer experiences. That's why we're constantly expanding the HubSpot Connect Integrations library to include new integrations for you and your team to explore. Connect integrations give you greater extensibility and flexibility to sculpt your customers' interactions with your company.
These integrations that launched this year were the fastest growing month after month in 2018, and we couldn't be more excited to share them with you.
1. Import2 Wizard
Import2 Wizard can be used to import and export HubSpot objects such as contacts, companies, deals, and more. You'll save precious time for your marketing and sales teams by importing contacts, deals, and engagements with a link to their related contact, company, or deals in a flash. Instead of worrying about finding missing data, your teams will have full context available on your contact records — which will help you convert leads to customers with a richer foundation.



2. Typeform
Typeform can be used to create mobile-ready quizzes, contact forms, and signup forms that automatically sync with your HubSpot CRM. For your next marketing or sales push, add your UTM parameters to your typeforms, and Typeform will automatically send tracking info to HubSpot. This saves time and makes separating segments of your audience easy so that you can spend your money where it counts.


3. Slack
Slack is a digital workplace that connects you to the people and tools you work with every day. You can now get HubSpot tasks, notifications, and slash commands — directly within Slack. Say good-bye to the days of wasting time switching between tools. Instead, work where you want with HubSpot and Slack.

4. Zoho Analytics
The Zoho Analytics integration creates custom, mobile-friendly reports based on your HubSpot data. Keep track of your sales performance metrics by using one of the 60+ reports and dashboards. You can also create your own reports to track your sales pipeline, visualize your sales conversion funnels, measure sales team performance, and more — all seamlessly powered off your HubSpot data.



5. GetSiteControl
GetSiteControl can be used to create custom contact forms, online surveys, and opt-in forms connected directly to your HubSpot CRM. You can also create custom contact forms for technical support or sales, conduct online surveys, collect email newsletter subscribers, and send all collected data directly to HubSpot. Have full control over your forms' behavior by choosing to start and stop them based on scrolling, after a set amount of time, or on a certain date or day of the week.
6. CircleLoop
CircleLoop can be used to send, receive, record, and track outgoing and incoming calls directly within your HubSpot CRM. With this integration, you can automatically log all your call activity into HubSpot, enjoy enhanced caller ID recognition on incoming calls, call leads faster with full contact sync, and use simple click-to-call from HubSpot.



7. OrgChartHub
OrgChartHub can be used to build and store customer organization charts within your HubSpot CRM. You can also create sales personas and map them onto your org charts. These visual charts help you identify key stakeholders in your deals.



8. Map My Customers
Map My Customers syncs with your HubSpot CRM to create dynamic map visuals of your contacts, companies, and deals. Target the right customers in sections using a powerful spatial filtering engine and use colors and groups to segment customers by what they sell or who's selling it.



9. Jira
HubSpot's Jira Cloud integration gives you an easy way to gain insight into your customers' Jira Service Desk support and Jira Software development tickets directly from your HubSpot CRM. This integration empowers sales to build stronger relationships to help retain existing customers and improve their overall experience.
10. Skyvia
Skyvia can be used to integrate, back up, and manage HubSpot data without any need for coding. Use Skyvia to automate your data workflows by integrating HubSpot with major cloud apps and on-premise data sources without coding, and schedule for automatic execution.



Wondering how to get started? Check Out Our Integration Library.