As both a working marketing consultant and professor at Emerson College in Boston, it has been my goal during my twelve years of teaching to give students real-world skills they can use both to advance themselves and the businesses or causes or issues that interest them.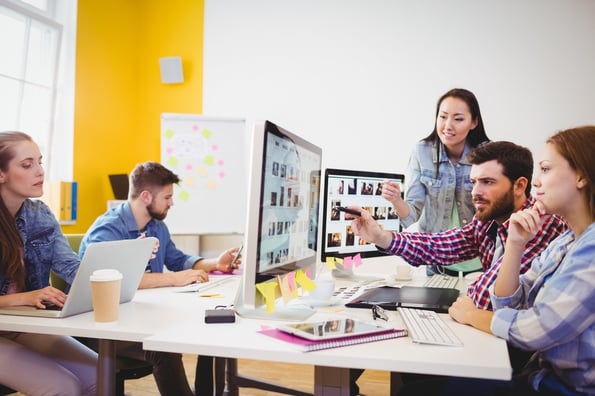 Emerson has just been ranked #5 in the Top 10 Marketing Programs by USA Today and specializes in integrated marketing and communications.
Part of the challenge, as I tell my students all the time, is that there is a "perfect storm of innovation," or multiple exponential forces simultaneously at work in technology that are now and will continue to transform communications and many other aspects of our lives at an ever faster pace. In other words, instead of focusing strictly on the tools themselves, I focus on empowering students to adapt and provide value no matter what tools they use now, as well as with any new or transformational tools that will most certainly continue to emerge over time. So how can the world of inbound fit in?
A Partnership with HubSpot Academy
It is with all this in mind that I reached out to Mark Kilens, Director of HubSpot Academy last summer, in preparation for a senior capstone course I was to teach in Fall 2014. I had already booked a great client for these talented seniors to work on - Capital One Financial. Since Capital One has such a strong digital footprint and our goal was to capture millennial audiences (or personas), inbound seemed a natural component to add to the campaigns these students would be presenting to this client at the end of the semester.
It started off by simply making the HubSpot Academy's Inbound Certification course available to the class along with a semester-long HubSpot trial license. To top it off, we took a class visit to HubSpot headquarters to kick things off.
As we got rolling, the students told me that they needed more training in order to develop and present the strongest Inbound Campaign for Capital One, and they needed some basic assignments and an assessment/feedback mechanism to make the existing Academy assets useful to them. What's more, they needed the feedback from both a marketing/strategy and inbound perspective if it was to truly yield the strongest result.
Bringing Inbound into the College Classroom
With no advance planning, the folks at HubSpot Academy and I were able to rise to the challenge.
Here are the four steps we took to make this work:
1. Built Modules
First off, we separated out and organized some of the Academy's Inbound Campaign components, especially the lessons on Blogs and Content, Landing Pages and Calls-to-Action. I built assignments for each student to build out a set of organized modules following all of the instructed best practices.
2. Class Visits by Inbound Experts
We were also very lucky to have two of HubSpot's Inbound experts, Ginny Sosky (blogs and content) and Lindsay Thibeault (landing pages and calls-to-action) come to class on separate occasions and walk students through these campaign components.
3. Flipped Lessons & Assignments
To set things up, I flipped the video lessons around, and had students watch the pertinent lessons each in advance and finish off the assignments I built, so that when Ginny and Lindsay came to class (they were both great by the way!), the students had work to share and ask questions based on their initial experiences.
4. Assessments
The missing piece to an effective program in the classroom is an assessment. To make this happen, I asked both Ginny and Lindsay if they were willing to assess the student's work with me and offer expert Inbound feedback and advice during a Q&A at the end of each session. Happily both Lindsay and Ginny agreed, and both totally knocked it out of the park. Needless to say, the students loved this!
It was so useful in fact that we canceled a third session with HubSpot because the students felt they were ready after the second session to take on the project without it.
Add it all up - modules that made up an inbound campaign were built and tested in an actual classroom setting for an actual client.
Here are some comments we got from the client, Capital One, relative to the Inbound Campaign component:
"We loved the Game of Thrones Blog Post. That was outstanding!"
"Love the inbound template and concepts and the link to the education. (also you nailed a bunch of our internal language, which wins big points because you are demonstrating that you get us!) Also the infographics – brilliant."
And here are a couple from students:
"I think more capstones should involve inbound marketing training, as well as working with a large corporate client which looks more legitimate on our resumes. I learned a lot in this course about corporate campaigns, rebranding, and inbound marketing which I don't think I would have got without Randy or working with Capital One and Hubspot."
"Randy brought in a lot of different people to use as resources for both our project, as well as professional network which was great."
"In both phone interviews (for an internship), I talked about what I was doing with Capital One and HubSpot, which impressed both interviewers. Each made a point to mention how awesome this was and how it was something different that they don't usually see in applications. It definitely helped me establish credibility and context in describing my Inbound marketing knowledge."
"While I think inbound marketing is important, I don't think it should have been presented to us for the first time during our Capstone."
The Road Ahead…The Journey Continues
This last student comment really affected me, because I confess, I totally agree. The capstone course is a senior-level, and why wait until then to introduce inbound?
As it turns out, I am teaching a set of what I call "Marketing Bootcamp courses this semester, what we at Emerson call "Marketing and Marketing Communications." So once again, with the help of Mark Kilens and the HubSpot Academy team, I am able to offer access to the Inbound Certification course and the associated test at the end of it to the classes, made up mostly of freshmen and sophomores this time.
So now each student is required to watch the classes or chapters, complete a series of associated assignments I built for each, and take the certification test at the end. More to come…