We all love receiving positive feedback from customers. There's nothing quite like getting that confidence boost and warm feeling that you're doing your job well and helping others succeed.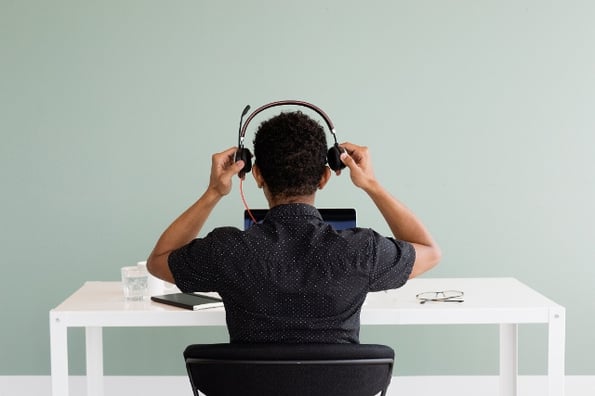 But how about that negative feedback?
Well, it's safe to say that we don't particularly feel all that excited about it. Hearing that a customer isn't happy with your company can be disheartening. You want to delight them, but you end up letting them down.
While it might be tempting to ignore negative feedback, you should instead face it head-on—get a little comfortable with the uncomfortable. Because feedback from customers—the good and the bad—makes your service that much better. And you might even get a second chance to do right by the customers who didn't enjoy their experience with your company.
As a matter of fact, NPS detractors (i.e., users who evaluated your brand with a score equal to or less than 6 on a 0–10 scale) should be treated with utmost concern. In a survey conducted by Esteban Kolsky, customer experience strategist and Founder of thinkJar, 13% of unsatisfied clients admitted to sharing their frustration with at least 15 other people.
Yikes! Talk about bad PR for your company.
So, how can you communicate with NPS detractors and regain their trust? The answer is simple: Use the HubSpot CRM, Service Hub, and customer surveys.
NPS Surveys
Your NPS detractor process isn't as simple as just gathering numbers. To really understand the customer experience, you must pay special attention to two areas:
Asking the right questions
Establishing feedback ownership within your team
Let's dive into some specifics.
Asking the Right Questions
Surveys are a natural choice for follow-up questions – especially because that's where your NPS results came from. But before sending those surveys, consider the following:
Open-ended questions vs. closed-ended questions
Automatic follow-up vs. supplementary surveys
Consistent questions vs. segmented questions
Here are some easy tips on how you can approach each of these steps:
1. Open-ended questions vs. closed-ended questions
You might think that a numerical inquiry like NPS calls for an open-ended, supplementary question. On the other hand, if you don't provide your respondents with a closed list of answers, you won't be able to analyze and quantify the results easily.
So, which direction should you go?
If you're not wholeheartedly convinced that you can come up with a (truly!) relevant list of answers, don't opt for a "best guess" approach. An especially effective method is...doing a little bit of both.
You'll be able to implement this practice through integrating your account with a HubSpot integrated external survey tool that offers extra elasticity when it comes to the follow-up question format.
Here's how:
Your first NPS survey should feature an open-ended follow-up question. You can run your first survey through Service Hub's customer feedback feature. Here's a great idea for a starting question:
We're sorry we let you down. Can you tell us more about your experience so that we can get it right the next time?
Carefully analyze any answers you receive, and note down any apparent patterns.
Now, it's time to integrate your HubSpot account with a tool that lets you create closed-ended follow-up answers. In the Survicate survey example below, you can see how a potential list of follow-up responses might look based on the insights mentioned above:
In this approach, you don't close yourself off entirely from off-the-script answers. The "other" option at the bottom of the list leaves the door open to any future iterations.
You'll also be able to easily analyze and derive the most popular answers and send them to your HubSpot CRM as properties.
Your closed-list of questions can also be inspired by:
Responses to your other surveys that speak to customer satisfaction.
Other data in your HubSpot CRM. Perhaps there's insight hidden in your property names, or there's data imported from other sources.
2. Automatic follow-up vs. supplementary surveys
Whether you should opt for an automatic follow-up or a separate supplementary survey has a lot to do with why you wish to reach your NPS detractors.
What's great about this approach is that you can create independent workflows and follow up not only on negative but also neutral and positive feedback.
Naturally, this will work well for all future NPS surveys you send. But what about following up on negative feedback in past surveys?
Here's where your HubSpot CRM and other methods come into play. With question-level integration, you can send all detractor responses to your CRM and assign them to specific clients or leads. This way, you'll be able to easily filter out anyone who's provided negative feedback in your NPS surveys in the past and send them a follow-up question.
3. C
onsistent questions vs. segmented questions

That being said, regardless of the type of survey or question, make sure your inquiries are as relevant as possible. When you're dealing with a disheartened group of users, the slightest irrelevance or inconvenience could come across as intrusive and cause your brand damage.

Given what you've just learned, chances are you might be considering customizing questions per specific detractor groups instead of sending the same questions to all customers consistently. For instance, you might want to address detractors who provided 0-3 scores with different questions than respondents who fell just below the neutral point threshold.

Here are a few ideas for relevant follow-up questions:

0–3 Detractors

What is the reason behind your very low score? Please mention all areas that apply.
What can we do to regain your trust?
What would make you reconsider your negative opinion of our product?
4–6 Detractors
What can we do to gain your full trust?
What can we do better for you next time?
What's missing in our service that could potentially influence your score?
Now, let's walk through dividing your detractors into custom groups.
The fastest way to gain a shortlist of users is sorting your contacts via detractor score in your HubSpot CRM. Notice the Rating column in the example below:
Breaking down your detractors into smaller segments is also a great starting point to further communication personalization — specifically, scheduling customer interviews.
While interviews with NPS detractors can be both hard to schedule and challenging, they're worth it. When carried out properly, they can work wonders to improve your NPS score. In the end, it's quite simple: One-to-one human communication can't always be substituted by automated questionnaires, no matter how relevant and personalized they may feel.
To kick off your interview efforts, you can start by filtering NPS detractors in your CRM and reviewing their most recent (or past) NPS scores. Next, to further narrow down clients most likely to agree to a quick call, you can reach for external data.
Here's how we tackled a similar interview challenge at Survicate and how our NPS and communicator tool data helped along the way.
Note: While we were trying to communicate with a specific group of NPS promoters, not detractors, the following approach can be used to contact any respondent group.
In scheduling our interviews, we:
Derived data on customers who provided the desired NPS value.
Checked the date of the last completed NPS survey.
Sorted our NPS promoters via date of last interaction with our customer success team.
As a result, we created a shortlist of clients who matched our predefined profile, and we were able to interview clients for a series of customer stories on our website.
In the example above, the key to boosting interview rates lied in thinking about what else defined our NPS respondents. We searched for active users of our service, who were able to share up-to-date impressions. Additionally, we also searched for customers who evaluated their recent interactions with our customer success team in a CSAT survey.
To summarize, if you extend the same approach to your interview efforts, make sure to refer to your:
Customer feedback analytics tool – specifically "date range" and "filtering" options in Service Hub.
CRM properties and lead/customer interaction history.
The best part? You can use the HubSpot calling tool to contact your clients and record your interviews – all in a few clicks. Your call will also be automatically logged to your HubSpot CRM account, making it easy to keep the rest of your team in the loop.
NPS Detractors: A Strategic Plan
Now that you know how to make the most out of your HubSpot software and survey integrations for customer feedback, here are some tips on how to establish a cross-company NPS communication strategy. After all, customer success is everyone's business—not just your service team's.
Run NPS surveys at regular intervals: Establish regular NPS surveys – this will help you track your score over time. You should also consider if the personalization and segmentation options described above would fit your audience. For example, for follow-up questions, you could consider using CRM properties such as "company industry" to boost survey relevance (and, likely, help your response rates).
Monitor change of NPS over time: Make sure your entire team is kept in the loop. Any changes — positive or negative — may call for additional research. Think — understanding when NPS started going south, or nailing down a change that triggered a positive reaction.
Send other surveys, such as CSAT or customer support surveys, after specific interactions: Your customer success and support teams surely interact with your NPS survey respondents. While NPS will tell you how clients evaluate your brand altogether, you should also monitor their satisfaction with specific interactions.
Use feedback to kick off automated internal notifications to team members: As mentioned in the first part of the post, letting your CS team react to a low NPS score within minutes, if not seconds, will make you go a long way. Oftentimes, reaching your detractors while they're still online and offering assistance will help make amends. It's also a great method of keeping your team leaders in the loop. If you're a Slack user, you can also use HubSpot's custom SlackBot solution – the NPSBot.
Regularly write knowledge base articles: Keep an eye out for users reporting they weren't able to find answers to a question. Create an article in your knowledge base for any similar issues in the future. You can tag relevant team members responsible for educational content in your NPS Slack channel.
Search for complementary HubSpot solutions: Last, but not least, HubSpot is integrated with a whole array of external tools that help you make the most of your user research efforts. To put things simple – your CRM, data collected through Service Hub, and external survey tools are a match made in heaven, and greatly increase each others' insightfulness. And that's a great starting point to mastering those customer satisfaction metrics!
Bottom line: Detractors are opportunities. Think of them as a potential second chance to do the right thing for your customers—and to improve your services along the way.
What are your ways of restoring customer trust and boosting customer satisfaction metrics? Exchange your experiences with the HubSpot Community, and stay on the lookout for other tips on the User Blog!