Your data is as unique as your business. Sometimes, this means that the story you need it to tell won't always fit into traditional marketing, sales, or services reporting best practices. Knowing how your data fits into the bigger picture can lead to greater successes.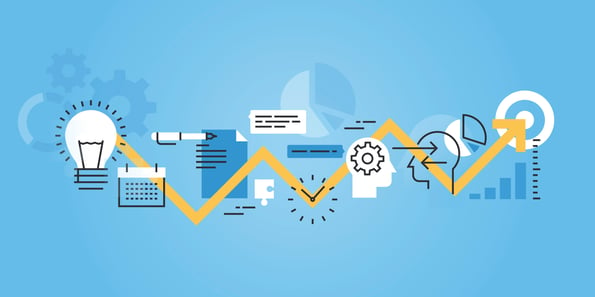 But without clear understanding of how to access the right data, building the best custom report can become overwhelming or frustrating. Understanding how your data is organized in HubSpot can ensure that you're setting yourself up for success when building custom reports.
Let's start high level— HubSpot is a platform that helps millions of companies grow better through its marketing, sales, and services software. At the center of this platform is the CRM:
As HubSpot's core database, the CRM acts as the foundational layer to any of its marketing, sales, or services products.This is where most of your data is stored so that it can accessed, searched, and filtered when needed. But how is information actually being organized in the CRM? Let's explore.
Think of the backend of the CRM as a large Excel file with different sheets of data. Often referred to as "objects," these sheets represent the key categories HubSpot uses to organize your information. The most common objects you'll encounter are contacts, companies, and deals, but depending on your subscription, you may also have access to activities, tickets, and products.
Now think back to the sheet of data in Excel. You may think of a table of columns and rows. HubSpot's data can be visualized similarly.
Every time you add a new contact, company, etc. to HubSpot, you're essentially creating a new row or "record" of information. The details about that specific record are then stored in either default or custom properties, which, in this case, can be visualized as the columns of the spreadsheet.
How does this relate to creating custom reports?
Thinking about the way your data is organized. When building a graph in Excel, you first need to highlight the rows and columns of data you want to visualize. The HubSpot report builder functions much of the same way.
So when you create a custom report based on or across data sets, think about how this data is organized. Choosing objects first selects the sheets of data your report will focus on. Selecting filters helps you to narrow down or highlight the scope of information being pulled into the report. Similarly, selecting properties ensures that you're including the data that matters most.
From there, you can then choose your chart type. This is a critical step as this is how you will visually communicate the insight you've found within your report. You want it to make it as easy as possible for your colleagues to understand the trends, outliers, and patterns that you find in your data.
No matter the type of report you're building, understanding how data is organized in HubSpot can help you conceptualize the different levels you'll see when exploring the HubSpot report builder. Familiarizing yourself with how your data is inputted can help you produce powerful results for your business.