You're probably aware of HubSpot's presence on social media. Whether you follow our Twitter account, like us on Facebook, or are even in our Inbound Marketers LinkedIn group, you know that we take social media very seriously.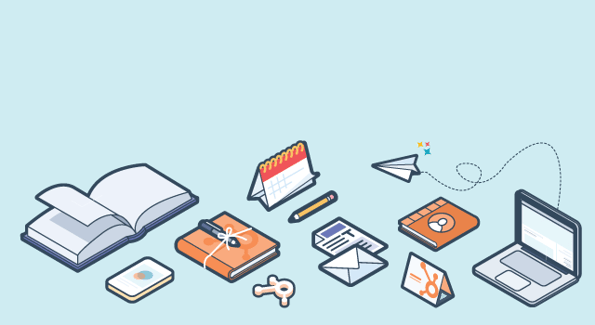 For us, social media isn't a fad. It isn't a practice you do only if you have time. It's one of our main channels for lead generation and is essential to each and every stage of the inbound methodology. As part of HubSpot's social media team, I am writing to share with you some exclusive glimpses into our social media strategy.

And a tip -- If you're looking to learn more about the structure and organization of our marketing team, directly from HubSpot executives themselves, consider attending the new How to Do Marketing like HubSpot customer-only executive training.
1. We align with our content creation team.
Our content team is top-notch. When they release a new offer, we want to make sure it gets seen. We do this by coordinating the offer release and messaging across all of our social media channels.
The first step of coordination is to meet with the content team before each offer is released to learn the release date, how it will be positioned, and what social promotional assets the offer creator has designed.
From this meeting, we then craft a social plan for the offer. We create additional social promotional images, usually repurposing quotes and images from the offer. We learn from the blog team what blog posts will now include the new offer CTA, and then schedule those blog posts to be tweeted throughout the offer release week.
We craft social messages all linking to the same offer landing page, but with varying copy. Some of the posts will be about what you can learn from the offer, others will be of quotes from the offer, and others will be solely image-based. It can depend on the type and content of the offer. We also determine a specific Twitter hashtag for the conversation about the offer.
On the day of the offer launch, we coordinate Twitter and Facebook cover photo changes, pin the main offer posts, and schedule social posts to go out throughout the release day and week. We also alert the offer creator if there are any questions about the offer that come from social, so that he or she can respond.
Social-Offer alignment is an involved process, but we want to make sure that each and every offer receives our social love and can be seen by thousands of people who would benefit from its content.
2. On LinkedIn, we don't just manage our company page; we facilitate an industry community.

Not only do we run the HubSpot LinkedIn company page, but we also manage the LinkedIn group for Inbound Marketing Professionals.
By moderating discussions, posting questions that relate to our blog posts, and sending weekly offer announcements, we acquire many qualified prospects and leads, but also strengthen the association of the HubSpot name with thought leadership in the marketing realm. In addition to Linkedin, we're very active on Inbound.org - a community started by HubSpot Co-Founder Dharmesh Shah and Moz Co-founder Rand Fishkin to stir conversation on content creation, SEO, and other marketing topics.
3. We make sure to interact with each and every social media post directed at us.
We understand that it is important to be where our prospects, leads, and customers are, at the right time. We value the chance to respond and engage in these crucial moments during their lifecycles.
Through our social channels, we provide customer service by answering questions and by simply interacting with social messages. All of these interactions help to further a memorable, lovable buying experience. It's one thing to broadcast and publish messages, but it's another to truly form a two-way relationship.
4. We share our culture.

We love to use our Instagram account to showcase our company culture! From #MeetAHubSpotter and free food images to inspirational quotes and pictures from around our office, we love to share our HubSpotty culture with everyone that follows our account.
5. We analyze, analyze, and then analyze some more.
We believe that by figuring out what's working (and what isn't) on your social media accounts, you make more informed strategic decisions -- and hopefully work your way to be more successful down the road.
Using HubSpot source reports, we constantly assess how we are progressing on our lead generation goal for each social channel, how many website visits are coming from social media each week, and how effective each social channel is in promoting a specific offer.
For example, to see whether our offers on LinkedIn are driving as much traffic to our site as our blog posts on LinkedIn, I create two campaigns in the portal. One campaign is called "Blogs on LinkedIn" and the other is called "Offers on LinkedIn." After scheduling and publishing LinkedIn blog and offer posts in a controlled fashion, I drill down into the LinkedIn sources report tab to see how the two campaigns compared to each other in terms of website traffic and conversion rates. Depending on my results, I adjust the ratio of blog to offer posts on LinkedIn accordingly.
In addition, sometimes we like to get down to the nitty-gritty details by exporting monthly Twitter data into Excel. With the filter feature, we can group tweets by content type or by certain aspects of tweet copy. By comparing groups to each other and the monthly average, we come up with valuable takeaways for the next month of social media publishing.
Why do we do all of this?
Social media can produce quantifiable business value at every stage of the inbound methodology.
Attract: If reach is increasing for each one of your social channels, you are attracting more visitors to your site and increasing brand awareness.
Convert: If you are posting offers landing pages on social media, and seeing high click-through rates of these posts and subsequent lead generation numbers, your social media efforts are greatly impacting your conversion rate.
Close: If you monitor Twitter streams that consist of people wanting to learn more about your product and then direct them to a demo-request page, where they eventually close as a customer, social media is beneficial in helping your sales team generate customers.
Delight: If you see high amounts of shares, retweets, and favorites of content that you promote on social media, you are delighting both your customers and prospects alike.
Like what you've read? Now is your chance to consider the Executive Summit: How to Do Marketing Like HubSpot. Get a behind-the-curtain look into how HubSpot built its own marketing team. This is a special executive workshop for HubSpot customers only.
Does your company do social media marketing in a similar fashion? What business value have you seen from your social media efforts?