As avid HubSpot Enterprise users, the Bizzabo marketing team has come to appreciate the value of inbound marketing. It is our main source of lead generation and over the year's our team of content marketers have learned how to provide value to those readers while also capturing high-quality leads.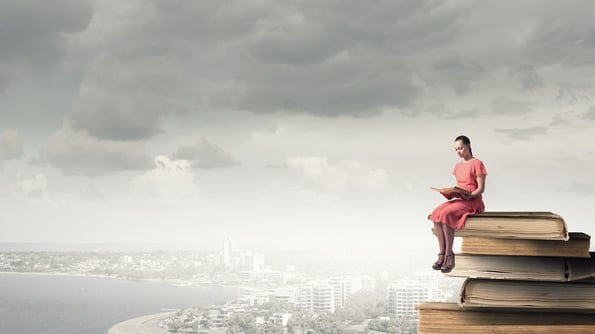 The marketing team wanted to build helpful content for event professionals, marketers, and professionals in general while also gathering contact information of event organizers interested in using Bizzabo's event management software.
After using HubSpot for just a short time, we quickly realized that an all-in-one marketing platform could help us build a more effective content creation and lead generation process. Now, we are excited to show you how you can also put together a content marketing strategy that helps readers while attracting leads.
How to Build a More Effective Content Marketing Strategy
Step 1. Create Valuable Content for Readers
You probably are already familiar with the need to create a form of valuable content if you hope to execute an effective inbound marketing strategy. HubSpot has already written about this extensively, check out their content creation guide if you're just getting started.
Visitors to the Bizzabo blog are primarily in the event planning industry, so we try to produce content that event organizers will find helpful. To this end, we pay attention to what's popular on forums trafficked by organizers and try to provide answers to questions organizers are asking.
For example, on Quora, many event organizers asked other Quora users about event management software.
After doing some research online, we discovered that the topic wasn't widely covered, so we decided to write our own article about how to choose the best event management software depending on the of organizer you are.
Since publishing the blog post in May 2015, it has been shared nearly 230 times and ranks on the first page of Google for search terms like "best event management software" and "event management software".
Here's what the blog post looks like for reference
The content has driven thousands of visitors to our website, as a result of writing something that our target audience was clearly asking for (literally).
To create valuable content for your target audience, you must listen to your readers. In this instance, we visited sites like Quora, Reddit, and LinkedIn communities to take the pulse of our potential customers.
In other instances, we engage with our audience on Twitter, or sent blog subscribers a survey, asking them about the sort of content they are most interested in reading.
Step 2. Create Content On A Consistent Basis
After analyzing our blog traffic, we concluded that if we publish new, high-quality content frequently, we'd be able to increase our monthly visits. Many will likely agree that the challenge with content marketing for small businesses is finding the time to consistently publish good content when many other projects needing to be delivered.
We found that the project management platform, Trello is a good tool to manage the content creation process. First, we create blog post ideas as a team, then we either write those pieces of content or we work with a team of freelance writers to get the content produced.
Each week, we select four pieces of content to publish that we think will appeal to our visitors and blog subscribers' broad set of interests.
Step 3. Create Attractive CTAs
Since our goal was to create helpful content that also generated leads, we decided from the get-go that each blog post we published would have an accompanying CTA in the post. By using HubSpot's tools, we were able to quickly determine that blog posts with custom-designed and contextual CTAs received more clicks and generated more leads for us.
To see the blog posts that have the most clicked CTAs go to "Content" > "Blog" > "View All Blog Posts."
Once you've done that, edit the columns so that you can see CTA clicks.
To take an ever deeper dive into the performance of blog posts, select a post that received a high number of CTA clicks, select the gear icon, and click "Details." Then you'll be able to see the number of new contacts a specific blog post has generated.
By using this feature, we were able to confirm that contextual CTAs that are also well-designed generate the most leads.
To create good looking CTAs we use Canva (dimensions 500px x 200px) and try to follow proven color combinations that tend to produce visually appealing designs that attract the reader's attention. For more information on color theory,
check out this HubSpot post
.
Once the CTA is designed in Canva, we upload the image in HubSpot's CTA creation tool.
To do that, select "Design" > "Image Button," and then upload the Canva design you just downloaded.
Be sure to add alt-text to the CTA you're creating to further enhance the SEO performance of web pages that host the CTA.
Step 4. Make Sure CTAs and Landing Pages are Relevant
Creating killer content and designing good looking CTAs won't maximize the number of leads you gather. In addition to following steps 1 and 2, you'll need to create contextually relevant CTAs and landing pages.
Our article on choosing event management software features a CTA that also references event management software. We believe that this is one of the reasons why this CTA has a nearly 10% click-through-rate (CTR).
Since HubSpot makes creating CTAs and landing pages very simple, there is no reason why inbound marketers shouldn't create a new CTA and landing page for most new blog posts. That way the copy of both the CTA and the landing page will fit contextually within the blog post.
By doing this, marketers will be able to maximize the number of leads generated by blog posts and by other pieces of content that they publish.
Using HubSpot to Delight Readers and Attract Leads
As many of you may already know, content that is truly valuable to a business will delight readers by providing helpful solutions to common problems. To find topics for this kind of content, consider listening to your target audience on social media platforms, in addition to doing other forms of traditional keyword research.
Once you understand what topic your customers will find valuable, be sure to include a CTA in the piece of content in order to capture qualified leads.
Consider using Canva to design good looking CTAs and make sure that those CTAs and accompanying landing pages are contextually relevant to the associated content.