Marketing isn't in my job title, but that doesn't mean it isn't one of my responsibilities. I am not focused on generating new leads for our sales team, or helping to qualify leads at all. If you look at the inbound methodology, my work revolves around the last section, Delight.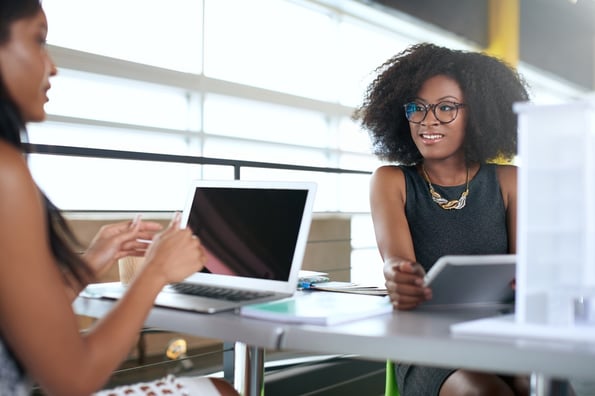 The Delight stage is all about making your customers pleased with your product that they begin to evangelize you to other potential customers. I am a Customer Success Manager, so I am tasked with the awesome job of delighting our customers and making sure they squeeze as much value out of our software as possible.
The Problem
Contactually is a SAAS company that makes it simple to stay engaged with every part of your network. When a new company purchases our software, the first priority is to get their users into our tools so they see immediate value. The problem is that I'm only one person and my customers each have thousands of users. It doesn't take a mathematician to see that one person's time, divided by thousands, doesn't equal much time spent with each user.
In order to make the onboarding for new customers a positive and successful experience, I needed to find a scalable way to help each user get started as quickly as possible, all while maintaining a personal touch. HubSpot's Workflows tool was the answer.
The Plan
As someone who idolizes Abraham Lincoln, a specific quote stood out in my mind as I started to think about the best approach for our new onboarding plan.
"Give me six hours to chop down a tree and I will spend the first four sharpening the axe."
Updating the onboarding process using HubSpot was my tree to cut down, but I wasn't exactly sure how to start sharpening my axe…metaphorically speaking of course.
Fortunately, we are a Premier Services customer so I was able to work with my Inbound Consultant, Stephanie Lussier. She helped me to design my onboarding campaign and implement it, which was incredibly helpful since I was a HubSpot newbie.
In order to determine the best design and implementation for this campaign, Stephanie and I determined the following:
The goal: To get a higher percentage of new users engaged with our tools right away
How we would measure success: The % of active users from each account
What needed to be created: A mind map of the new onboarding process which would help us determine how to build the workflows, emails, and smart lists.
This required us to narrow our focus to the most important actions that drive long term usage in our tool. We picked the first two actions any customer has to complete to get started in our tool:
Signing into the tool
Sending an in-app message
These would be the actions that we help our new users complete with educational resources sent by automated email touch-points. Let's take a look at how we built this.
The Process
Step 1: Visualization
First, we needed to visualize the path(s) we wanted new users to go through. This would also help us identify exactly how many workflows, emails, and smart lists we would need to create.
Step 2: Data Management
In order for the workflows to effectively help customers based on their behavior, we needed to know what actions they were or were not taking. To do this, our Head of Data Operations set-up multiple API connections between our usage tracking system/SFDC and HubSpot. The API would tell us who was logging in, and who had sent in-app messages (and how many).
Note: Depending on the actions you want your customers/prospects to take, you may be able to use information that is already in HubSpot. A simple example is page views.
Step 3: Smart Lists
Next, we needed to build a smart list for the successful completion of each 'critical action'. For example, "Customers who have signed in more than once", "Customers who have sent at least one in-app message".
Pro Tip: Enterprise customers can use the Events tool to demarcate similar actions taken by their customers/ prospects. They can then segment out those who have or have not taken that action and send them a specific message using the workflows tool.
Step 4: Emails
We needed to create the right message for the right person. Once the smart lists were done, we had three specific types of users we could send emails to through HubSpot.
Customers who had not yet logged in
Customers who had logged in but hadn't sent a message yet
Customers who had logged in and sent at least one message
So we looked at a few of the old emails that I had personally sent to past users who were at similar stages. Then, using the Email tool, I created automated emails to address the needs of users in those buckets.
Step 5: Workflow Creation
This was probably my favorite part of the whole process. We were able to set a workflow up to help move each type of user to the next stage.
For the first workflow, we set the starting criteria as the smart list for users who had not yet signed in. We then set the goal for that workflow as users that had signed in. That group of customers received a series of three emails over 15 days encouraging them to log in and check out some of our key features. Once they sign-in, they were added to the goal list, removed from this workflow and added to the second workflow.
The second workflow was built with the starting criteria of being added to the smart list of users who had logged in but hadn't yet sent a message. The goal of this workflow was the smart list of customers that had logged in and had sent a message. We sent these users a series of emails over 40 days encouraging them to send a message.
Finally, we created a workflow for users that had sent a message with the tool. This workflow included an email that congratulated them and encouraged them to take some more advanced steps with our tool.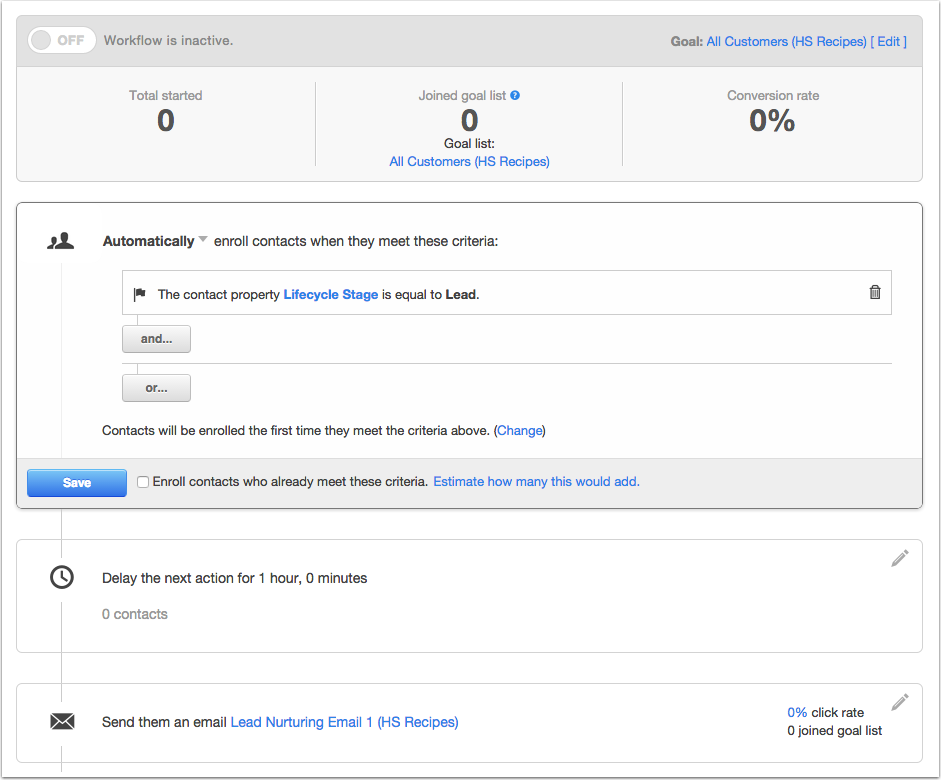 The Results
As we finished building out these emails, workflows, and smart lists, Stephanie and I talked about which metrics to watch and when/ how to optimize the process. To monitor the overall performance of the new onboarding process, I watch the conversion rates of users reaching the goal list associated with each workflow and more granularly watch the emails that have the highest open and click rate to make sure we are sending messaging that resonates with our users.
So far, our new onboarding method has been up and running for a few months now and we are seeing an average of 50% higher adoption rates from our customers!
All in all, the results we saw from Hubspot far exceeded our expectations. Stephanie and the Premier Services team was a huge help in getting our workflow process setup.
Not only have we already seen bottom-line results with Hubspot Workflows tool, but the process that Stephanie helped us establish has trickled over to other business units within Contactually.
In other words, we have found our axe, sharpened it, and cut down the tree.