On average, only 1% of website visitors who come to your site will fill out a contact form or download some type of gated content.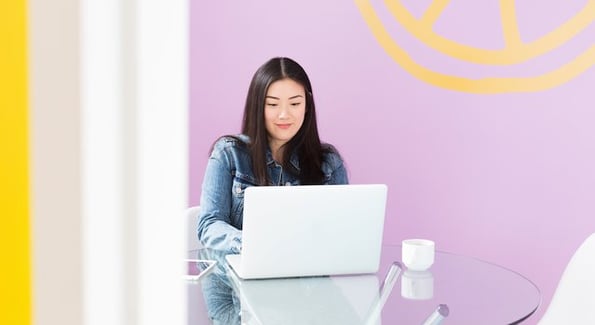 So how do you connect with the rest?
While Google Analytics doesn't show you the individual users visiting your website, you can still find companies that are visiting — if you know where to look.
In this article, we're going to walk through two ways you can use Google Analytics to do just that.
Method 1: Google Analytics' Network Report
The first method is manual, but you can do it right now in Google Analytics, no extra tools required.
In Google Analytics, there's an underutilized report called the Network report. At first glance, it might not look very helpful. But if you know how to read it, you can use it to identify individual companies that are visiting your website and even see what pages they visited and how long they stayed.
By gathering information from the Network report, you can give your sales team data that would otherwise look like anonymous, non-actionable web traffic.
To view the Network report, look under Audience > Technology > Network.
The report will look something like this:
At first, it will probably look like nothing more than a list of internet service providers.
Look deeper, however, and you'll see individual company names.
A company listing represents an individual (or individuals) who has visited your website from a specific company network. The company listings usually have less traffic, so you might need to scroll down or expand the list beyond the 10 that Google Analytics shows by default.
Once you find a company listing, you can drill down to find additional information, including pages visited, time on site, bounce rate, and all the other standard Google Analytics metrics.
If a company you'd love to close shows up on this list — or if a company is looking at a page that indicates it's a high-quality lead, like your pricing page — it's time to alert someone on your sales team.
Benefit:
You can identify sales prospects, even if no one fills out a form.
Downsides:
This is a fully manual process that can be time-consuming.

It can be difficult to execute this method on an ongoing basis.

You must sort through a longer list of ISPs to find the companies in the report.
Method 2: Automatically Push Leads From Google Analytics Into HubSpot
This option automates everything in the manual method above — and then some.
Leadfeeder is a tool that integrates directly with Google Analytics and HubSpot, allowing you to do everything we described in Method 1 automatically.
Leadfeeder identifies companies that are visiting your website and cleans the data so you only see potential leads. And the integration with HubSpot lets you push those leads directly into your team's customer relationship management system.
When you're transferring those leads to your CRM, you can create a new company or connect to an existing company in your HubSpot CRM (see below).
Once the lead is pushed into HubSpot CRM, all data from that company's website activity is appended to the record, giving your sales team a complete look at everything the company has done on your site to that point.
This method is beneficial if you want to identify leads that would otherwise be anonymous and if you want the process to be automated.
Benefits:
You can identify sales prospects, even if no one fills out a form.

You can monitor individual companies.

You can directly push sales leads into HubSpot CRM.

This method automatically appends all previous website activity to the CRM record.
Downside:
Some initial setup time is required to integrate the services.
Salespeople will inevitably spend time chasing accounts that aren't a great fit. In fact, one study found that at least 50% of B2B sales prospects aren't actually a good fit for the product or service you're selling.
But what if your sales reps could start every day by calling on companies they know have already shown interest?
Whether you dig up the leads manually or automate the process to push leads directly to HubSpot CRM, you can give your team members targeted prospects you know are worth their time.
Want to connect with others on HubSpot tips, tricks, and updates? Head over to the HubSpot Community to join a conversation or start one of your own.