Creating contet isn't an easy process. I learned this firsthand during my time as a Customer Success Manager and working with customers to help develop a content marketing plan. To help put a face to the problem, I identified the most common roadblocks to creating content, which are as follows: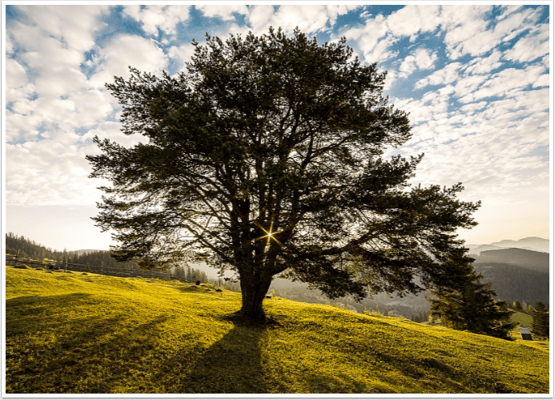 There's multiple platforms (i.e. blog, social media, video) and formats (i.e. guide, checklist, social message, blog post) to consider, and most people aren't sure where to start.
It's difficult to integrate content across multiple platforms.
With limited bandwidth, it's hard to know where to start.
Eager to help my customers solve their content creation roadblocks, I worked tirelessly to identify a viable and straightforward solution. What I found is that creating content is like growing a tree.
Every healthy tree has roots, a trunk, and a crown that is made of multiple branches.
Let's dig deeper into this, starting with the roots.
Roots are the foundation of every tree. Think of your roots as a series of short-form content, like blog posts, social messages, and videos.
The purpose of roots is to form connections—bonds with other roots that grow into a tree, which produce a trunk. Think of the trunk as a long-form content offer, like a guide or ebook. And what grows from the trunk? Branches! Think of each branch as an extension of your content offer into a new format, like a webinar or infographic.
To better understand this concept, let's review how to develop a guide by starting with identifying the seed first.
Identifying Your Seed
Every tree starts out as a seed. The seed is what determines what kind of tree you're going to produce, whether it be a palm tree, pine tree, or scarlet maple tree. Think of the seed as your content theme and format to a long-form content offer you want to create, like an awareness-stage guide.
To determine your seed, you need to have an idea that you care about, something that you're willing to nurture and help flourish.
Let's use one of my recent life experiences as an example.
My wife, Ariele, and I are tiny living enthusiasts, a movement that's spreading across the globe where people are downsizing their lives to focus more on experiences rather than material objects. We've become experts at repurposing everything in our lives to reduce clutter, including our truck.
Meet our truck, George. George is a 2009 Ford f250 Super Duty work truck. We originally purchased George to tote around our vintage travel trailer turned tiny home project, Virginia Blue.
We put our repurposing hats on and decided to convert our truck, George, into a storage unit, which doubles as a living area. Living a tiny lifestyle means we have to stretch as much value out of our possessions as possible.
Through this process, our goal was to help other like-minded, repurposing minimalists by documenting our experience and creating an in-depth, step-by-step guide to help them convert their vehicle into a functional living space.
We identified the content theme and format, a step-by-step guide on how to convert a truck into an off-grid mobile camp. This is the overarching idea of what we want to write about.
This is the seed for the tree we wanted to produce. We had to identify this first before planting and growing the roots.
Growing Your Roots
Once you've established your content's end goal, you can crack that seed and start developing your roots, your supporting short-form content. Every tree needs a strong foundation of roots, otherwise, it won't mature. The same can be said about your content.
Continuing with our earlier example, we made a list of topics that supported the content theme. The important thing to consider here is choosing topics that are strong enough to provide value by themselves, like creating an off-grid electrical system, but also complement the other topics in our comprehensive guide.
These are our roots. We need these to grow into a strong, compelling offer.
One thing to keep in mind when it comes to identifying supporting topics is to make a list of as many ideas as possible. The more topics you can identify the better, as it's only going to strengthen your roots. But don't feel that you need to recycle each topic into the content offer. Just choose the strongest, most relevant supporting topics. If you have extra topics, you can use these down the road for potential content ideas in support of the overall theme.
Notice how we identified building a rooftop deck as a supporting topic but decided not to include it in the guide.
I attempted multiple variations of the rooftop deck build but just couldn't get it right.
Instead of letting that supporting topic bog down progress, we decided to leave it off the list and revisit it later.
Developing Your Sapling
You need a strong foundation of related short-form content, like blog posts, videos, and social messages, which you can adjust, combine, and expand upon to grow into a longer-form content offer, like an ebook, guide, or webinar (also known as your trunk).
With our tiny home project, we started to document our progress via Instagram. We chose Instagram to document our journey because this is our primary social media channel where we engage with our audience. You could do the same with Facebook, Twitter, or Snapchat.
Next, we wrote a blog post for each topic. And because we knew we were going to need visual aids for each post, we embedded Instagram photos throughout each blog post.
This is easy to do if you're a HubSpot customer.
First, copy the embed code from the social channel.
Second, click on the source code button in the toolbar.
Third, insert the embedded code into the source code.
Here's what it looks like when you embed a social post.
Next, we created a video for each blog post. We hosted the videos on YouTube and embedded them at the end of each blog post (same embed process as above). This was a nice value-add for readers, as it gave them the opportunity to view progress after reading about it. Again, the video content follows the same story of our Instagram page and blog, but it's in a different content format on a different distribution channel.
Here's what it looks like when you embed a video.
Once we had all of the content for the guide, we downloaded a free ebook template from HubSpot's Marketing Library. If you're looking for marketing resources and templates for downloadable offers, then you should definitely check out HubSpot's Marketing Library. From resources about lead generation to building editorial calendars, there's something for every content marketer.
We recycled all of the blogs, various Instagram photos, and YouTube videos to help build our comprehensive guide. And while we could have simply copied and pasted the blog content, we adjusted and expanded upon each of the blog post's content to provide additional context and value within the guide.
The final step for completing our guide was adding an introduction and a conclusion. Effective writers always wait to do these tasks last.
BOOM! Now we have an in-depth, step-by-step guide that we created through weekly content activities.
Click here if you want to check out the finished step-by-step guide.
Maturing Your Tree with Branches
Once you produce your offer, you can recycle that content even further by branching into new formats. The goal here is to think about what other distribution channels you can use to leverage your long-form content and provide new value.
Start by asking yourself, "How else might this content be consumed?" If you're looking for a place to start, consider looking to your buyer personas' journey. Not only will this help ensure you're creating content with a purpose, but also, and more importantly, this will help keep your message consistent through each stage of the buyer's journey.
After going through this process and making many trips to the hardware store for materials and tools, we decided to first recycle the guide into a checklist. This way, if the reader wants to get started, they have everything they need to stay organized. I could have really used a checklist during our build. Whew.
And the best part, the checklist only took me a few hours to create because I already had the content for it. Efficiency for the win!
Remember, a tree is generally made up of multiple branches. In order to build a strong and valuable content library, keep up the pace by continuing to recycle your guide's content into additional formats.
If you want to learn how to create your content ecosystem by growing a forest of trees, make sure to pre-register for the Content Marketing Certification below.