Millions of people are on social media everyday showing pictures of what they ate, going on about the latest movie, and discussing things that stop them in their tracks. These platforms capture a vast amount of data on people's behaviors, likes and dislikes, and every possible opinion one could fit in a number of characters.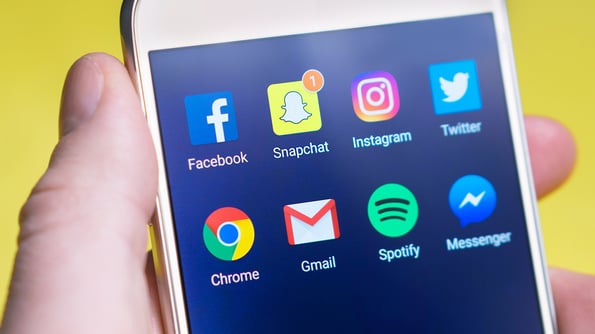 Outside of these platforms, who could use this data? You could. If you're a small business owner who may be wearing the marketing hat as well as running the business, this can be daunting; social media management can feel like being on a treadmill that you can't get off of.
However, you can utilize inbound marketing to take some of this hecticness away. By focusing on an inbound and customer-centric approach, you can use a crucial component of your business – your customer – to succeed.
Benefits of Using Social Monitoring
The customer-centric approach to inbound marketing isn't something that you should just focus on in the beginning of your sales and marketing process. The framework it creates enables small businesses to truly understand the needs of their audience, personalize offers, content, and messages to capture their attention and delight them.
Monitoring your audience's social media activity, i.e. social monitoring, is the perfect lense in which to gain this insight and see how your audience relates to your content, keywords associated with your business, and how delighted they are with you or your competitors. It gives you a snapshot of what your target audience feels about you, your competitors, your industry, your product or service, and so much more. It gives you priceless knowledge and market research just for the cost of your time.
By utilizing social monitoring, you have the opportunity to truly harness the opinions of who you are wanting to attract. If you listen to your audience, you are better equipped to give them the service or product they want, thus strengthening brand and audience engagement.
Implementing Your Social Monitoring Strategy
By focusing on social monitoring, you can respond to negative feedback quickly (showcasing strong customer service) and engage with your customers on comments to enhance the relationship between the audience and the brand. This results in a stronger audience who trusts that their concerns and accolades will be heard by the brand.
During the Super Bowl (Brand Bowl), it was impossible to miss the different reactions across social media with each passing commercial. The ad agencies responsible not only were keeping an eye on their ads, but also on seeing how the audience was responding. Would they be the most popular? Funniest? Controversial? These agencies weren't only looking at their notifications for shares and mentions, because that isn't where all the data is.
To really do a deep dive and see all of the reactions and brand implications, you need to take a look at your personas and business goals. Let's get started.
Know your personas. Who are you trying to attract? What social media platforms do they use?
Determine the objective of the search. There is too much data to just jump into it.

Are you planning to launch a product and want to know if there's interest?
Are you searching to see what current customers are saying (customer service opportunity)?
Want to see how you stack up against your competition?
Want to know who you're really competing with for your business?
Have a product or service and want to know how to optimize? Listen for customer feedback.
Are people talking about you at all? Do you need to strengthen awareness efforts?

Make a list of the keywords you specifically utilize for your social media/brand.
Make a list of keywords associated with your industry (this will help you find and see competitors).
Create guidelines for how far back you will go back to look for comments/interactions.
Make a spreadsheet with your findings. Depending on the comment, how can this be improved?
Have guidelines for how findings are handled.

How will you respond to bad comments/reviews?
How do you show your support for positive comments/reviews?
How do you respond when others talk about your competitors in a favorable light?
How do you respond to your competitors when people say negative things about them? (See how Wendy's handled McDonald's Black Friday Tweet Fail.)
When and where do you use your branded hashtag(s)?
How to Use the Social Monitoring Tool in HubSpot
Connect your social media channels to your HubSpot account.

Create streams based on mentions of your brand and specific keywords associated with your business/product.


Identify who is responsible for looking over these stats.
Create templated responses for how to engage with negative and positive comments/feedback.

You need to respond in a timely fashion. Also, don't just respond to the negative. When a customer praises you, they are saying "I love you".
Address their concerns by acknowledging that there is a problem, you hear them, and want to resolve it.
Invite them to pull the conversation off social by them contacting you through DM, email, phone, etc.

Monitor the pieces of content and keywords that garner the most attention/engagement.

What content are people responding to?
Are you seeing new followers after using specific keywords?
Are there specific topics that your audience engage with most?
When you recycle any of your content, do you see similar engagement?
The HubSpot monitoring tool makes it easy to see your social engagement in one place. It allows you to see your audience's reaction to your posts, and monitor streams related to specific keywords and competitors. This unlocks the power of not only monitoring your content, but the content of others that relate to your services or audience.
The information you gain will help you optimize for future content and distribution, as well as be at the forefront of what is working for you and your competitors. I consistently work with small businesses who struggle to find their place amongst the big dogs in the industry. By monitoring their accounts and keywords, they are given priceless insight into what excites their audience and can turn that knowledge into a win for them.
Social monitoring is an amazing tool for HubSpot users. It gives insights only data can provide and gives you the power to further your audience relationship through inbound marketing.