On top of automating business-critical processes and crystal-clear reporting functionality, Sales Hub has a suite of tools designed to optimize your most powerful asset: your people. Great, right? However, sometimes this can be easier said than done. Familiarize yourself with the following guide to ensure you have a smooth rollout period with high adoption rates.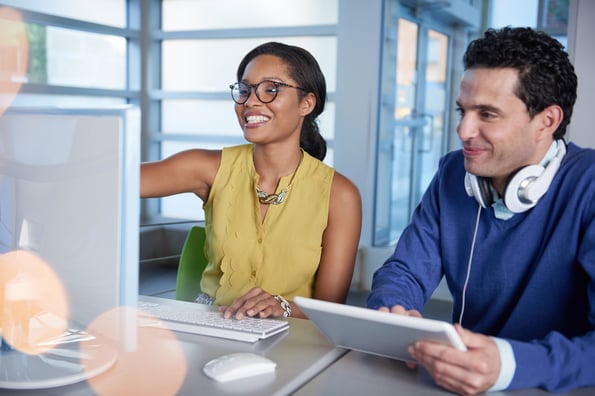 Identify Your Teams
You might be thinking, "My sales team is going to be doing their job in HubSpot, so who else could you be referring to?" Ideally, there should be at least three teams identified for your rollout: stakeholders, power users, and end users.
Stakeholders
These are the people who are spearheading the rollout. They will be responsible for building assets prior to the sales team's entry into HubSpot and are ultimately responsible for the success of the deployment. Common roles include sales ops, marketing ops (if already using Marketing Hub), sales, managers, and director of sales.
If you are planning on rolling out to 20 or more sales reps, your sales managers should be a separate team. They should be involved in all communications amongst stakeholders, as well as have their own meeting to discuss KPIs and standard reports.
Power Users
Identify 1–5% of your reps to be pilot users. This team has two priorities: 1) to identify any gaps in the process or build that the stakeholders haven't yet identified, and 2) to establish authority and knowledge on the team as leaders. A power user will become the point person or the HubSpot expert on the sales team, establishing peers as points of contact. Good fits for power users are fairly tenured sales reps that are looking for a leadership platform to accelerate their careers, engaged team members who are regularly hitting quota, or those who have expressed interest in management roles or in mentorship.
End Users
These are your remaining reps that will be working in HubSpot. For deployments of more than 20 reps, break the remaining users into smaller "waves" to mitigate risk.
Create a Functional Environment
Preparation is key. Building a world in which a sales team can thrive is essential to building confidence in a new platform. This means that anything that can be done ahead of time, should be done in advance of the team's engagement with HubSpot.
Stakeholders should take the following actions after inception of the rollout:
Configure the CRM, including customizing record sidebars.
Create sample segmentation strategies by defining and adding any Custom properties needed for segmentation as well as using saved filters and lists.
Build out several standard-language assets. Much of the magic in HubSpot's sales tools is found in the efficiency — having several examples of commonly used emails will demonstrate the value and drive adoption. Recommendations for assets include templates, snippets, and sequences.
Set up user permissions. Decide what level of view/edit access you want teams to have for contacts or deals. Assign tool permissions to users as soon as you have decided they will be working in HubSpot.
Create a "Day in the Life" guide that will be a one-stop-shop reference point for reps to lean on as they get onboarded. Having this guide will keep the FAQs to a minimum.
Educate the team on their support resources. From the initial touch point, your team should know who to turn to with questions. Make it clear to them that they have at least the following resources available: team leads (power users), HubSpot technical support, and HubSpot Academy.
Assign Pre-Rollout Homework
Did I mention preparation is key? Dropping salespeople of varying tenures, technical abilities, and interest levels into a new platform with no guidance is a recipe for disaster.
Send a welcome email to notify team members that they will be shifting to HubSpot. In this email, include all "homework," such as HubSpot Academy lessons or HubSpot Knowledge Base articles, with a due date. This will allow your high achievers to get familiar with HubSpot quickly, while keeping your task masters aware of the due date. For each of your teams, identify which training materials will be required prior to your official introduction to HubSpot. Below you'll find common examples based on each team's role.
Power Users, Reps, and Sales Managers
Sales Managers
Define success KPIs to be built into standard dashboards to measure the success of the deployment.
Define required reports for standard dashboard.
Host Q&A Sessions
Hold space for your team to ask questions. By hosting all hands meetings, you are signaling to your team that you value the time they are taking to learn a new system and want them to succeed. Make sure to record these calls for reference and new hire training.
Successful rollouts typically have at least four group calls with users: power user huddles, power user recaps, Welcome to HubSpot! all hands introductions, and all hands Q&As.
Power User Huddle
This session is considered an advanced introduction to HubSpot. Have your pilot group on a call with stakeholders to run power users through their day-to-day and have stakeholders set expectations for the group. A soundbite you may want to use is: "We are transitioning the whole team into HubSpot, and we need you to try to poke holes in the process so that we can be airtight for the rest of the team. This is a leadership position and your input is highly valued."
Power User Recap
After about two weeks in HubSpot, your pilot group will have a good grasp on functionality and will have identified functional gaps. Meet with them to gather their feedback and implement it prior to introducing HubSpot to the rest of the team.
Welcome to HubSpot! All Hands Introduction
Think of this as the ribbon-cutting ceremony. This will be the most formal session you host, with the value proposition at the beginning detailing what functionality your organization is gaining from making the switch. This will be followed up by a more detailed version of the introduction you gave to the power users in the huddle.
All Hands Q&A
Bring the team back together two to three weeks after the initial rollout. By this point, they will have uncovered any differences in their day-to-day that exist, and they should be comfortable with their support resources (team leads, HubSpot technical support, and HubSpot Academy). Use this time to field more advanced questions specific to your business' workflow.
Celebrate
What you have just accomplished is no small feat! What can be a daunting task can be turned into a streamlined machine with a little preparation time. Congratulations and happy HubSpotting!
Did You Know?
With HubSpot's Sales Hub Advanced Onboarding, a member of the enterprise onboarding team will guide you through the rollout process, leveraging deep knowledge across several industries and dozens of rollouts. Explore advanced onboarding to learn more about how the team can help you run a successful HubSpot sales deployment.