As marketers, we're always looking for ways we can save time and gain even just a few minutes back in our day. Am I right, or am I right?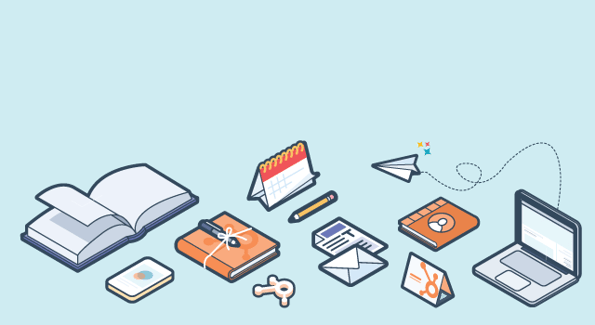 A great tool to help us get some time back is marketing automation, specifically to automate different actions or tasks we find ourselves doing over and over again. After all, you figured it out once. Why not automate that action so you can spend your time on new projects?
This article will walk you through how to automate two actions that marketers find themselves doing quite often: notifications and event reminders based on date. The tool we'll use is Workflows, which is available in HubSpot professional and enterprise.
Automate Different Event Reminders
Who is this example for? Marketers with a webinar, product release, or event coming up who want to ramp up buzz leading to the event.
Webinar
When you have a webinar coming up, a great way to get your contacts excited is to send them emails notifying them of the session and encouraging them to register.
For this scenario, you can use a fixed-date workflow. Set the date to be the day of your webinar. Each workflow step should be a specific number of days prior to your webinar date, like the below example.
In this workflow, there are three emails leading up to the webinar, each with an opportunity to register. After you set your cadence, you can build each email by clicking on the "Create Email" link. Set it live, and now your network will be automatically nurtured with three emails encouraging them to sign up for your webinar leading up to the date you go live.
As a bonus, there's something else you can automate to support your webinar efforts: presentation reminders! Set up another workflow for folks who register for your webinar also based on your webinar's date. Once someone registers for your webinar, they can get a new nurturing cadence to remind them to attend and prepare their questions.
Product Release
When you have a product release on the horizon and you can't wait to shout the exciting news from the mountain tops, a great way to get the news in front of your contacts is through an exclusive workflow that gives them a preview of what is coming.
In the below example, the launch is on August 9. The goal of the workflow is to get people excited about the launch and encourage people to sign up for early access in the meantime. Similar to the example above, set your candence and build your workflow copy. Now, when this workflow is set to live, you will automatically nurture your audience leading up to the launch, and all emails are already scheduled!
2. Send Product or Service Renewal Reminders
Who is this example for? Businesses who want to increase the renewal rate on annual contracts and subscriptions.
Use property-based workflows to send your contacts reminders to let them know when they are due to renew their subscription to increase the likelihood that they will renew.
In this workflow, there are multiple chances for customers ("members") to renew their subscription leading up to their renewal date. In this case, instead of picking a specific date in time (like June 4, 2014), you can select a specific date field. Why? Most likely your customers didn't all sign up on the same date -- they signed up on different dates throughout the year. The date field will house the specific renewal date for each individual contact.
In this case, we are using the "Membership Renewal Date" date field. By setting up this workflow and your corresponding emails, your contacts will automatically be reminded to renew at the most opportune time based on their individual renewal date.
This type of workflow could be set up around any type of date field, like close date, birthday, or more!
What other important dates or events do you have coming up? Are there opportunities to leverage automation for communication around these events?