As you may have heard, we launched a brand new app last week called Campaigns. Excited? We sure are! The app is an easy way for marketers to organize, manage, and report on all of their inbound marketing campaigns in one central location. You can check it out now in your own HubSpot portal.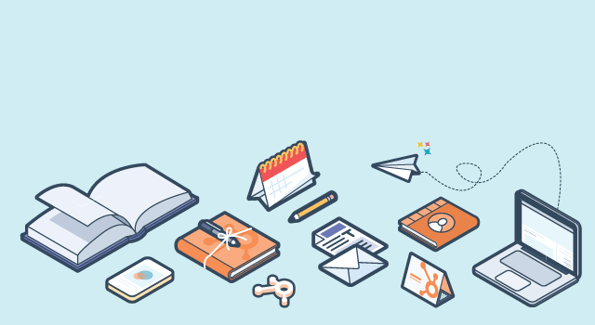 Read on to learn the ins and outs of the new tool, as well as how to use it to create and track your own inbound campaigns.
Coordinating Your Marketing Efforts
As inbound marketers ourselves, we know that the best way to achieve our marketing goals is by taking all of our marketing channels and aligning them around the same message with the same goal. That's what inbound marketing campaigns are. With that said, we knew our customers didn't have an easy way to track efforts completed across the HubSpot platform that were centered around a common goal. So, we created this just for you.
Now, when you choose to run a concentrated campaign to achieve one of your marketing goals, you have an app that will help you aggregate all of the content you're using in your campaign. The Campaigns app shows you how your campaign is performing at a high level against your goals, but also how each individual piece of your campaign is performing as well.
Here's an example of a campaign and how it looks in the new app:
How to Run an Entire Inbound Marketing Campaign in HubSpot
Whether you're already an inbound marketing campaign master or just starting to think about your first one, you should know that HubSpot is all you need to run an effective inbound marketing campaign. That's why we created the Campaign-in-a-Box kit for customers that walks through running an inbound marketing campaign and how to do it in HubSpot. Pre-campaign planning, building your campaign, managing your assets, nurturing your leads and measuring your success are all topics covered in our kit. Get the Campaign-in-a-Box kit now so once you've read through this blog post, you'll be ready to start a new campaign.
How to Use the Campaigns App
You can find the new app under the "Content" drop-down menu. When you first open it up, you'll see a dashboard-like screen. One thing to note: If you've already used campaigns to label existing HubSpot content, like landing pages or emails, those campaigns will automatically display in the new Campaigns app and your content will be grouped by campaign. Here, you can see we've been using Campaigns for a while and this is what the app looks like for us (and someday for you, too!):
As this is your main Campaigns screen, there's a few things you can do here. (Each number corresponds with an item in the above screen):
1) Get a quick video tutorial on the app or visit help documentation on how to create a campaign.
2) Sort your campaigns by different kinds of time frames, like today, or previous month.
3) See all of your campaigns at-a-glance.
4) Sort your campaigns by their start date (if you've set one, which we'll cover later).
5) Search all of your campaigns.
6) Create a brand-new campaign from scratch.
7) Dig into the individual tools that make up an inbound marketing campaign.
Creating a Campaign
Since the Campaigns app is your home base for all the inbound marketing campaigns you'll be running, you should build your campaign in the Campaigns app after you've decided on your offer and target campaign audience. This not only will help you stay organized with your assets, but also ensure you're evaluating every marketing channel possible for your campaign. (That's not to say you should use every marketing channel you have for your campaign -- that's something you'll decide on during the pre-planning campaign phase -- but the Campaigns app will show you what channels you could use for your campaign.)
When you go to create a new campaign, you'll see a window pop up that'll help you get started:
You'll notice that the only field required here is a campaign name. That's because, depending on what kind of campaign you're running, you may not need to fill in the rest. However, there are benefits to fleshing this out: Inbound marketing campaigns are meant to be specific, time-boxed and measurable. Dates and goals are metrics you should consider during the planning process of your campaign. The Campaign-in-a-Box kit will help you with that.
A note on the projected budget field: This is for your own organizational purposes only. The numbers you put into this field aren't tied to anything in HubSpot - it's merely for your own use.
After you've filled out the information about your campaign, you'll be placed on your individual campaign page. Since you haven't done anything yet, it'll look like this:
This is the campaign overview screen you'd get if you drilled down into any of the campaigns on the main dashboard. This is where you'll spend most of your time in the Campaigns app, evaluating different campaigns and checking out how assets are doing.
Individual Campaign View
The following list is a walk-through of all the components of an individual Campaign screen, which map to the numbers in the above chart. If you want, you can see the walkthrough above in a quick 90-second tutorial video of the Campaigns app.
1) "Campaign stats" cover the the timeframe for the campaign. You can edit any of the dates, goals and budget information in the "Information" link.
2) This link menu lets you click into any of the individual components of your campaign to see how it's performing. (it'll also surface in the list on right-hand campaign dashboard.)
3) Here, you can change the display options to only show the components of your campaign that you're using. For example, if you aren't going to be adding a keyword to this campaign, you can change the settings so it doesn't show up on the right-hand campaign dashboard.
4) We've included a help doc that, once your campaign is up and running, will help you understand how to analyze a campaign in HubSpot. You can go check it out now to get a sense of what analyzing a campaign entails.
5) This is where you'll be able to see how all of the assets of your campaign are performing against the goals you set at the beginning of your campaign. The metrics in the right-hand dashboard will all roll up to this top bar and you'll be able to see how close you are to your goals.
6) Here's where all of the individual assets connected to your campaign are listed, and you'll be able to see performance metrics right here. You can also see this information in the left-hand link menu. The metrics associated with each asset will help you see at a glance what's performing well and what could use some marketing love. You can also create or learn more about each of these apps here, too.
Tagging Campaign Assets Across the Platform
Sometimes, you might find yourself in another HubSpot app, building a landing page or an email, that you know will be part of a campaign. Not to worry - we wanted to make sure the Campaigns app works the way you work, so you can also tag assets on-the-fly in their individual apps too. For example, let's say you've created an offer about social prospecting. You then go to create a landing page to hold the offer and realize you'll promote that landing page through your blog, emails, and your social channels. Sounds like a campaign, right? So, while you're making that landing page, you can easily tag it with a campaign name like this:
And then, it'll show up in that campaign in the Campaigns app, even though you didn't build it from this page:
Have you used the Campaign app yet? What are your initial thoughts?