My favorite part about HubSpot Academy is reading notes that our community members send in. After recieving a few of them early on, we started collecting them via a form (we are marketing nerds, after all) and sharing them internally to remind ourselves why we do what we do. Here are a few of those notes, tweets, and stories that make us delighted to bring HubSpot Academy's certification courses to you.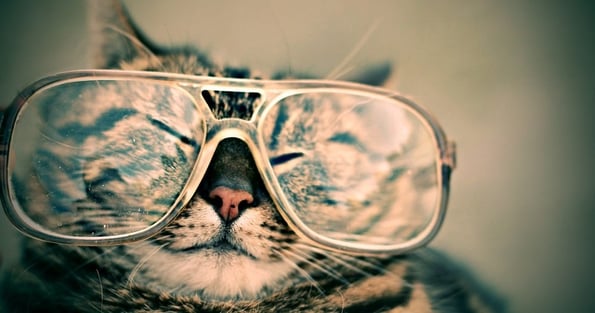 To start, we love when our students recognize that we're here to help them grow their businesses and their careers:
As a marketer, you must always be continually learning. Thanks @HubSpotAcademy for always pushing me forward! https://t.co/OSfyoKJenW

— Kathryn Stickley (@SaaSyKathy) July 11, 2016
Kathryn wrote in to tell us that though she's been working in marketing for six years, HubSpot has changed the way she works and thinks. "HubSpot Academy pushes me to keep learning and also reinforces lessons I've learned through my experience in marketing."
Or in some cases, these courses inspire people to start a new career altogether. Stephane is now an Inbound Marketing Consultant at his new company, Jobologies.
"Oh boy oh boy. Did the certification come in handy then! It's brilliant. It makes sense of the whole inbound marketing, social media, SEO, smarketing, etc. It brings meaning and clarity, the rest just flows. It's a lot of work, but a lot excitement, and the unsuspected feeling that this freelancing I started doing just to stay home to support my family, may turn into a career I genuinely enjoy is something I have been looking for for a long time. In an exciting economy, where you can use online free tools. Where you genuinely give before you take or ask. I recommend [HubSpot Academy] to all I know."
We're thrilled to hear from those who used their inbound know-how to turn their blog into a whole new life for their families, like Edvaldo:
Edvaldo took his Ruby (completely) off the Rails blog from under 300 visits in 5 months to over 18,000 in May 2016 using inbound marketing knowledge he gained from HubSpot Academy.
"This blog helped me build my reputation as a Ruby on Rails developer and I already got many job offers and at least two important business opportunites. Thanks to the reputation acquired with this blog I received and accepted a job offer in Europe and I'll be moving in two months from Brazil to Portugal with my family."
And then there are the amazing community members, like Christy, who renew their Inbound Certification year after year.
yay! third year in a row being #inboundmarketing certified via @HubSpotAcademy! #lifelonglearning #inboundcertified pic.twitter.com/Nhd7XE05Mv

— Christy Goodman (@christylgoodman) November 19, 2015
"If anyone is a believer in lifelong learning, it's me, and the HubSpot Academy certifications are exactly what I need to supplement my daily digest of inbound education to keep enhancing my professional development" she adds.
You have to start somewhere, though. Mario is working his way through the certification courses one by one:
I just got my #InboundSales Certification from @HubSpotAcademy - next month's the Growth Design one

— Mario Y. Peshev (@no_fear_inc) July 5, 2016
Not only has Mario attributed multiple new customers to his knowledge of the inbound marketing methodology, but his sales department is jumping into HubSpot Academy's new Inbound Sales Certification as well.
"Having taken the Inbound Sales Certification recently, our sales department is now assigned to learning the ins and outs of the inbound sales methodology and taking our inbound marketing efforts to the next level, which is the logical next step for growing our distributed team further."
Then there are our multi-certification afficianados like Pedro, who now has FIVE HubSpot Academy Certifications and is climbing the ranks on Inbound.org!
Happy!... no todos los días te ves en el top100 mundial de los @HubSpotAcademy certified. #inboundmarketing pic.twitter.com/NgXixNkwCu

— Pedro García Oliva (@pgarciaoliva) July 11, 2016
Translation: "Happy!... not every day you see yourself in the top100 certified by @HubSpotAcademy. #inboundmarketing"
Pedro says he now has a renewed trust in digital marketing, knowing that the best marketers are creating marketing that people love. "After a stunning start in the digital marketing back in 2007, over the years, I reached a point where I began to distrust and not see clearly its usefulness or profitability. But, in early 2014, when I began to discover the Inbound Marketing methodology with HubSpot Academy, I saw there are reasons to trust [digital marketing] by doing things differently, guided by common sense."
Many of our students, like Christi, love to challenge themselves with advanced certifications:
I just got my #EmailMarketing Certification from @HubSpotAcademy! Get yours at https://t.co/GixilsOxCz

— Christi Keating (@DigiMktgNinja) July 6, 2016
Christi uses HubSpot Academy certifications to identify her strengths and weaknesses as a marketer, and she's proud to show them off in her office and on her LinkedIn profile. "I love these certifications because it's a true test of your knowledge - both of the HubSpot platform itself and your marketing (and now sales) knowledge as well."
Speaking of showing off their certifications, Nextiny Marketing's amazing wall of fame is a perfect example, sent in by Gabriel:
The @HubSpotAcademy wall of fame at @nextinym :) #awesomelogo #HUBPARTNER pic.twitter.com/pRYpglLwy0

— Gabriel Marguglio (@g_marguglio) May 11, 2016
Turns out, HubSpot Academy certifications are a great way to keep everyone on the team speaking the same language and collaborating effectively. Otherwise "Did you add the MOFU CTA to the new TOFU content offer?" might sound like a foreign language. "We make everybody at the office to get certified and re-certify every year for inbound and HubSpot. Also designers need to have the design certification and leadership team have to do the partner certification. It keeps us all updated and we can show the badges on the website, LinkedIn, etc" writes Gabriel.
HubSpot Agency Partners are popping up all over the world, like Francois Benner, of Brandsensations in Germany:
Yeah! I just renew my HubSpot Agency Partner Certification from @HubSpotAcademy. #InboundMarketing #HubPartner

— Francois Benner (@Brandsensations) July 13, 2016
"The HubSpot certifications are really great, continouisly updated and improved. Always valuable. Keep on the awesomeness! Everyone who would like to work with me at Brandsensations has to be HubSpot Inbound Marketing certified. It saves me a lot of time, though I love educating people."
These days, inbound marketers are everywhere. Just ask Emma, who's going to graduate from Macquarie University (Sydney) with a wealth of marketing experience.
"It's been 5 months since I completed my certifications and I believe they've been incredibly helpful. Not only because I'm using the HubSpot software everyday at my internship, but also because they introduced me to new ways of thinking about marketing. I can see how my university marks, my overall understanding of marketing, and my ability to communicate with clients about their issues have all improved."
As you can see, our community members come in all shapes and sizes, from faraway lands and industres you've never heard of. That's the beauty of inbound! In today's digital world, we're all connected online and working together to transform the way the world does business.