Reminisce with me for a moment.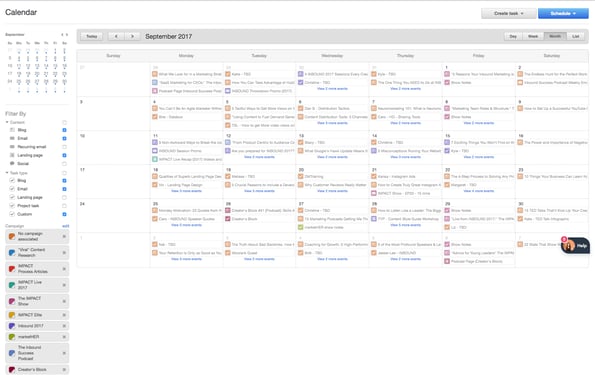 Remember the first time you heard your favorite singer? How about when you met your best friend? Significant other? When we fell in love?
(Whoops. Let me turn off that Michael Jackson playlist.)
Good or bad, first impressions and memories stick with us. They often shape our perspectives and set the tone for the rest of our relationships.
Back at INBOUND 2012, when IMPACT took home the "Best Content" award as a wee Rookie HubSpot Agency Partner, that accomplishment set the tone for what I believe we became in the community – the inbound agency that truly practices what it preaches when it comes to remarkable content.

We 1000% believe in the inbound methodology and content marketing.

It's gotten IMPACT to where we are today, with over 300,000 website visitors a month (95% going to our blog) and over 22,000 subscribers. We treat our own marketing as our greatest case study for clients.
This, however, certainly wasn't overnight.
When I became Content Marketing Manager two years ago, our CEO, Bob Ruffolo, had aggressive traffic goals, and like most content strategies, this involved ramping up our blogging efforts.
Bob insisted we publish two (and at one point, three) articles a day. As a team of one at the time, if I was going to get this done, maintain my sanity, and live up to our reputation, I had to get my entire team creating content.
How would I keep everyone organized? How would I get them on the same page? These questions flooded my mind.
It was then, on its trusty white steed, the HubSpot calendar arrived as my knight in shining armor.


What is the HubSpot Calendar?
First introduced in 2014, HubSpot's calendar tool is the marketing automation platform's native, fully-integrated editorial calendar.
Designed to look like a standard agenda (with daily, weekly, monthly, and list views), you can schedule tasks for blog articles, emails, landing pages, and even custom items like social media posts.
When creating a task, you can enter a title/topic, publish date/time, assignee, campaign, and notes, and automatically create a draft (for emails, landing pages, and blog articles) in the corresponding HubSpot tools.
The calendar also uses color-coded campaigns to give you a convenient, at-a-glance understanding of what your efforts are working towards during that time.
Below is a peek at IMPACT's calendar from September:
I know; it's not for the faint of content heart.


How IMPACT Uses the HubSpot Calendar
The calendar is the hub of all our content creation efforts at IMPACT.
I use it to schedule tasks for our Facebook Group and Page and monitor emails among other things, but as mentioned earlier, it's primarily the tool I use to keep our 35+ member team organized and accountable for contributing to our blog.
Let me walk you through my process:
Halfway through each month, I begin working on the content calendar for the following month.
I reach out to each team member individually and discuss a publish date with them – usually at least three weeks out. Then, after agreeing on a date, I add it to the calendar, assigning their name and a topic, if discussed.
From there, HubSpot automatically sends an email notifying my teammate that the assignment has been added to our calendar, and the creation process officially begins.
When building out this schedule, I set specific publish times and also create drafts (with campaigns, if relevant) so all of that is waiting on the backend for my teammates.
After their content is finished and reviewed, they return to the calendar to optimize and schedule it via these drafts, and I get a handy little notification email telling me their task was completed.
It's all easy-to-navigate, use, and conveniently in one place, but the tool's value goes far beyond this process.


The Real Benefits of the HubSpot Calendar
Now, I know what you're thinking: "It's just a digital calendar," but it's so much more, friends.
The benefits delivered by incorporating the calendar tool into our content strategy can be broken down into three categories: accountability, a healthy context mix, and transparency.


Accountability
As any content marketing manager or managing editor will tell you, it's a struggle trying to get busy teammates or reluctant writers to consistently create content.
Pretty much like that.
But documenting the agreement and timeline in the calendar creates accountability.
Thanks to the email reminders built into the tool, my teammates also have no excuse for "forgetting" about their contribution.
While I always follow-up personally at the one-week mark, my peers get an immediate notification email of their assignment from HubSpot, as well as one when their publish date is quickly approaching.
These automated messages help keep their tasks top-of-mind and encourages them to better manage their time to get them completed.


Maintaining a Healthy Content Mix
Like a nutritious diet, a huge part of having a healthy content strategy is maintaining a diverse, well-balanced content mix. Your content mix should include a variety of topics, mediums, and voices to keep your blog interesting and pique your audience's interest .
With its color-coded campaigns, filters, and our in-house naming convention ([NAME] - [topic and/or medium if other an text]), the calendar helps me manage and maintain that variety on IMPACT's blog simply by glancing at the monthly view.
I can quickly see who is writing, when, and what campaign they're covering. This makes it easy to identify and make scheduling or topic changes, if things look like they're getting too repetitive.


Transparency
Above anything else, the calendar brings the sense of alignment, organization, and transparency needed to keep our entire team creating content.
Just like me, everyone in the organization can see exactly when they or their teammates are scheduled to contribute, what they're writing about, and our current initiatives.
There's no room for "I didn't know what was going on" or "I didn't know I (or they) had an article coming up." The expectations are there in black and white.
This public record also enables them to better coordinate with one another to complete their tasks and enables them to swap publish dates, if need be.


A Must for Content Creators on HubSpot
For anyone managing multiple content creators on HubSpot, utilizing the calendar tool should be a no-brainer.
As I've said in the past, "HubSpot is a powerful tool, but it's just that – a tool."
It doesn't magically skyrocket your performance or complete your work for you. Rather, like a hammer, pair of scissors, or even a flat iron, it makes your work significantly easier to do.
HubSpot's calendar is no different. It doesn't create the content, but it makes the day-to-day activities of managing and guiding my teammates in their content creation more organized, efficient, and scalable.
In my eyes, with its seamless integration into the other tools, the calendar tool further cements the software as the best all-in-one marketing solution that even an enterprise-level, content powerhouse like IMPACT (yes I'm tooting our own horn) can use to do more, even better.