Right now there are more ways to grow than ever, and deciding which channels can help you the most is no small task. This is especially true for ads.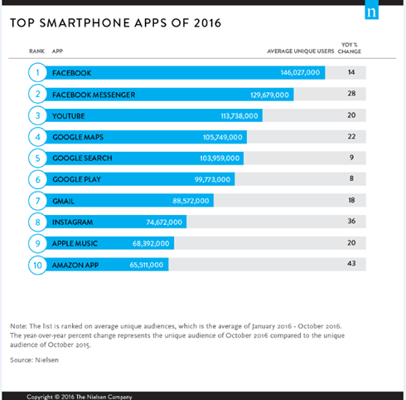 It's impossible to keep track of all the different ad networks and ad types. However, this year's Internet Trends Report has made it clear that Google and Facebook have become the clear choice for almost all marketers.
According to the Mary Meeker report, Google and Facebook combined own an 85% share of internet advertising growth. Why are these two so dominant? People are spending more time online, and the majority of that time is spent with either Google or Facebook or both. For instance, Google and Facebook represent the eight most popular apps of 2016.
A good piece of advice for marketers has always been to "fish where the fish are." And the fish are clearly on Google and Facebook.
Along with inventory, Facebook and Google are leaders in ad technology. They offer the best tools for marketers to reach and convert an audience. If you want a simpler choice, use AdWords or Facebook ads and you'll likely feel good about your decision.
Source: Nielsen
How can you master these ad tools to grow your business faster?
Two new in-app HubSpot projects are here to point you in the right direction using these two powerful ad solutions. Get started with these projects now, or keep reading for more about how they can grow your business.
Google AdWords
Getting started, and seeing results with AdWords isn't overly complicated. But there are some lesser known tactics that can easily take an AdWords campaign from good to great. We created this Project to help you implement some foundational features in AdWords that most people miss. It'll save you time and help you get better results faster.
Start the Google AdWords project now.
Google estimates that on average, for every $1 businesses spend on AdWords, they can generate $2 in return. That potential ROI is why marketers love AdWords.
With AdWords search ads, you only pay when someone actually clicks on your ad. This means your budget gets spent attracting people who show interest in your ad. Generally speaking, people using search are looking for something specific. So, a great search ad that helps them find what they're looking for can be powerful.
This project will help you set up your first search campaign, but it's important to set defined goals before starting out with AdWords. Try using the free HubSpot Ads ROI Calculator to set some goals and figure out what your ROI might be before you start.
Take it a step further with the HubSpot ads tool. HubSpot ads shows you which ad campaigns are generating the best results and creating the most valuable leads. It'll point you toward the campaigns you should spend the most time optimizing and moving budget towards.
Facebook Lead Ads
Facebook Ads are another powerful way to grow your business, especially Facebook's new B2B-focused Lead Ads tool.
You've probably run a lead gen campaign that encourages prospects to fill out a form to receive an offer or piece of content in return. How'd this campaign work on mobile, or social? For most marketers, the answer is "not great." Lead Ads are the secret to solve this mobile marketing riddle.
Lead ads look similar to newsfeed ads, except they're built specifically to capture leads from a mobile audience. The native ads feature a strong call to action, and when users click, Facebook takes them to a pre-populated form with their information. Users can edit their info if desired, and when they hit submit they'll receive the content. This makes forms mobile friendly, creates a smoother user experience, and increases conversion rates.
HubSpot users now have access to an integration between HubSpot and Facebook Lead Ads. Once you authenticate Facebook in HubSpot, it's simple to create your first lead ad. Also, leads will automatically transfer from your Facebook campaigns into HubSpot. This allows you to build workflows to start nurturing these leads into customers, or just route them directly to sales.
Lead Ads also allow for sophisticated targeting that ensures your content is being seen by the right people. The information you can include in your form is also highly customizable.
For some more tips on how to set up and optimize a Facebook Lead Ads campaign, take a look at the HubSpot project.
Start the Facebook Lead Ads project now.
When it comes to advertising, all eyes are on Google and Facebook, literally and figuratively. So take advantage of solutions like AdWords and Lead Ads while customers are still spending so much time on these channels.
Use these HubSpot projects to ensure your ad campaigns are structurally sound and get the most out of your ad spend.