Have you ever wondered how to prioritize your leads?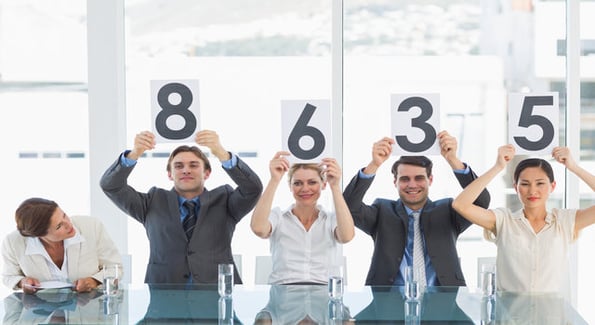 Lead scoring is a tool that helps you qualify your contacts and prioritize them for outreach. With lead scoring, you create your own lead score properties for qualifying criteria, like demographics (e.g., location, job title, and industry) and behaviors (e.g., form submissions, web activity, and social engagement). The higher the score, the more qualified the lead. You can use your lead score to segment lists, update lifecycle stages, trigger notifications, enable integrations, or increase the rate at which leads become customers.
Sounds easy enough! But in practice, lead scoring can become complicated and over-engineered.
5 Questions to Improve Your Lead Scoring
Whether you're new to lead scoring or a seasoned professional, you should ask yourself five questions to improve your lead scoring model:
1. Are you including your sales-ready actions in your lead score?
The short answer should be "no" because lead scoring should be one of your sales-ready actions. A common use case for lead scoring is to identify a marketing qualified lead, which is a contact who is deemed more likely to become a customer compared to other leads. Understanding this, you might be wondering how to decide which leads are "better" than others.
Step one: Determine whether the lead is a good fit for your business. Is the lead able to buy your product or service? Some examples of fit criteria might include budget, buying authority, geography, or industry.
Step two: Determine your sales-ready actions, or engagements that identify when a lead is ready to be handed off to sales. These are your "hand raiser" contacts who have requested to hear from your team. Their engagements might be "request a quote," "talk to sales," "start a trial," or other actions that require an investment of time like attending an event or a webinar.
Leads who are the right fit for your business and have completed a sales-ready action are ready to be handed off to sales, and their lifecycle stage should be updated to reflect that they're marketing qualified leads. However, there are often good-fit leads who never complete a sales-ready action. This is where lead scoring comes in. Lead scoring is one of your sales-ready actions.
Lead scoring can be accessed by searching for HubSpot score in your contact properties.
Lead scoring should be used to uncover high-quality leads who are engaged with marketing materials but haven't completed a sales-ready action. For this reason, you don't need to include your sales-ready actions in your lead scoring model. You should be handing those leads directly to sales. Adding sales-ready actions into your lead scoring model inflates the score and tells you what you already know: They're ready to be handed off to sales.
If you're using workflows to automate your lead handoff process, your enrollment criteria might look something like this:
2. Are you inflating the score?
One way to ensure the actions included in your lead scoring model are relevant is to refine the action based on the number of times an action was taken or when an action occurred.
Let's say you determine that pricing page views are an important action — in this case, three or more pricing page views equal two points. You can refine the action, then, by the number of times it's been taken to determine whether more points should be allocated based on multiple views.
Another example is granting points based on form submission. By selecting Rolling dates, you ensure contacts only have points if their action was taken within that rolling period of time.You want to attribute 10 points for "X form submission" within the past 365 days. If this is the case, contacts will keep those 10 points until the 365-day threshold is met. After 365 days, the points are removed. Contacts only receive points for the rules they meet within the criteria you choose.
3. Do you really need those negative attributes?
You can use both positive attributes and negative attributes in your lead scoring model. Doing so will add or remove points from your leads' scores.
In my opinion, it's better to focus on the positive rather than the negative. When it comes to lead scoring, concentrate on the positive actions and attributes that identify leads who are high-quality and ready to engage with a salesperson.
You can use the negative attributes to create an active list of "unfit leads." An active list automatically updates based on a given set of enrollment triggers. Contacts join the list whenever they meet the criteria and leave the list when they no longer meet the criteria.
Once you create an active list of unfit contacts based on negative attributes, you can use a suppression list for a lead hand-off workflow. This means a contact will not be enrolled in the workflow even if he or she meets the enrollment triggers at a later time, and he or she will appear in the workflow's history as being found in a suppression list and unenrolled.
4. Did you communicate the maximum lead score and the lead score threshold to your team?
Communication is key! Be sure to document and communicate the maximum lead score and the lead score threshold to trigger marketing qualified leads. Be transparent with your team on this criteria to ensure there is alignment and overall understanding of how this property is used. Avoid making changes to your score too often, as these changes can impact the score you've communicated to the team and the way it's used to qualify leads. Consider a review of the lead scoring model every three to six months to ensure you efficiently analyze the results.
5. Can you use more than one lead score?
Now that you're a lead scoring all-star, you might be thinking of all the ways you can use it to help your team prioritize leads. Maybe you want to use multiple scores? For example, one score for contacts and a separate score for companies. Enterprise users can set up to 25 score properties, including HubSpot score.
A few common use cases for multiple scores include:
One score for fit (e.g., industry, company size, revenue, location, etc.) and one for behavior (e.g., page views, form submissions, etc.).
One score for each geographical location.
One score per product line.
There's a lot to consider as you create and refine your lead scoring model. These are just a few questions to consider that can improve not only your lead score, but also your sales and marketing alignment. Effectively answering these questions requires communication and alignment, which are key to your company's growth.
Want to connect with others on HubSpot tips, tricks, and updates? Head over to the HubSpot Community to join a conversation or start one of your own.