This week, tens of thousands of people joined us from all around the world to learn, connect, and celebrate customer-centric businesses at INBOUND 2019. From marketing to sales to customer success, there were great speakers, inbound experts, and opportunities for all to grow better.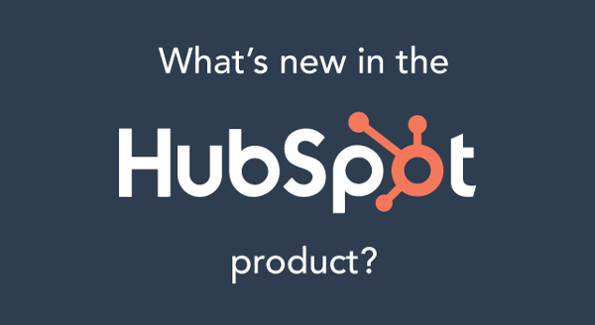 In addition to the hundreds of great sessions at INBOUND, HubSpot also celebrated the various new features in our product that were inspired by our favorite people...
That's right — you!

Feedback can sometimes be hard to listen to. But here at HubSpot, we know that if you want your customers to succeed, you need to not only listen to their feedback but act on it.
You've been talking and we've been listening.
Over the past year, we focused on building the things you've been asking for — the tried and true features you need to grow your business. The feedback we've received can be broken down into three central themes:
I need this to be easier.
I need to grow.
I'm on a tight budget.
With these themes and your feedback in mind, we set off on a quest to make your wildest HubSpot dreams come true. Sit back, relax, and get ready to read all about this year's INBOUND list of new features and improvements across the HubSpot Growth Platform.
"I need this to be easier."
Contact and Company Deduplication
Duplicate data stinks. It leads to bad experiences for your team (e.g. multiple sales reps working the same account) and for your customers (e.g. receiving the same email twice because they're in your system twice). Finding duplicates manually is hard. So we built a tool that uses machine learning to find duplicate contacts and companies for you. This tool makes merging them easy, too. Now you can spend less time manually wrangling your data and more time connecting with your customers.
Contact and company deduplication is now live and available to all Professional and Enterprise HubSpot users.
Want to deduplicate your data?
Social Post Boosting
We get it — ads can be tricky. Here's a situation where you literally need to put your money where your mouth is and invest in your marketing plans. It can be difficult, but if done correctly, the return on your investment can be incredible. To make it easier for any marketer to start exploring ads, we're adding Facebook social post boosting into the HubSpot social tool. Take a post that is already performing well organically, put some paid ad spending behind it, and see how your reach grows.
Social post boosting is now in beta for Marketing Hub Professional and Enterprise.
Interested in the beta?
Native Lead Ad Creation
For advertisers just getting started, creating your first ad can be confusing. There are so many different levers you can pull within the networks — where do you even start? With native Facebook lead ad creation in HubSpot, new advertisers can easily create an ad within the familiar HubSpot interface. Each step in the ad creation process is clearly defined, making it easy to deploy your ads and quickly see a return on your investment.
This update is now live and available to all HubSpot users.
Want to learn more?
Publish Anywhere Social Reports
Social media marketers are on the go. They're live tweeting an industry conference, quickly publishing a status on LinkedIn or Facebook during their commute, or publishing to Instagram as soon as they take the photo. Asking a social media marketer to create and publish all their posts within one platform so it can be properly tracked is unreasonable. That's why we've added publish anywhere reporting to the HubSpot social tool. As soon as you connect your social accounts to HubSpot, we'll give you insight into how you've performed over the last 60 days. Better yet, you can publish from HubSpot, the networks, or even a different tool like Hootsuite and still track your success within HubSpot across all networks that you're active on.
This update is now live and available to all Marketing Hub Professional and Enterprise users.
Want to learn more?
Knowledge Base Content Editor and Self Service
People are unique so we all have our own preferences: food, music, even how we want support. Today, more people seek self service, but because everyone is different, Service Hub is here to help you deliver a personalized experience. Now live in the knowledge base tool is the ability to customize article access based on your HubSpot lists, which allows you to share more knowledge with specific audiences. In the knowledge base, you'll also see a new editor, giving you more flexibility to make your knowledge base your own. You can also now import your existing knowledge base right into Service Hub, so you won't have to rebuild if you switch your platform.
These updates are now live and available to all Service Hub Professional users.
Want to learn more?
Advocacy Automation and Feedback Reporting
Investing in the customer experience helps you not only keep your existing customers but also create happy customers, and happy customers grow your business. They leave positive reviews, refer their friends, and support you on social media. We built Service Hub to help you create and activate happy customers. Now live in Service Hub is advocacy automation — new workflows that trigger email outreach based on survey data. Use this new automation to power and scale your customer's testimonial or case study program. Furthermore, you can now deliver feedback surveys in new ways, like on your website, and gain new insights through feedback reporting.
Advocacy automation and improved feedback reporting are now live in Service Hub Professional and Enterprise.
Interested in advocacy automation?
Folders in Workflows
Over the years, we've heard two pieces of workflows feedback more than any other: that your workflows list gets messy as it grows and that your sophisticated branching workflows can get unwieldy as you add branches. Now live are the solutions to both of these challenges. To help you stay organized, you can now create folders for your workflows. And to help you keep those complex workflows manageable and save you time, you can now create actions that skip to a different step in the workflow.
Folders in workflows is in beta for all Marketing Hub, Sales Hub, and Service Hub Professional and Enterprise users.
Want to get started?
New Contact Record Design and Speed Improvements
Your HubSpot records — contacts, companies, deals, and tickets — are the backbone of your HubSpot account. They tie every other tool together, constantly absorbing new information about your prospects and helping you put that information to use to provide better experiences for your customers. That's why earlier this year we launched a brand new design for CRM records. It's more streamlined, making it easier to access all the context you need to create better customer interactions while maintaining its clarity and cleanliness. Plus, it's got a ton of new functionalities to boot.
Even better, the new contact record loads significantly faster, so you can get back to building meaningful relationships with your customers.
These updates are now live in all HubSpot portals.
Want to learn more?
Sales Hub Improvements
How many clicks does it take to close a deal? Too many. That's why the latest updates to Sales Hub were purposefully built to remove friction from the sales process and empower reps to close more deals, faster. Kick off a task queue from any saved task filter and power through your to-do list effortlessly. Get more control over automated meeting reminder emails and remove forms on meetings links for known contacts.
These are just a few of the latest usability updates to Sales Hub that are now live and available to all Sales Hub users.
---
"I need to grow."
App Marketplace

The new HubSpot App Marketplace makes it easier to find, understand, and install apps for your HubSpot account so you can connect your data and improve your customer experience.
The new HubSpot App Marketplace features:
More apps: With over 300 available apps, the new Marketplace has more than doubled its integration count in the last 12 months, including new integrations like Slack, WordPress, and more.
More informed app decisions: We've redesigned the app listing pages to prioritize the details businesses need most when considering an integration, including pricing, subscription requirements, and demo videos.
Easier discovery of relevant apps: With hand-curated selections of apps for different types of users, HubSpot makes it easy to find the right app for every purpose.
Less friction and better discoverability for app developers: The new app listing experience gives app creators a simple, streamlined way to create and manage their Marketplace listings.
The App Marketplace is now live and available to all HubSpot users.
Want to see the new HubSpot App Marketplace?
Attribution Reporting
You're a director of marketing at a mid-sized company. At the end of the next quarter, you'll go in front of your exec team to present on your team's success. Once in front of the leadership team, you tell them that your blog views were up by 10% and your email engagement was up to 32% (a 5% increase from the previous quarter).
That's awesome…but so what?
Every marketer knows they're doing important, impactful work — but how do you prove it? Especially to an exec team hyper-focused on the bottom line? That's where HubSpot's attribution reporting comes into play. Prove to your execs that an ad campaign generated 10 deals, or that an email campaign was worth $10.5K to your company because 12% of email recipients ended up closing a deal.
Attribution will soon be in beta for Marketing Hub Enterprise users.
Facebook Messenger Integration
Your buyer has changed. Gone are the days of extended phone tag, dragged-on email threads, and disconnected back-and-forth with multiple members of your team. Your buyer expects to have fluid conversations with your business through their favorite channels, at their pace and on their terms. Now, with Messenger in conversations, you can meet your buyers where they're at. With Messenger and HubSpot, you'll have more personalized conversations, build stronger relationships, and remove friction from your customer's experience.
Interested in the beta?
Availability for Chatbots
Chatbots are people too, right? Well, no, not at all — but they sure do help out like an extra member of your team without that extra salary. Create custom office hours for your chatbots that align with your goals. For example, when your team is available for live chat, tell your chatbots to take a back seat. Once your team is home for the night, bring your chatbots to life to take basic information from prospects or customers that can be relayed to your team once folks are back in the office. And if you don't want chatbots to collect lead information when your team isn't around for live chat hand offs, give your chatbots the night off too.
Availability for chatbots is now live for all HubSpot users.
Want to learn more?
COMING SOON: More Value, New Prices for Sales Hub Professional & Marketing Hub Starter
With customer expectations at an all-time high, it's important that our products continue to improve so they can work harder for you. Coming soon, we'll be adding even more features and functionality to Sales Hub Professional and Marketing Hub Starter, at a new price.
Planned Sales Hub Professional updates include:
Buy-now button: Create a call-to-action that directly connects a product in your product catalogue to an online purchase in Stripe.
E-Signature: Get digital signatures for quotes. No more printing and sending hard copies.
Calculated properties: Create fields that roll up data from other fields.
As of Nov 1, 2019, the price for Sales Hub Professional will be $500/month with 5 paid users included, and $100/month for each additional paid user.
Planned Marketing Hub Starter updates include:
Landing pages: A brand new drag-and-drop editor to create beautiful, optimized landing pages without needing to learn HTML, CSS, or JavaScript.
Form follow-up emails: Send up to three automated emails after form submissions to start nurturing and converting leads.
As of Nov 1, 2019, the price for Marketing Hub Starter will be $50/month with 1,000 contacts included. Additional 1,000 contacts start at $50/month.
Customers who purchased Marketing Hub Starter or Sales Hub Professional prior to November 1, 2019 will be given access to the new features as they are made available without seeing a change in price.
Want to learn more?
Visit our Legacy Promise Page.
---
"I'm on a tight budget."
Free Email Marketing & Ads Tools
Email marketing and ads are now part of the free marketing tools available in the HubSpot CRM, giving all marketers the tools they need to capture leads and nurture them into loyal customers. By rooting your marketing tools in your CRM, you can give your customers the personalized experiences they have come to expect.
With free email marketing and ads in the HubSpot CRM, you'll get:
Free email creation, sending, and analytics, so you have the tools you need to see the full view of the customer journey and offer a more cohesive experience.
The ability to create contact lists and send up to 2,000 emails per month, all with an email editor designed with efficiency and ease of use in mind.
Expanded ads tool capabilities that let you manage and track up to $1,000 per month of ad spending across Facebook, Google, and LinkedIn ads, plus conversion-level reporting and up to two account connections.
Want to get started?
Support Forms in the Conversations Inbox, Ticket Automation, and Internal Comments
How humans communicate changes constantly; you can ignore it or you can adapt just as fast. Service Hub is here to help you match the changes you see in customer communication. This is why we're always adding new channels to the Conversations inbox. Web forms are now live as a new intake option in your Conversations inbox, which makes it easy to manage and scale service as you grow. You'll also see new, time-saving automation options across tickets and workflows. Finally, team collaboration on customer issues is easier with new internal commenting and inline ticket updates.
Support forms in the Conversations inbox and internal comments are now live and available to all HubSpot users. Ticket automation is live and available to all Service Hub Professional and Enterprise users.
Want to learn more?
Business Card Scanner on Mobile
Most business cards never see the light of day. You leave a trade show or a meeting with a pocketful of cards, thinking, "I should really do something with these cards at some point..." Your options are bleak: spend a few hours manually inputting them into your database, go through the trouble of hiring someone to do it for you, or buy an expensive app to scan the cards (and another one to integrate it with your system of record). Or you can do nothing at all and leave those cards in your pocket to collect dust.
Say hello to HubSpot's visually refreshed business card scanner for Android and — for the first time ever — a business card scanner for iOS, powered by machine learning. Transforming your cards into digital contacts has never been easier.
This update is now live and available to all HubSpot users.
Want to learn more?
---
Getting Access and Learning More
Many of the new products and tools mentioned above are available today. If you aren't yet a HubSpot customer or are considering adding to or upgrading your subscription, visit hubspot.com/new.
If you have questions about any of these new tools, you can ask questions and get involved with the team at HubSpot through the HubSpot Community, where we'll be holding a series of Q&A forums in the coming days.
Got feedback of your own? We'd love to hear it.
As we like to be transparent with our customers, we want to include a reminder that while we endeavor to continually develop our software, we do so in an agile way. This means that even our best-laid plans get adjusted. While we do expect to develop and improve our products, we can't promise any specific features will be delivered on any specific timeline. We hope you'll buy the product for where it's at today and continue to see value over time. This means that you should not decide to buy based on a feature being made available in the future.