At HubSpot we define a campaign as, "A concentrated effort to align all of your marketing channels around a single offer and goal." In other words, it's an attempt to drive your audience to take a meaningful action with your business.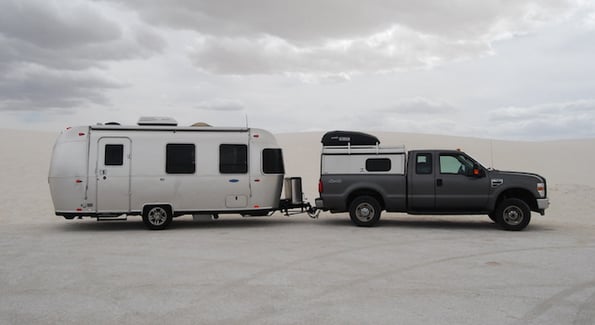 Want to view an inbound marketing campaign in action? Check out the below case study video from Wild We Wander.
Let's review the 14 HubSpot Marketing Hub tools and two native integrations Wild We Wander used to launch a successful inbound marketing campaign in support of a topic-driven content strategy.
This process was done in two parts:
Pre-campaign planning
Campaign implementation
Pre-Campaign Planning
The pre-campaign planning checklist is important to complete before implementing anything, as it ensures the purpose and alignment of your campaign vision with your overall content plan. Additionally, it helps you set up proper tracking so you can measure everything accordingly.
Let's start with the Content Strategy tool.
Content Strategy
Wild We Wander used the content strategy tool to outline our "How to Become a Digital Nomad" topic cluster.
Wild We Wander's north star topic is "digital nomad," which has a monthly search volume of 6,600. That's a steep climb to reach the top of Google, one that might be impossible without a strategy to get there.
Because we lead with educational marketing content, we chose the core topic "How to Become a Digital Nomad," which has a monthly search volume of 390.
That's enough search volume to justify the topic choice and create a pillar page to support it.
View our "how to become a digital nomad" pillar page.
It's important to choose core topics that you have the opportunity to rank for is because the average first page ranking will also rank well for about 1,000 other keywords.
For example, last year we published a pillar page on building a DIY truck camper. This page ranks on the first page of Google for "DIY truck camper," the core topic we intended to rank for.
Additionally, we also rank on the first page of Google for high-traffic topics like "truck cap camper," even though we don't specifically call out this term in our content.
This is because search engines are much smarter now and understand synonyms of like-themed topics.
Something important to note about this topic cluster: While it's outlined with subtopics, you'll notice that not all subtopics are associated with subtopic content assets. And that's okay. The goal should be to create an intention road map for future content creation.
Learn more about HubSpot's content strategy tool.
Lead Flows
We knew we were going to create a guide as the centerpiece of our campaign. We wanted to build an engaged email list to support the guide's launch, so we created a lead flow so people could sign up to be notified once the guide was ready. We put this lead flow on the "How to Become a Digital Nomad" website pillar page.
Learn more about HubSpot's lead flow tool.
Dashboard Reports
Next, we updated our marketing dashboard to provide a snapshot of key information and goal tracking that could be consumed in under 30 seconds. The report starts off high level, then gets more granular as you scroll down the page.
Let's take a look.
Starting at the top, the Marketing Performance dashboard provides information on sessions, new contacts, and new customers. You'll also notice that the dashboard has our 2018 goals listed on the graph as a gray dotted line. This helps us easily visualize progress towards our goals.
Moving down, there's a Traffic Analytics report. This shows us how much traffic we're getting and where it's coming from.
And lastly, there are Campaign and Top Personas reports. The Campaign report can be used to track contacts that are influenced from the campaign we plan to launch.
We can use the Top Personas report to track the growth of our contacts and identify which persona they resonate best with. This helps us better understand how to position our content in the future based on the percentage of personas in our contacts database.
Learn more about HubSpot's sources and dashboard reports tool.
Personas
Next, we identified and inserted both of our buyer personas in the Top Personas report. Remember, buyer personas are a critical piece of your inbound marketing efforts. The more you know about them, the better experience you can offer them, so take the time to fill out this information.
Learn more about HubSpot's buyer persona tool.
Campaigns
Next, we created a template for our campaign in the Campaigns tool.
Learn more about HubSpot's campaigns tool.
We didn't have all our assets when we did this, but we included assets we did have, like the "How to Become a Digital Nomad" pillar page. Building out the template before creating the assets makes it easier to organize and associate assets with the campaign as you create them. For example, we added the "How to Become a Digital Nomad" pillar page to our campaign from the website page editor.
You can do this for each tool you want to associate with a campaign, making the process that much more efficient. And I'm all about efficiency.
That concludes our pre-campaign planning checklist.
Now it's time to start implementing the campaign.
Campaign Implementation
First, we had to build the campaign assets. This included assets such as emails, social media posts, a conversion funnel for the guide, a workflow, multiple guest blog posts on external websites, and so on. This took us about three weeks to complete, which also included time to test everything. Always make sure you test the components of your campaign to make sure they're operating properly. The last thing you want is to publish something with a poor user experience.
Once we had all our assets ready and tested everything, our next step was to soft launch the campaign by promoting it to our current audience. While it's not a necessity to do a soft launch, choosing to release a campaign to a limited audience first helps uncover anything that may have been overlooked during the testing stage. It can also help you get quick feedback in case there's anything that needs attention or further optimization before putting all your promotional efforts behind the campaign.
Email
First, we promoted our guide to our current contacts database with an email. We sent the email to our relevant contacts, including the list of individuals who signed up via the lead flow to be notified once the guide was published.
Learn more about HubSpot's email tool.
Social
Next, we scheduled a series of social media updates on our Facebook and Instagram pages using HubSpot's social publishing tool.
Learn more about HubSpot's social media tool.
Blog
After two weeks of the campaign's soft launch, we were ready to attract a lot of attention with a hard launch. This is when the bigger promotional initiatives outside of just promoting to our audience went live.
To start, we publish a monthly wandering log blog post which highlights our travels. Each post offers an in-depth look at each location we've visited with information on what to do, where to sleep, and whether or not there's adequate cell reception to stay connected and get stuff done.
In our July wandering log recap, we included a section at the end of the post which promotes the digital nomad guide. We included a call-to-action that links to the "becoming a digital nomad" landing page where the guide can be purchased. We created the image call-to-action in Canva and uploaded it to HubSpot using the CTA tool.
Learn more about HubSpot's blogging tool.
We promoted this blog post in our monthly email newsletter, RIVETED. Additionally, we included a section in our newsletter to promote the guide's launch.
Tracking URLs
Next, we worked with external websites to write a series of guest blog posts relevant to our guide. We created trackable URLs with campaign parameters for each guest blog post inbound link using HubSpot's tracking URL builder.
Learn more about HubSpot's tracking URL builder.
Guest blog posts are a big part of our content strategy. Yes, they help in the short term with a boost in referral traffic to our website. But really what we're interested in is the long-term value from the inbound links included in each guest blog post. Inbound links are links coming from another site to your own website. Inbound links help increase domain authority. The higher your domain authority, the more credible your content will appear to search engines. And if search engines think your content is credible, it's likely you'll see an increase in rankings.
Because our goal is to rank on the first page for "how to become a digital nomad" by the end of 2018, building inbound links to our pillar page is of utmost importance.
Website Pages
Speaking of our pillar page, we used HubSpot's free pillar page template available in the template marketplace to build it. We're storytellers by nature, not designers. The layout is user friendly and easy to update.
Learn more about HubSpot's website tool.
Calls-to-action
We included a text call-to-action at the top of the page along with multiple image calls-to-action farther down the page which link to the "becoming a digital nomad" landing page.
Learn more about HubSpot's CTAs tool.
Landing Pages
Our guide landing page offers more content than your traditional landing page.
Notice how we offer a full section about what the guide has to offer…
What the reader will learn…
And a sample of the content they'll receive. We did this for two reasons:
It provides more value to the website visitor.
Providing more content on your landing pages can help from a search engine-ranking perspective.
Learn more about HubSpot's landing page tool.
Shopify Integration
Instead of using a form, we integrated our Shopify instance using HubSpot's native integration and embedded a buy button which offers a built-in checkout feature. The best part is that when someone checks out via Shopify, all the information collected is pushed to HubSpot and creates or updates a contact's record in HubSpot.
Once a visitor completes their purchase, Shopify creates a pop-up thank you message and offers a download of the guide. Additionally, Shopify sends two automated emails to the customer: a receipt of purchase and a copy of the guide.
Learn more about HubSpot's eCommerce integrations.
Forms
Because Shopify manages the conversion process, there's no need to create a thank you page. However, let's say we used a HubSpot form instead of Shopify's embedded checkout feature.
In this case, we would send people to an actual thank you page to access their guide. I recommend sending someone to a thank you page that has the same look and feel as the landing page, with the addition of the navigation and a secondary call-to-action if you want to include one. Make it a best practice to be consistent through the conversion process. This will provide the best experience for your website visitors.
Learn more about HubSpot's form tool.
Workflows and Lists
After the checkout is complete, the customer is added to an active list for people who purchased the digital nomad guide.
We use this active list as an enrollment trigger for our workflow.
The purpose of this workflow is to stay top of mind to our customers who purchased the guide. We offer four emails over the span of eight weeks with encouraging tips based on where we anticipate they are in their journey of reading the guide.
The goal of the workflow is for the customer to complete a short survey via SurveyMonkey.
Once a customer completes the survey, they're added to another active list which removes them from the workflow. If they completed the survey, then they have already finished the guide, and there's no use in sending them more emails. If we did, that would be a poor user experience.
Learn more about HubSpot's workflows tool.
Learn more about HubSpot's lists tool.
SurveyMonkey Integration
The survey we're asking our customers to complete is an important facet of Wild We Wander's content strategy for the following reasons:
First, the third question in the survey asks the customer to best describe themselves. Each answer is based on our buyer personas. This helps us understand which buyer persona the customer self-identifies with.
Secondly, SurveyMonkey has a native integration with HubSpot. This means all of the questions answered on the survey will automatically push through to their contact record in HubSpot. Additionally — and this relates to the previous point — based on how the customer self-identifies, they'll automatically be associated with the corresponding buyer persona.
And lastly, but most importantly, creating a feedback loop with a survey helps us understand how to improve our content. You should always be looking for opportunities to grow and improve your content efforts. Getting feedback from your current contacts is a great place to start.
Learn more about HubSpot's SurveyMonkey integration.
Workflows (again)
Now, let's go back to our workflow and review how we set it up. Our workflow uses branching logic to provide more attention to our customers who are disengaged. For example, if after seven days a customer hasn't opened the first email, then we use branching logic to offer an updated experience to them. In this case we send the customer the same email but with a new subject line.
Let's say after seven days the customer who didn't open the first email hasn't opened the second email either. We use branching logic once again to set a contact property of that customer to unengaged. This way, we have the option to create a re-engagement campaign down the road if we choose to do so.
And that's it: An under-the-hood look at an inbound marketing campaign Wild We Wander used to launch our digital nomad guide, using 14 HubSpot Marketing Hub tools and two native integrations.
The number one goal with this inbound marketing campaign was to increase the long-term visibility of our "How to Become a Digital Nomad" pillar page by increasing its ranking on Google from the fifth page to the first page. Achieving this will ultimately support our website performance goals: increasing website traffic and converting website visitors into leads and customers.
Currently, the pillar page ranks on the first page of Google at the tenth position for the search term "how to become a digital nomad."
On top of that, the pillar page ranks on the second page of Google at the 18th position for our north star topic "digital nomad."
The next step for Wild We Wander is to continue optimizing and promoting our pillar page. Doing so gives us the best chance at climbing to the summit of the first page and claiming the coveted number one spot. We've got a steep climb ahead of us, but with the right energy and intention anything is possible.
Remember, HubSpot offers a wide range of marketing tools that can deliver best-in-class experiences to your website visitors, leads, and customers. And the best part? With each inbound marketing campaign you launch, you're growing a self-sustaining marketing machine for your business.
So get to it. Your audience is waiting.
Want to learn how to create an effective inbound marketing campaign in HubSpot? Then sign up for HubSpot's Marketing Software Certification now.