Welcome back to the Inbound Reporting podcast, HubSpot Academy's miniseries covering the ins and outs of good reporting behaviors.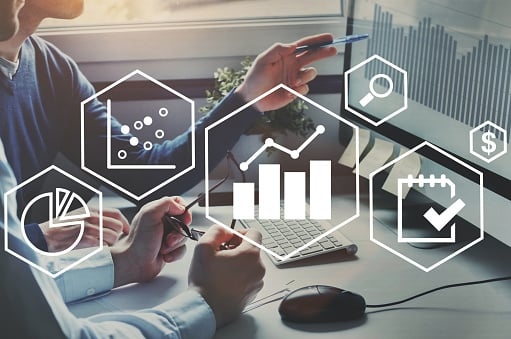 Here, your hosts, Jorie Munroe and Nakul Kadaba, will talk to the experts about how to set yourself up for success when it comes to the flywheel, goals, reporting, and everything in between.
In this episode, join us as we chat with Meaghan Griffith, a Product Manager on the HubSpot Reporting and Analytics team. We'll discuss the HubSpot report builder, the new attribution report features, and closing the circle on reporting on your flywheel. Check out the episode below.
Prefer to listen? We've got you covered.
Each episode will be uploaded to this SoundCloud playlist, so make sure to bookmark and like it so you can stay up-to-date:
That was a lot of content to cover! Let's talk next steps:
Prefer a quick skim? Not a problem! Check out the transcript for the episode below!
Podcast Transcript
- I'm Jorie Munroe and I am an inbound professor with HubSpot Academy. And I'm joined by my cohost.

- Hi guys Nakul Kadaba from HubSpot Services, great to be back here.

- And we have a very exciting guest with us today. We did it. We grabbed another product person. So exciting. You guys are like HubSpot superstars, so any time we can grab you for content. It's like, yes, nailed it! So without further ado this is.

- I'm Megan Griffith and I'm one of the product manager on our reporting team.

- Woo-hoo.

- We did it. So welcome Megan.

- So thank you. Thanks for having me.

- Yeah, of course,

- Of course. So could you tell us a little bit about what you do on the HubSpot product team?

- Yeah of course, so I'm a product manager on our reporting analytics group. So my team is actually super focused on the custom report builder.

- [Nakul] Mm-hm.

- So helping HubSpot customers kind of answer really any question they have about their business using data from across the platform.

- [Jorie] Awesome.

- And then the second thing we're focused on is attribution. So helping marketers and really eventually salespeople and services who use HubSpot, really understand their impact of business outcomes.

- [Nakul] Mm-hm.

- Across the board.

- She said the dreaded A-word.

- Attribution.

- We will definitely.

- Talk a lot about it.

- We're gonna talk about. I'm particularly excited Megan's here because you used to be HubSpot services.

- Yes.

- Fun fact.

- So very, very, very exciting.

- Megan trained me in support.

- Did she really?

- Yep.

- I was Jorie's mentor.

- No way, that's so nice.

- On my first couple of calls, Megan was the one sitting next to me like don't panic. It's okay, we'll get through this together.

- Like, we're going to get through this customer question .

- This is like full circle. It's almost as if you've closed your flywheel.

- It's almost as if I've created a feedback loop.

- That's too much for me.

- sorry. We've been stuck here for eight hours Meg.

- Amazing. So just to do a little bit of recap on some of the content that we've covered so far. So this, as Nakul has mentioned, is our last episode. It is episode eight. And we've covered a lot of content so far. So we really started up off the episodes strong with talking about unpacking this concept of the flywheel. This new type of business model. How this really fits into customer journey mapping, which we'll really get into actually and really close the loop on that kind of topic in a bit. Then we really dug in with setting business goals, different types of business goals. And then how to use business goals as a way to align different teams. So really focusing on those handoffs and how you can start to have those conversations whether you're an individual contributor or kind of higher up in the company. Then drilled into managing your data, integration data, HubSpot specific data. Some pitfalls to watch out for there. And then we just had a very cool episode about how to prioritize the different reporting tools in HubSpot and how to think about the types of reports and dashboards that you're creating, almost like creating them with intent. Being very intentional about setting yourself up for success with different types of dashboards or reports, kind of where to go when you have certain questions.

- And also got some nuances from Remen about visualization. His concepts how he thinks about reporting. His concept was called exception reporting versus I reports. Do I want to create something that is exception reporting. Which is basically telling someone, to notify them if something's gone awry. Again, positive or negative but both. And not necessary just an I report where you just look at something for the sake of looking at it.

- Right.

- Right.

- And something that came up. We sort of talked about it, not as much an in depth as we will today. But was really that custom report builder. Turning to this specific tools because it can help you answer those very particular questions ones that could potentially not have been answered with the reporting library or kind of those more exploratory analytics tools in HubSpot. So let's dive into that because I think again the more that we can unpack and make this a familiar tool for HubSpot users, the better.

- Totally.

- So that's what we're gonna dig into today. That's what your specialty is Megan.

- Woo-hoo.

- Welcome again. So let's start off with just super high level. When do you go to the custom report builder? When do you start to identify this is a question that the custom report builder is going to answer?

- Yeah, that's a great question. So, Remen probably talked a lot about dashboards and all of the wonderful kind of out-of-the-box options.

- [Nakul] Yep, he did,

- That HubSpot provides. So I think the report builder comes into play when you really explored the data in front of you in HubSpot and explored kind of those out-of-the-box really intuitive options that we provide. And you still kind of have that burning question, where you're like I need to dig into my data and understand in depth what the answer to this is. The report builder is a blank canvas. If you're familiar with workflows, if you're familiar with less, if you're familiar with anywhere in HubSpot, where you might filter down your data and kind of use those levers to segment your contact database or whatever data it might be. The report builder is going to feel super familiar to you and be a place where you can kind of dig in and filter down your data to really get to that answer. So really it's about having a specific question, not being able to find the answer to that already in HubSpot. You can go in there and really kind of dig into things and see all of your data in one place. So something that comes up a lot actually. It's something I don't know if this is, and correct me if I'm wrong if this is the standard term for it. But there is this concept of objects in HubSpot.

- You're right data objects.

- Data objects and that's so key to understanding even step one of the report builders. So can you help me unpack what objects are and when you have a question, where objects fit into answering that question?

- Yeah, definitely. So objects are essentially groups of your data. An object example would be a contact, a company, a deal. Those are all objects in the HubSpot CRM. So the report builder looks at those objects and all those objects have properties which are, you can think of them as just simply attributes of those objects. And the report builder kind of looks to all those objects and allows you to create a report on one of them or maybe across two different ones. So that you can kind of look to something like your contacts and kind of dig into the different properties and the different attributes of that data to answer a specific question about it. But you can also kind of report across two of those objects.

- [Jorie] Which is really awesome.

- Answer a more in depth question about how is like, because objects are, kind of can stand on their own or they can be associated with each other. So that's such a key thing for anyone using HubSpot to understand is if you think about a contact. That's someone, it's a person. It's someone who visited your website. It's someone who kind of went through your process with you. Eventually maybe that person raises their hand and they want to buy something from you. You should be attaching that contact to a deal because once you attach that contact to a deal, there's that depth of data kind of almost cleanliness there and attachment where that attachment and association is going to come through in things like reports and really anywhere in HubSpot.

- Yeah, and we also talked about, you're absolutely right. We talked about this in episodes five and six about when you're managing a data, when you're collecting data for the first time and it's on maybe one object that it shouldn't be on. What the techniques within HubSpot are to actually shift it over so that if you can't, if something's on three objects for example, which at this moment in time HubSpot reporting cannot do. Great, can we transfer it to make it two objects, which it can do with a cross object report.

- Yeah, I sort of see associations as like the connective tissue for your reporting strategy. It's gonna really pull those things together and make it kind of one cohesive unit. Even if it lives in two different places. And one metaphor that I really like and if it's a bad one let me know. But I've kind of sort of attached to objects is soft of like Excel spreadsheets. I know, so super.

- You okay?

- I'm like ah, Excel is just like sheets of data. You put sheets in data in different places to keep it clean and easily accessible and readable. But if you want a report on one of them, you gotta kind of highlight the segment of data for your report to make it cohesive and visualize it. So I think of it, objects in terms of data sheets in Excel and I feel like that has helped me cement what objects are in an abstract way.

- Yep, it's a group of data. And it's a way to take that data, see it, associate it with other things.

- Absolutely.

- So we talked about last time because this is visualizing your data in part of the framework. But really as we hopefully will have it right on the video segment right now of the whole framework we have that little arrow that actually goes all the way from visualizing your data back to mapping your flywheel. So Meg, how does all this reporting, just this data visualization relay back into the flywheel of an organization? What are things that one has to think about when constructing those reports, to then say, I want to use this to basically change my business model or better understand my business model, my flywheel.

- Yeah, I think we're reporting and you all probably talked about this a bunch in previous episodes. But I think where reporting really fits into the flywheel is you need to be able to use your reports to identify where that friction is occurring. So step one, you really need to have that established business process. If you don't have that you need to kind of backup and start there. And understand exactly what it takes for your business to get someone to visit the website, convert them into a lead, convert that person into a kind of qualified lead.

- Qualified lead.

- Qualified yep.

- Close them as a customer and then delight them when they're one of your customers. That's the whole kind of process. That's the flywheel. If you don't have that defined, that's where you need to start. Once you have that defined, inevitably you're gonna start asking questions about that process. Like where in my process is breaking down. And we can call that friction in this case. So the report builder and kind of those more customized reporting tools, you should be using that as a tool to zero in on that friction. And so there's a lot of ways that you can do that. Again, it starts with a question and it starts with understanding the HubSpot data model. How those objects work together, how those associations work together. So when you go into the report builder you feel at home. It's not overwhelming or feels like too much information. And we're always working to make that be a better experience of course but at the end of the day all of your data in HubSpot, so there's going to be a lot going on.

- [Jorie] Yeah, no absolutely.

- So being able to identify, okay, here's my process. Here's a place in my process that isn't going well or where we're not hitting goal, we're not hitting number. Zeroing in on that and starting to pick apart the data a little bit more.

- That's awesome.

- It usually and usually that's best case scenario where you do have customer actually using that and I got a good bunch that do, do that. They've already kind of automated it. Remen talked about dashboard structure last episode and you could clearly see that. For other ones, for others, that may not be necessarily the case. There maybe some of external factors. Where do you usually see people getting stuck when they are trying to visualize their data? Is it a case of, I'm not able to identify those properties to actually pull in for the report? Is the case of, I'm having a problem with actually just pulling in the right properties and visualizing it the right way? Is it something else I haven't mentioned?

- Yeah, so I think visualization is obviously the last step. I think it's so much more about the problem that we see people coming up against is such much more about not having the right data than not being able to visualize it in the way that you want. And of course, we could talk about visualization for days but in HubSpot we make it pretty simple where you have a bunch of options and it really just depends on your team preferences, who the viewer of the report is, whose consuming it to dig into literally should this be a table or a bar chart?

- [Jorie] Like what's the most intuitive.

- What I think is way more interesting and way more problematic for a lot of customers is I'm getting to this end stage in my report. Like in the report builder it's the last step and I'm not seeing the breakdown of information that I need. So I think the best thing you can do is start with that unsummarized raw data view of the report.

- [Jorie] So more of the table view.

- The data set.

- I think you have to start there in many cases and just be like, okay, do I have what I need to answer the question? So say, you're having a really specific question that you need to answer about your sales team. Are the reps on my team meeting goal? Are they performing and are they doing kind of the recommended activity count? Are they making the calls, meeting and emails that they need to. So if we start from the top that's going to be the deals object. So you need to understand what reps are closing deals. And that's also going to potentially be activity. So what engagements, what activity are they kind of doing with our customer base or our prospect base? When you kind of go through that full process to get to the end report. You need to kind of back up and say, what properties and what things are the end viewer of this report gonna need to look at it and be able to understand, am I doing the thing that I need to be doing. Glean that information and like immediately get back.

- [Jorie] Action It.

- To their day. Yeah, so for a sales rep. It's gonna be that quick, can I gain what I need from this? They're not gonna want a raw data table.

- Right, because what is that telling them. No, totally.

- Absolutely not.

- So we talked about two different types of reports that within the custom builder, the single object and the cross object with two objects. We know that there's a funnel report but you mentioned the a-word at the beginning of this episode so I'm gonna come back to it right now. Attribution. Generally those that have watched the episode and have actually thought about this, generally people actually have a business school that probably would warrant attribution as one of the key metrics to measure. So attribution reporting becomes, has become increasingly important, at least in the two years I've been at HubSpot. Yeah, sorry what were you going to ask?

- Yeah and there's also been very interesting announcements at Inbound this year about where the attribution tool is going versus kind of the state that users are used to seeing it in, in the custom report builder. So, I don't know if this is exactly where you were taking that but can you help us unpack some of those announcements? Where's attribution now versus where it's headed? And what our users can really do to start using this and really gaining actionable insight

- Definitely, we are so excited about what's coming with that. So to start I think it's really useful, many folks listening may have used attribution reporting in HubSpot before. It's useful to talk what attribution in HubSpot did previously versus what we're doing now. So today or previously what attribution HubSpot looked like. What's referred to lead attribution. So we're really helping HubSpot folks see, okay what were the touchpoints, the interactions that occurred with my brand up until the point where someone converted as a lead in my flywheel. Great, that's really helpful.

- [Nakul] Simple.

- Simple, it's very simple. And it's really helpful to just understand whose coming into the marketing process.

- [Jorie] And how'd they get there.

- Yeah, so it got us part of the way there for our customers but what's really really important for people to understand and what's really difficult for people to understand in HubSpot previously is how does someone go from the first time they visit my website all the way until they meet whatever the business outcome is that we care about. So let's talk about close deals as an example, revenue. We really want to make sure that people can see that full end-to-end customer journey. So that they can understand what is the impact that these different touchpoints, that these interactions with my business process have on that outcome, on revenue. And so kind of going back to who we built this for. So the new thing we're building is multi-touch attribution reporting. Multi-touch attribution reporting is very exciting because it looks again at that end-to-end process. So backing up to who we built it for, we really first and foremost built this in our building and iterating on this for the marketer. The marketer using HubSpot today is drowning in engagement metrics. We have fantastic engagement reports across the platform.

- [Jorie] So many metrics.

- You send an email. You get like those great performance metrics and understand who opened it and who clicked on it. Who worked with my social posts or looked at my LinkedIn thing? We show you all of this valuable engagement data but at the end of the day it doesn't tie back to the rest of your process, the rest of your ROI. So multi-touch attribution reporting is all about showing the marketer and eventually anyone using HubSpot ROI on their efforts. So what it does is it again, looks at the full kind of process that someone goes through when they come to your website and then interact with your brand. So we're really excited about kind of the ability for the marketer or anyone to dig into the data and see someone kind of came to the website, this is all the things they did between when they came to the website to when they converted as a lead. And then this is all the things that they did kind of going beyond that lead attribution. This is all the things they did after they converted to a lead until the deal was created. And then after the deal was created this is all the things that they did until they closed as a customer. And what attribution is going to do is let you apply attribution models, which look at all those touchpoints and kind of give different amounts of credit to those touchpoints. So as a marketer, anyone you can really analyze the impact of your efforts.

- I'm dying. That's exciting.

- In a good way.

- Just this is amazing.

- It's gonna be great we're really excited about it.

- My previous experience pre-HubSpot and then in HubSpot. I mean there were other ways that you could start to show vestiges of this.

- If you swing you could sort of see it.

- Yeah, like you could pull something like marketing contribution to revenue. So based on when someone became a marketing qualified lead. I'm pretty sure we talked about this before too. You could show that contribution to revenue over time. Right, but not specific actions but based on a date property became a marketing qualified lead. There were two other properties that I thought of as well. First Touch converting campaign, last touch converting campaign. If you organized your marketing activities and campaigns, you could actually tie those individually to say, oh, it looks like the first touch converting campaign was this. Looks like the most recent converting campaign was this before they closed. What was the impact on revenue. This is really saying, I'm going to talk all of those things and then five other things that we haven't mentioned, put it all into one model. And that is extremely powerful. Because it's as you alluded to Megan, marketers are way smarter now. I mean they want, they are drowning in engagement data, they want to be drowning in that engagement data. They want to be able to pull something, consolidate it to say, great, I want to visualize my data and I want to be able to give credit where credit is due to my email marketing team, to my content marketing, to my paid ads, to my whoever.

- And I remember sort of like an echo of this. I think it was two years ago with the campaign analytics tools had launched. And I remember how much buzz that got because it was like finally a way to start pulling that story together. Finally a way to start saying this campaign helps sales close this amount of deals. This is very much taking that step further.

- A huge step further, yeah.

- Yeah and not just in campaigns but just in general assets.

- Everything.

- Exactly where it's like was it that email? Was it that meeting? Was it that sales email? What is it? So I think it's going to give you so much more transparency as to what's happening in the flywheel and help you visualize it and really bring it home that much more.

- Yeah, it shows the end-to-end journey and it lets you understand the impact of the things that happen on those journey on the outcome. So it's super powerful. We're really excited about it.

- That's awesome. Do you have, so I know something that I always get questions about in academy content is examples. So do you have some examples of use cases where a marketer would want this type of report on their dashboard or answering those questions?

- Yeah 100%. I think the way that marketers often times first realize that they need an attribution report is when the director of marketing or the CMO or maybe even the CEO comes to them and they're like, hey, we gave the marketing team-

- [Nakul] X amount.

- X amount.

- [Nakul] Dollars, yeah currency.

- X amount this quarter. What happened? What did you do with it? Where did it go? And historically in any platform out there it's been extremely difficult or extremely expensive to really show people, show your boss how what you did and where it went and what impact it had on ROI. So I think the number one most impactful thing that will come out of the multi-judge attribution reporting in HubSpot is your ability as a marketer to make that dashboard, that anyone from the business but especially folks who are operating at a little bit of a higher level to log in and understand, okay, the marketing team did this and they did this. They put x amount into landing pages or email or whatever it may be. And we can see the impact that that's having on the bottom line clearly. And that's 100% going to be possible. So we're super excited about it.

- And you pull that something like defining your goals. As we talked about.

- Exactly.

- Yeah 100%

- Episodes three and four. It's just all of a sudden that director of marketing is maybe concentrating on that one specific metric as they should be. But all of a sudden they can think, well if we have a revenue business goal well great, because I know we're already accomplishing this, we're meeting this metric. We're accomplishing that. Maybe I can give the same amount of budget or a little more to my marketing team next year for them to do the same thing again, surpass it.

- Yeah definitely.

- So I was just gonna also so we're excited about that. But we're also excited about the way that it will really help the individual marketer understand their impact. So we want to give marketers credit.

- [Jorie] Definitely.

- That's one of the huge goals of bringing multi-judge attribution to HubSpot.

- Which is so important because one of the things that we had talked about with goal setting is you know sometimes the flywheel feels so abstract. Oh, whatever that's something the C-suite has to care about. But when you're setting goals that can get a little murky. Because it's cool if you have key metrics that are high level with your flywheel but how does that apply to then the VPs of your department if you have a large company? How does that apply to team leads or managers? How does that then trickle down to the individual contributor? So it's like this is a way where you can see how the goals or the actions of your ICs essentially or your individual contributors. Then tie up into the metrics of your team, then tie up. So this is really like HubSpot reporting helping you bring your goals and your flywheel to every part of your business. Because now you can track that and now you can track that by dollar value. Which is huge. And I think that's so interesting that you bring up, like this is also an age old problem of marketing. I feel like I've been hearing about this problem, where it's like I don't even know what marketing's worth for the longest time. So now you can do that and all within HubSpot, which is huge.

- Yep, all in one place. The other really incredible thing about this is it's also going to show the marketer kind of where the sales team handoff happens specifically and then what the sales team did as well to drive that deal. And so that's super helpful to not only the marketer to understand that handoff and how to optimize that, optimize that relationship between marketing and sales that we talk about so much. But also it's great for the sales team, the sales managers too but in attribution, again it's the end-to-end journey. And right now it's a focus on revenue attribution. So a sales team can go in and see, hey we closed this super high value deal last month, what happened? Why did we do that? Let's do it again.

- [Jorie] Yeah, how do we replicate.

- Exactly. And so you can drill into it really even on the deal record we're bringing that data directly to the deal and contact records so that you can understand what happened and what went down here and see every single touchpoint that occurred from first visit all the way to when the deal closed. It also kind of goes the other day where sales reps will be able to see, hey this is what marketing did without maybe scrolling the contact timeline. We'll be able to get a high level view of this person that I'm working a deal with already looked at the white paper. They already looked at this landing page. And they already kind of engaged with these high value, high intent things that the marketing team put out there.

- I know Remen last time, we talked about with Remen about alignment. And looking up his viewpoints to the end of last episode to say, want to make sure that those handoffs are pretty necessary and identifying in between those the business goal. This is really making that conversation so much more meaningful now if you have it on a weekly basis, monthly basis whenever how often. So sales can say, you know marketing, that white paper is really great. Keep doing it. Don't send as many emails on it. You don't necessarily need to. Marketing can say, hey you know what sales, you guys are doing it. Like you're doing it right. Maybe you don't even need to send as many outreaches, maybe you don't have to use as many emails in your sequence. Maybe you use four emails instead of five emails. Again, I'm taking the glass half full kind of approach. It all of a sudden you're getting a lot more points from which to agree on or at least debate on to say, this is what we need to change. But all of a sudden there's a number behind it. There is an active visualization for them to take some action. A part from all the resources that are already available within HubSpot reporting.

- And what I love about this kind of new addition is yes, it shows sales, how marketing has impacted it. But what also a great way to personalize your sales process if you know that person has dealt with this specific content, you can so level set with them before you've even had that initial conversation. And then that transparency of bringing this customer journey mapping to the contact record. What an amazing way to always keep your customer's experience top of mind. Because it's visualized right there for you. Like you know what they've touched. You know what they've consumed in terms of content. So I like this also like, not to be that person, but super empathetic to the customer.

- Yeah, no of course.

- This is a way you really turn data, which can feel so cold and emotionless into actually delightful experiences because of what the action, like the actions can inspire you to do or your sales team to do.

- Would the single line attribution still remain? I should ask as a clarifying question. Or will it just be multi-touch?

- So we want to move to a world where all attribution in Hubspot is powered by this one kind of attribution platform. So eventually, we'll layer in those other types of attribution in there. Like date attribution, deal create attribution things like that.

- That's great because I do see value in those kind of single lines or single point, points of attribution. I just think with the level of complexity that marketers, salespeople, service people all think now. Multi-touch is going to be really paramount to understanding that. Comes from your business schools but also understand your business model, which again if you aren't visualizing your data the only natural thing is great, now take action on the data that you visualized, change your business processes and do it all over again. Let's start all over.

- And I think what's so important here too is just like attribution also gives you the ability to zoom in and zoom out. Where it's like for the kind of potential high level people like maybe directors or kind of like,

- VPs

- C-suite exactly. You can really focus on experience building and how that's functioning. But you know what I love about this particular feature is that it's really no matter what your role is, this is gonna give you some kind of insight. Because you can drill down into cool, these sets of emails or assets they didn't function as well as we expected them too. So it's like that is something I can action as an IC and potentially optimize the process. But again, if I'm running a team I can see how they're coming together to create that experience. So it's really like you can go as high level as the flywheel or you can go as specific as the action. And being able to do that all in one platform, that's huge.

- Yeah, the vision for it is really to allow anyone to drill into or zoom out of this data. Wherever they work. So dashboards, the individual pages that you see performance and things like landing pages, emails, social, campaigns. We want to make sure you can group this data by your campaigns that you're running. We really want to let you kind of go as deep as you need to or zoom out as much as you need to.

- So I know that the report builder is the kind of the heavy hitter here. Because that's where attribution has typically lived. Can you, and we talked a little bit about the contact record. Where else can you see kind of traces of this attribution like this new ability living in HubSpot?

- Yeah, I can definitely see it and we plan to bring it to the campaigns app. So when you're running a marketing campaign, it's really a place where you're bringing your different marketing assets together in one place. And so we want to definitely take that to the next level. One of the ways that we want to take that to the next level is letting you look at kind of attributable data about that campaign and seeing that breakdown of any asset that you attached to a campaign. You can understand what revenue or eventually other business outcome is like attributed to that. So if you think about campaigns. You have like your ads or your social or your different things that are attached to it. You can kind of imagine seeing that revenue breakdown for each of those things, rolling it up to kind of the ROI of an actual full marketing campaign.

- And ROI can be measured at least right now or previously influence contacts, influence revenue. As well as new contacts and sessions. But when we're thinking ROI, we're thinking, how many new contacts was I able to get? How many contacts was I able to influence? How many deals was I able to close as a result of this? How much revenue was I able to influence as a result of this?

- But now you can get so much more granular about asset type.

- Way more detail.

- Which is gonna be super helpful to as you're just like, because we clump marketing together a lot but it's just like there's so many things that go into it and we clump sales together but there's so many different activities. So being able to optimize, like hey for marketing maybe your email campaign, you should look at that nurturing process a little bit more? Or maybe for sales booking three meetings isn't really effective. You should just do the one and follow up with a sequence. I think that what's exciting too about this is it allows you to get granular enough that you can then be experimental with your processes and really figure out, not just what this high level theoretical buyer persona wants but the people that actually work with your company want to hear from you? Like what type of content they want to consume. Because now you're gonna have the data to be like, hey, this is not working. Based on the dollar amount, this does not work. So I think it's interesting as we talk about how data driven this can be. Like the actual realms of possibility it can open up for your team. Like this can be like a huge source of creative potential because it's something that has been standard is working okay, but it could be better.

- Yeah, it's all about what's working and what's not.

- Yeah, and that really goes to the essence, I would say, of the framework itself. You want your business processes to be something that's much more data driven because one, our customers are asking for it. And two, we are now finally getting more and more resources are piling on for it. In the content this episode it's multi-touch attribution reporting. We talked to Al two episodes about it was about-

- Integration.

- Integrations and consolidating that to make us truly a platform company. All more to say, hey guys, you have all these data points, you understand a little bit about your business goal, business model. You do have some quantifiable business goals, great, you're able to now consolidate all those data points from natively within HubSpot, as well as, your other tech systems, technology platforms, whatever you use. And then now you're able to really visualize it in a number of ways. Multi-touch attribution being a real crucial point of that. But then you also still have the customer report builder. You still have analytics tools. You still have the reporter library. That you can use, customize, use filters and try to find something in your dashboards to spur action, to start that process, to keep iterating.

- Another really important visualization that will come out of this data on the topic of visualizing data is better kind of funnel reporting and a better understanding of not only who are the customers who met the end outcome or the end goal and analyzing who kind of successfully became a customer but also allowing you to see everyone. And of all of my customers or of this segment of customers or people in my database. How have they kind of gone through a specific process? Who dropped off and who stayed on? So commonly known as either kind of funnels and analyzing a funnel report or another way to visualize that data. But another way to visualize that data is a customer journey map. And that's something we're really thinking about on the product team and trying to figure out how we might be able to bring something like that in HubSpot. We think that's really important.

- That's great. That's excellent.

- What a beast to visualize though.

- I can imagine.

- How do we make it simple but also-

- Exactly.

- If there is a focus group, I would like to make it. I'd like to go on the record right now as we're being recorded.

- Now we're on the spot.

- Megan's like can we please change the topic?

- No, for sure.

- That's awesome. So as you look sort of into the future and we can also, if you can't tell us anything that's also an acceptable answer. But so we've talked a lot about marketing and sales, what are some of the implications you see eventually for this bringing in services. Because it seems like this gonna be huge for attracting and engaging. And I mean that handoff is a problem as old as time. I totally said. I think that's from Beauty and the Beast, tale as old as time. Problem as old as time, anyway.

- We got a Disney reference in the last episode.

- Bam.

- Wow.

- What are some of the implications you see eventually of this bringing how you're reporting full circle with your customers?

- Yeah, 100% we want to make sure the full flywheel is represented. So today I said end-to-end customer journey. It really technically isn't because we're looking at what was your first touch or first interaction with the brand all the way to the close dead. We want to make it the true end-to-end customer journey, which means bringing it all the way through to maybe when someone referred someone to kind of get involved and buy. So bringing the full flywheel into the attribution tools.

- So exciting things to come.

- Yeah and again there's already vestiges of it. Just like with multi-touch attribution. There's vestiges of this as well. To measure word of mouth marketing. Attracting your Ls, campaigns, utilizing referrals and referral links within the traffic analytics report. But this sounds, again that next step.

- Yeah, totally. We're looking to level up.

- Yeah truly. I mean yeah because previously I kind of saw all these different things, pre-this and multi-touch attribution as we were kind of just taking steps and now we're going at a good pace. All the sudden Megan had a Red Bull and just .

- Done!

- Sprinted in a marathon pretty much. And she getting pretty close to the finish line at the same pace, which is great.

- Yeah but especially for like where we are just like it's so exciting because I think another framework to kind of put this in reference to is just like the buyer's journey. I think it's definitely end-to-end in terms of the buyer's journey. So as we're considering how services can get involved, definitely some growth opportunity there but for the marketer, man, this is exciting because that is the entire buyer's journey on lock what content is making the most.

- Yeah, every touchpoint that happened with the brand.

- That awesome so in terms of kind of using this data and using the types of reports that you'll build there, do you see this as something that will be, will it appear on marketing dashboards in terms of canned reports? Like what kind of canned reports are we talking about and then versus building from scratch? You know what I mean?

- Yeah definitely. We're right now really focused on nailing the from scratch experience be want to make sure all of the data that people would possibly need is available to them and obviously that'll be incremental process, we'll iterate over time. But we're focused on that right now. Eventually we do want to turn to those out-of-the-box reports. Really work with our customers to have them help us create what's the ideal kind of ROI attribution dashboard that someone can just kind of get in HubSpot?

- Start creating yeah.

- So based on your research as this tools has been developing, like what are some of the common questions though that you see people turning to the attribution report builder for?

- Yeah, I think anything related to, I need to understand where should I kind of put more or less effort. And so specifically that gets into things like okay, I have all of these assets that the team created, where specifically should I kind of be doubling down and what specific landing pages, what specific blog posts are people really interacting with who went on to continue that journey and engage with the sales rep or raise their hand. So we really are seeing people, and that's kind of why we're focused on the depth of the data right now. We wanted to make sure that customers could go in and analyze like. Like dig into it and understand, because the thing about attribution is it uses attribution models. And what those are, are simply kind of different weights and mechanisms for applying different weights to those touchpoints that happen. So more weight is going to go to touchpoints that occur before those key conversion points in your journey. So the platform today supports the first interaction, the lead create, the deal create and the deal close. That's important to understand because the landing page that someone viewed right before the deal was created or the call that happened with the rep right before the deal was created, that's gonna get more credit from almost any model but the nice thing about models is you can decide, okay, I'm a marketer who really cares about a tract. I want to bring people into our marketing process, bring people into the flywheel. There's models that can help you look at, okay, here's everything that happened in my end-to-end journey. But I want to put more credit, more weight towards those first kind of two conversion points of this is the first time they looked at my website and this is when they actually converted as a lead, which would be the EU model. So it's nice because you can kind of look at that data and dig into it and analyze it with those models to better understand kind of different questions you might have or different parts of the process.

- That's awesome so definitely more flexibility and sounds like variation in the types of models and how you can apply weight to them too. So there's an additional layer of being granular.

- Can't wait to play with it.

- Can't wait because it's weighted. Did you do that on purpose?

- I did. I totally did. #cornyjokes.

- #pun.

- We recognize that attribution is a little complicated to grasp at first. So we're putting a ton of investment into what are the questions that people have about their business? And letting people say, okay, this is what I want to really dig into? Letting them kind of click on that question or interact with a real question and get into the data from there. So, we're making some exciting progress on that front.

- That's great.

- I think that also helps with the, just in terms of the customer report builder. Like make sure you know what you're asking first. You could spend so much time being like, I don't know this filter and this property or this attribution model. But you could waste time. If you're building that repetition and understanding how that works, that's a different thing. But again, you are looking for the answer of a specific question. Like make sure you understand what that is. So I think starting with the question both as the clickable element that you were talking about but also in terms of how to go about building a rapport is really important here. Because when you have all the different levers and you're just pulling at will what kind of insight are you trying to get?

- Yeah, no exactly. Lot of things that I think the big takeaways is one, multi-attribution is coming or is already here. Which is great.

- It's here.

- It's here, it's finally here. But more importantly, I think this really solidifies that step from going from visualizing your data all the way back around to mapping your flywheel again. Because you already have that actionable feedback loop of saying, even pass I'm going to give this percentage credit to this team and this percentage credit to this team. You can immediately say, great, here's what I may need to change in my business process to do this better. Based on what the data has showed me and based on what I was able to visualize. Again, you go back to mapping your flywheel, starting to rejig your business goal and metrics and so on and so forth.

- Totally, and I think attribution reports definitely seem like the type of reports that most closely tied to that repeat process. Because they're gonna give you live insight on what's working and what's not. That's your flywheel. So this is almost like we won't it this I think ever but it's like flywheel reporting is what attribution reports are.

- Yeah, you can think of it that way.

- It's how you're-

- Because it's cyclical.

- Yeah, and it's based on key parts of your business and again, that zoom in and zoom out that's entirely what we've been talking about like this entire series. And finding out what works and what not, what doesn't.

- So those last episodes we had talked about, Remen had chatted about making sure that we follow this concept of having a point to those reports and visualizations that you create.

- Be intentional.

- So we actually provided, yeah, thank you. So we actually provided the custom report builder workbook as that asset. So today there's no specific asset but instead we do have a big lead with all of the assets from previous episodes that we are gonna provide in the show notes for anyone to download and use. And obviously you can still send to us for feedback going forward.

- Yeah absolutely and there is also, just like as a CTA is, as this new tool kind of gets launched. As we bring it into the ecosystem. Also keep an eye out for HubSpot Academy material, 'cause we will be with you every step of the way, in terms of how to best use this. Because, as you mentioned attribution reports they might not be intuitive to everyone. So keep an eye out for that content because we are going to be very dedicated to helping you unpack it.

- Yep, marketing of enterprise coming soon.

- Coming soon.

- As this is the last episode tear tear.

- Our miniseries is complete.

- But at least we get to leave the room now.

- Netflix is shook.

- Yeah, right. We will have a survey as well as, kind of a combined link of all assets. One of the thing that we will ask apart from just your feedback on the series itself is if you'd be interested in one-off consulting hours from Jorie and/or myself. We'd love to actually hear-

- Or both.

- Or both. We'd love to hear from you.

- If you want to be in this seat.

- Because we're hoping-

- Not on camera.

- We're hoping that we can use this as a foray to provide additional support and also fill in the gaps where we're not necessarily seeing it. Hopefully the framework, the amount of reporting framework was able to give you a good foundation from which to build.

- Start constructing your reports.

- Good reporting behaviors. We're hoping that the consulting hours one off will be great. We're just gonna review it. We're actually going to give pin pointers about maybe where you're missing the mark or answer any other questions that you might have.

- So let us know.

- Yeah, don't miss out on that.

- [Jorie] You can reach us at the inboundreporting@hubspot.com email address. Bookmark that, keep that top in mind. Add us to your contacts.

- I can just see in somebody's HubSpot. It'll be like inboundreporting@hubspot.com name is Nakul and Jorie or Jorie and Nakul. Just no last name, that's it.

- That's all you need to know.

- Yeah, right.

- Did you have any additional insight?

- I didn't. Megan thank you for joining us.

- Thanks so much.

- It was wonderful having you. It was great talking about the dreaded A-word. Which isn't actually as dreaded as-

- The f-word.

- Well yes, but.

- Flywheel.

- The flywheel.

- That's what I mean.

- It wasn't as dreaded as I thought it was going to be at the beginning of the episode.

- You were dreading it?

- No, I wasn't dreading it in a sense of.

- My coffee brain was like, yes attribution! Let's go! Okay.

- How much coffee did you drink?

- It's only been half a coffee.

- This much though every time. If I had that much I think my heart would explode.

- Half a coffee?

- Yeah.

- Oh anyway. Thanks for joining us.

- Thanks guys.
Want to connect with others on HubSpot tips, tricks, and updates? Head over to the HubSpot Community to join a conversation or start one of your own.