How many technologies do you use every day to do your job?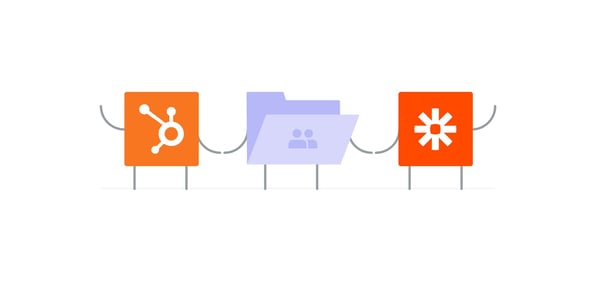 My money's on your answer being three or more tools. Today there's no shortage of tools to choose from, with over 3,500 marketing solutions alone.
In fact, the Winterberry Group found 90% of marketers use a minimum of five distinct solutions and average more than twelve different tools.
Managing siloed tools can be costly — in both time and money. HubSpot Research found that 82% of marketers and salespeople lose up to an hour each day managing siloed tools.
The consumer not only anticipates but expects systems to connect, but the reality is this isn't always the case. Many of us turn to integrations and applications to help us save time managing systems, so we can spend our precious work hours actually doing our jobs.
At HubSpot, we're building an ecosystem of valuable integrations for our customers through the Connect program. When we don't offer an integration directly through the Connect program, our connector application partners (aka "integration platform as a service," or "iPaaS") help solve for the customer.
Each iPaaS partner offers their own set of functionality and pricing. You can find more details here or check out a few examples below.
Collaborate Across Teams
One of our iPaaS partners, Zapier, recently launched Zapier for Teams. Zapier for Teams takes productivity up a notch by enabling collaboration throughout teams at the integration level.
Why's this interesting?
Well, first some quick history. Zapier was originally built to help individual professionals automate their workflow and connect their favorite apps. This shift to supporting team structures instead of individual professionals allows teams to collaborate — a key ingredient when optimizing productivity.
In practice, this means taking Zapier's custom automated workflows ("Zaps") and sharing them at the organization level. This update supports teams through a single invoice, unlimited Zaps, visibility across teams, the ability to manage these workflows in a shared folder, and share best practices.
Here's an example.
Let's say a company uses HubSpot CRM to power their business. The company's top sales rep, Samantha, has automated a bunch of individual workflows to help her optimize efficiency. She uses user notifications for email alerts on changes in the HubSpot CRM and pairs this with custom notifications in Slack that she's set up via Zapier. These notifications help her follow up with new contacts in record time.
By using collaboration at the integration level, this trick can be shared with Samantha's entire team by adding this Zap to a shared team's folder, where her entire team can view, edit, or copy the workflow. Now her entire team can use the custom Zap without the worry of shared logins or the hassle of teammates asking her to set up a workflow on their behalf.
You can use any existing Zaps and add them to a shared folder when your team implements Zapier for Teams with HubSpot.
Try Two-Way Contact Syncs
Once a PieSync connection is set up, the tools work in the background to seamlessly sync contact information back and forth across systems.
Why's this interesting?
Piesync allows tools to sync contacts in real time in a two-way sync between systems, so your contact information is always up-to-date in both systems. This is especially useful when your team uses more than one solution to house basic contact information, eliminating the need to import and export.
Here's an example.
Let's say I work as a construction contractor and regularly need to contact customers while I'm on the move. I use HubSpot CRM to organize and track current deals and customers, but I'm constantly on the move and need to be able to access my prospects and customers from my phone.
I could use a Piesync two-way contact sync between HubSpot CRM and iCloud. Now I'm able to add a contact to my phone and have it appear in the HubSpot CRM instantly. If I make adjustments to a contact's information or add new contacts in the HubSpot CRM, they'll be added to my phone in real-time, so I don't have to search for information in a pinch when I need to make a call to a customer from the road.
Create Complex Multi-Step Workflows
Automate.io's multi-step workflows ("Bots") allow you to customize triggers and actions across multiple applications.
Why's this interesting?
Auomate.io's Bots give organizations the freedom to create complex custom workflows that span far and wide across all the tools they use across teams. An automated multi-step Bot can offer a speedy solution to a complex problem.
Here's an example.
Let's say I want to welcome a new customer after they sign up and kickoff onboarding. I could setup a multi-step Bot to create a HubSpot contact every time a Wufoo form is submitted, add a delay to wait 24 hours, then kickoff onboarding in Zendesk.
These are just a few ways that automating processes and connecting applications can increase efficiency at the individual or team level.
Whether you use integrations to store multiple systems' information in one place or create custom actions to help you do your job, connecting systems helps you optimize productivity.
At HubSpot, we've found that integrations generally have a positive influence on a user's success when comparing to a control group — in some instances, this means more leads, more website visits, and retention benefits.
Want to increase productivity for you and your team? Check to see if your favorite application connects to HubSpot.