During the past year, we've seen our Facebook feeds transform from static images and statuses to a constant stream of live video content casted from individual smart phones.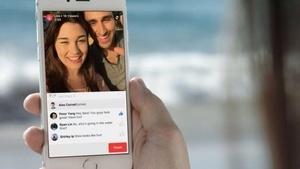 "Facebook Live videos are watched 3x longer than pre-recorded video content," says MediaKix. This has given businesses a great opportunity to connect with users in a brand new live format. We've seen live videos highlighting conventions, interviews with thought leaders, and even tours of company headquarters.
So how can you integrate Facebook Live into your inbound strategy?
At HubSpot, many of our departments experiment with Facebook Live. The Academy team broadcasts The Cap, a Facebook Live show that takes place every other Friday afternoon. The format of the show includes two hosts and two program segments aimed at delivering fun and educational content.
I sat down with Stephen Fiske, the senior video producer on the Academy team, to speak about how live video content was implemented into the team's strategy and how they continue to experiment with the platform.

If you and your team are looking to integrate Facebook Live into your strategy, here are some steps to help you feel confident running live segments.
Step 1: Create an inventory of your current assets
Before planning a show or initiating a Facebook Live session, you should have some sort of formal strategy in place. Create an inventory of the content your team has created in the past. This exercise will help you understand what assets already exist, what needs to be updated, and what needs to be created for future purposes.
Stephen reflected on the Academy's existing assets with Mark Kilens. They determined that team had created 345 videos centered around certifications, trainings, and tool walk-throughs. They began to experiment with covering product updates, which gave them a chance to work with other teams throughout the organization.
By understanding what the team had already covered, Stephen was able to see a void in live video content. "Mark said the team used to do an inbound learning broadcast, which aimed to teach users best practices. These broadcasts would have an Academy professor take viewers into the product and teach them how to use it. I thought we could take this idea and reintroduce it as live video."
Step 2: Establish goals for your new content
Once you determine what new content can be added to your team's inventory, you can start to determine the goal for your new content. This will provide a structure to your content as well as a guide for what you want to accomplish in each segment broadcasted.
When asking Stephen about the goal of The Cap, he noted there was a lack of content for the final stretch of the work week on a Friday for their viewer base. "The reason we created this show was to provide people with an inspirational break right as they come back from their final lunch of the week. We also use this as an opportunity for some fun team-building for the Academy team on a Friday afternoon."
For the crew that handles production, their goals focus on planning new topics for upcoming episodes. The Cap has covered new topics like answering questions on the HubSpot Ideas forum, introducing new Academy professors, and covering ways to use new HubSpot tools in your strategy.
Step 3: Plan each segment in advance
Live content can be exciting because it gives you and your business a chance to connect with viewers in real time. But the nature of live content can lend itself to surprise elements outside of your control. To ensure the broadcast goes as smoothly as possible, we want to consider all the factors you can plan and set up beforehand.
If you're doing a live broadcast with a static setting like a sit-down interview, you have the option to plan a lot of elements featured in your live video. You can set up the space beforehand and prep your interviewee about questions you'll ask.
For The Cap, Stephen said they chose the location of the broadcast to take place in one of the biggest meeting rooms in HubSpot headquarters. This space allowed the team to book the space in advance to ensure it was free, and they can set up their equipment before the broadcast. "We start setting up our equipment around 11:30 a.m., which includes two cameras, six lights, one backdrop, two lavalier microphones, one boom mike, and one high-top table." This set-up usually takes the team one hour to complete.
To make sure the correct people are notified of the broadcast, the team schedules an email to send out one hour before the event goes live, usually at 1:30 p.m., to a list of subscribers. The Academy professors follow up the email by sending out a Twitter message to their followers, letting them know to tune in.
Step 4: Monitor the broadcast while it's live
To have a successful broadcast, you'll want to engage your viewers and interact with them as soon as possible. The Academy team will usually ask a question during the broadcast and will see viewers engaging with the Facebook Live video.
"We set up a computer in front of our two primary hosts for the episode. This way, the hosts can keep up with the engagement from our viewers, like questions or comments." Whoever is hosting your segment should refer to the engagements as soon as they see them. This will amplify the idea that the segment is live and allows you to interact with your viewers in a new way.
"Our aim is to have people feel like they're a part of the show. I'm the person controlling the camera and the volume of the broadcast. And I keep time to ensure we cover all topics on the episode's agenda." The hosts of the show focus on engaging viewers, meaning they're looking for viewers to leave comments and ask questions. To ensure continuity, Stephen said the team "will collect answers during the broadcast, and then we'll pull up comments and results of the question during the next episode."
Step 5: Measure your results and iterate for next time
Once you've completed your Facebook Live segment, it's crucial to reflect on the process to measure your results. This reflection can establish factors that are working for your audience and highlight opportunities for experimentation. Can you change the timing of when your show goes live to get more viewers? Should you make the segment shorter or longer? What topics do your viewers enjoy learning about?
Facebook delivers many metrics about your video, including numbers like total number of views, peak live viewings showcasing the points in the video when you had the most viewers, and even people reached, detailing how many newsfeeds your video was displayed on. You can read more about Facebook video metrics to perfect your video craft. When speaking with Stephen, he said Academy currently focuses on "number of video views per episode, and how many people are reached."
If you'd love to keep learning about strategies around implementing live content into your social media strategy, join our Classroom Training Team for an in-person training experience in a city near you. These courses pair inbound strategies with technical demos of how to use the HubSpot tool for your business needs.