As of today, HubSpot is built for video.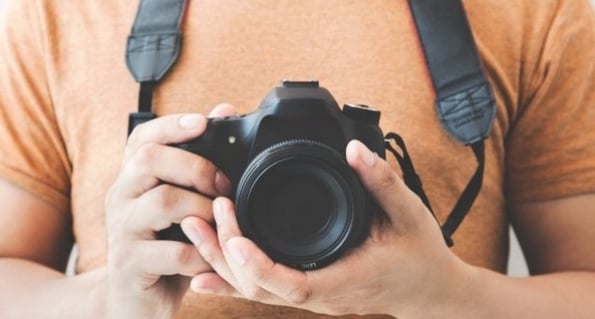 HubSpot Video isn't a new app or tool. Instead, it's a new series of video features woven throughout the HubSpot platform. In other words, it's the video-ification of HubSpot: the ability to create, host, manage, customize, and measure video inside of HubSpot, in ways that haven't been possible before today. The new features are free for all pro and enterprise customers and require very little set-up.
This platform-wide approach will help you elevate video across your entire business and help our industry move away from only thinking about video as a top-of-funnel marketing tactic. It's so much more.
What's Possible With HubSpot Video?
Why tell you when we can show you? This video is an example of a new HubSpot-hosted video.
New Video Features in Marketing Hub
Note: A Marketing Hub Professional or Enterprise subscription is needed to access these new video features.
It's tough to find a marketer today who doesn't believe in the power of video. But at the same time, it's hard to also find one who thinks they've totally mastered it. The fact of the matter is, video is really hard. HubSpot CMO Kipp Bodnar said it well in Why Marketers Suck at Video — and How to Fix It.
Video is a challenge for a number of reasons, but mainly it's hard to measure, expensive to create, and hard to go from views to action. The new video features in Marketing Hub were designed to address these issues.
Video hosting
You'll now be able to host 250 videos for free in your file manager. These videos will have optimal playback and transcoding, and they can be embedded into blog posts and landing pages in one click.
To make sure these videos play fast and run smooth, we partnered with longtime HubSpot Connect partner, Vidyard. To start hosting files in your file manager, make sure you opt in to this new integration with Vidyard (see gif).
In-video CTAs and forms
Often businesses only look at video as a top-of-funnel awareness play. But video in the middle or even bottom of the funnel can have a huge impact on growth.
You now have the ability to add your existing CTAs and forms directly into your videos. This makes your videos actionable and flips the experience from a passive one to an active one. Viewers can click to learn more, or fill out a form and instantly receive an email or outreach from someone on your team. This can turn your videos into lead-generating machines.
How to add an in-video CTA
Video lists and workflows
Even if you spend lots of time and energy on a beautiful piece of creative, just pushing it out into social media doesn't mean it'll become an instant success. You need to build a complete campaign around it. Or better yet, build your campaign first and bring it to life with video.
Add CTAs and forms to your videos, then build lists and trigger workflows based on interactions with those elements. Taking a more holistic approach to video will increase views and help you better justify the ROI of your video efforts.
Video in email and social media
HubSpot Video doesn't really change the way you might approach video in email or social media. Email providers don't support sending videos in email, so it's best to use a gif or image to link to a video in a landing page.
In social, video that's uploaded directly to the native platform often outperforms video in players, so we suggest you continue to upload natively. However, we are working on more video solutions in email and social, so stay tuned.
How Sam on the HubSpot Marketing team uses video
New Video Features in Sales Hub
Salespeople are all about building trust and strong relationships; that's why it shocked me to learn that most salespeople don't use video, and some are even adverse to it! Think about it: Are you more likely to respond to an impersonal text email or a short personalized video? Do you trust a faceless block of text, or do you put more trust into a real-life smiling person giving you advice?
Video is a great tool for cutting through the noise and adding some personality to your prospect communications. It's also a great education tool that's shared easily. Now in HubSpot you can easily create and send one-on-one personalized videos right from the CRM. We've built Vidyard's simple but powerful video browser extension right into your CRM. As part of activating the tool, you'll need to create a Vidyard account.
One-on-one video creation in HubSpot CRM
You can quickly record your screen and voice, or use your computer camera to record yourself. You can then send your video right to a prospect via email—a sort of video voicemail. The viewer will click the video image and jump to an automatically created landing page where they can watch the video. Each video email send will get logged in the CRM, and you'll know when prospects open and click.
At HubSpot, we use video as part of our sales process. There are a number of ways it helps individual reps. Here's Adam on how he uses video in sales:
New Video Features in Service Hub
Of all the teams that can benefit from an infusion of video, services may be number one. Helping a customer through a difficult issue with a short video vs. a long email can transform how you help customers. Not all customer tickets require a video response, but a quick video can save you a ton of back and forth or eliminate having to set up hard-to-schedule calls.
Also, there's no misreading the tone of a video. The receiver will know exactly how you feel when they hear your voice or see your face. And that can go a long way during an emotionally charged support situation.
One-on-one video creation in tickets
Similar to the sales tools, Service Hub users now have the ability to create one-on-one video as a response to a ticket. You'll find it in the email section of tickets. This product also natively integrates with Vidyard.
You can quickly record your screen and show, not just tell, a customer how they can solve their issue. If you've created one video that's really helpful, you can reuse that video again and again to bring some scale to your process. You can also personalize it to each customer to really impress them. Just using a customer's name in a video can go a long way.
How Sarah on HubSpot Services uses video
Video support in Service Hub knowledge base
The Service Hub knowledge base now supports video. Service Hub users can upload and host support videos on HubSpot, and in one click embed them into knowledge articles.
Adding video to your knowledge base can really improve how helpful each article is. Maybe your team has some agents who've created really amazing one-on-one videos. Sit those folks down in front of a camera, and record a slightly more generic help video that you can add to your knowledge base.
How Francis on HubSpot for Startups uses video
Video as a Business Strategy
Personalization and human connection transform the growth of your business. And what better way to jumpstart this transformation than with personalized, one-on-one video experiences for your prospects?
After introducing HubSpot Video to your marketing, sales, and service teams, we'd love to hear from you! Please send along your feedback on what works, what should improve, and what you'd like to see next.
Net Promoter, Net Promoter System, Net Promoter Score, NPS, and the NPS-related emoticons are registered trademarks of Bain & Company, Inc., Fred Reichheld, and Satmetrix Systems, Inc.