Imagine a world where you didn't hate your business software. Unfortunately, it might be hard to imagine that world. According to HubSpot research, 76% of sales leaders believe their team only utilizes a small fraction of their CRM's capabilities. 50% say their CRM is "difficult to use."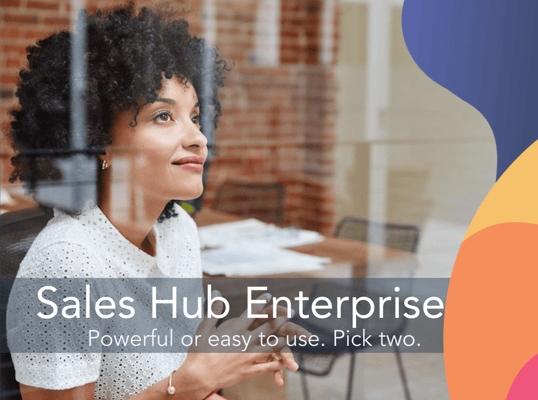 At HubSpot, we believe a sales CRM should be easy to use and loved by all. It should eliminate friction, bring tools together, and empower sales teams to stay agile through any headwind.
That's why INBOUND 2020 introduces the massively improved Sales Hub Enterprise, featuring an enterprise-grade CRM, AI-powered sales acceleration, Connected Configure-Price-Quote Tools, and Streamlined Sales Reporting. Let's take a look.
Enterprise-grade CRM
Enterprise-grade CRM gives sales ops the flexibility and control they need to build their business on HubSpot.
Custom Objects
We're happy to share that custom objects are now available in the Enterprise tier across all Hubs. With custom objects, you can store nearly all data in HubSpot, including SaaS subscriptions, students, shipments, and more. And the best part? Custom objects work the same as standard objects in HubSpot — like the contacts and companies objects. So you can easily create and manage them, set up workflows, and run reports on custom object data.
How it works
Getting started with custom objects requires use of the HubSpot API, but you can learn more by visiting property settings. Define custom objects via API and get access to the API documentation. Once you've defined your custom object, you can create new custom object records, view your custom object records in a table, and filter the records based on their property values.
Learn how to set up custom objects
How to get access
Custom objects are now available in all Enterprise accounts.
Teams + Permissions
To protect the integrity of all that data you store in your CRM, you can now create granular permissions on all your CRM data, including — for the first time — field-level permissions on your properties. Field-level edit permissions means managers and administrators can finally control who can edit specific CRM data. And with more granular permissions across HubSpot, you'll have more control than ever over the tools and content your team can access.
How it works
Navigate to Settings > Properties. Click the checkbox next to one or more properties, then click "Assign Users and Teams." Select the users and teams who can edit values, and click save.
Get started with team and user permissions
How to get access
Field-level permissions are now available on all Enterprise accounts.
Account-Based Marketing & Selling
While we're on the topic of core CRM tools, let's not forget all of the ABM features we rolled out back in May. There are dozens of new purpose-built ABM features like Target Account Home. Plus, a new account overview helps sales teams work hand-in-hand with marketers to run an ABM strategy in HubSpot. And to date, more than 8,000 customers have gone in and turned ABM on in their HubSpot account.
How it works
To activate your ABM features, in your HubSpot account, navigate to Contacts > Target Accounts. Click Get started. You'll be prompted to set up your target accounts home. Once activated, all features will be enabled in your HubSpot account.
How to get access
Account-based marketing is available starting in Sales Hub Professional and Marketing Hub Professional.
AI-powered Sales

Acceleration
The power of custom objects combined with previous improvements like HubSpot's new ABM functionality, and field-level-permissions create a powerful foundation for sales team, but we've also introduced a slew of new tools to help reps work faster and more efficiently.
Artificial Intelligence
HubSpot has always leveraged the power of AI, finding subtle ways to make your life easier. One of the newest AI improvements is a feature that automatically scans a prospect's email signature and pulls relevant information like name, job title, company, and more into your CRM. This feature alone is estimated to save reps one hour and 50 minutes of time per week. We added even more time-saving improvements to HubSpot's sales engagement tools.

How to use it
AI is baked right into HubSpot and runs behind the scenes — no technical set up required. All Sales Hub customers will get access to our new AI-powered feature. Just head to your contact and companies settings to turn it on.
How to get access
HubSpot's new AI-powered feature is available in all products and plans.
Sales Engagement Tools: Sequences
Over the past several months, Sequences has seen a ton of improvements including bulk enroll, sender score, a tighter integration with LinkedIn Sales Navigator, and more. Sequences now make it easier than ever to set up a series of emails and follow-up tasks to ensure nothing slips through the cracks. With Sequences, reps can orchestrate the sales process across every channel. You can now bulk enroll contacts with just a few clicks. And the new sender score features give managers and reps insight into metrics like reply and bounce rates, which are a great starting point for coaching conversations.
With LinkedIn in Sequences, reps can use new actions like LinkedIn task types to send InMail and connection requests from inside HubSpot if you have a Sales Navigator subscription. These are only a few of the ways that Sequences has gotten better.
How it works
Navigate to Automation, then Sequences to explore the new features.
How to get access
Sequences improvements are now available starting in Sales Hub Professional.
Be sure to also check out the latest improvements to Sequences:
Bulk Enroll Contacts in a Sequence: Save time on your most tedious tasks. Sequences lets you set up a series of emails and follow-up tasks to ensure no prospects slip through the cracks — and now, you can enroll up to 50 contacts in a sequence in just a couple of clicks.
...And Bulk Unenroll Contacts in a Sequence: Rest assured knowing that your prospects receive the right follow-ups. Sequences automates the manual follow-ups for you — and, if your communication plans change, now you can remove multiple contacts from a sequence with a few clicks.
Pause Sequences Based on Task Completion: Stay in control of your sales automation. Pause sequences based on whether or not a task in the sequence has been completed so you can be sure that automated emails send and follow up tasks are relevant and fresh.
Add Manual Email Sends as Steps in a Sequence: Tailor your outreach when the time's right. Now you can add manual email sends as steps in a sequence. When it comes time for the email to be sent, you'll be prompted with the email template to personalize or tweak the message based on what's relevant in the moment.
Today view — a new home for sales reps
Every rep should always know what to do next to stay productive. But reps are working from their inboxes, CRMs, calendar, spreadsheets, notebooks…any number of disparate applications all in an effort to figure out what to do next to execute their sales activities and, ultimately, to hit their sales goals. With the Today view, HubSpot gives reps a personalized command center — it's the first thing they log into and use throughout the day. This is their single source of truth for everything they need to do to reach success, all in one single tab.
How it works
Navigate to Sales, then Tasks. You'll be dropped into your Today view home page. From there, you can interact with your tasks, meetings, and more.
How to get access
Today view is now available for all Sales Hub users.
HubSpot Mobile App
On the go? Need to run your sales process at any time? With the HubSpot Mobile App, you'll always have access at your fingertips. Take Today view with you while you stay on top of your prospect activities on the go. Also, coming soon is a new HubSpot keyboard on iOS and Android that brings your snippets, meetings link, documents, and quotes to all of the apps you use like Whatsapp, Slack, and more. These are just a few of the ways our mobile app is getting better and helping you work more efficiently, wherever you are.
How it works
Download for iOS or Android. Log in to your HubSpot account. From there, you'll be able to see your CRM information, tasks, meetings, and more in one place.
How to get access
HubSpot Mobile app is available for all users.
With new AI features, powerful sales engagement tools, and the HubSpot Mobile App, you have the efficiency to accelerate your sales process.
Connected CPQ tools
To hit quota, Sales reps want to perform actions that help them work faster rather than working to manage their software. To help reps close more deals faster, we've enhanced the Configure Price Quote (or CPQ) features in Sales Hub Enterprise by making our quotes feature more customizable and the product library much more flexible.
Proposals [In Beta]
We're making improvements to Quotes that allow you to tap into the power of the design manager and create more customizable, on-brand proposals. Or you can select from out-of-the-box templates to get your quotes set up fast. Over time, Quotes is going to become a more immersive, visually rich experience to help you propose and showcase your products and pricing.
How it works
When creating a quote to send to a prospect, you can use a default HubSpot quote template or a customized proposal theme. Customizing a theme allows you to edit the theme's HTML, CSS, and JavaScript in the design manager so that your quotes match your business's needs. Once a proposal theme has been customized and published, your sales team can select the theme when creating their quotes.
How to get access
Updates to proposals within Quotes is coming soon for all Marketing Hub Professional, Enterprise, Sales Hub Professional, Enterprise, and CMS Hub Professional, Enterprise.
Product Library
With our improvements to our Product Library, you can now store SKU and custom product properties for easy access.
How it works
Create a Product Library of the goods and services you sell, then associate those products with individual deals. Using products, you can easily track what you're selling to your customers, then report on your products using the report builder in your Reports tool. You can also create a quote to share with your contacts that includes pricing information about the products. In your HubSpot account, click the settings icon in the main navigation bar. In the left sidebar menu, navigate to CRM > Products & Quotes.
Get started with Product Library
How to get access?
Improvements to Product Library within Quotes is available for all Sales Hub Professional and Enterprise accounts.
New CPQ Integrations
Introducing an all accounting extension and all-new accounting integrations to help you turn quotes into cash faster and more efficiently. The new integrations with NetSuite, QuickBooks Online, Xero, and Nubox allow you to use your favorite accounting software directly within HubSpot to generate invoices, associate tax codes, and sync currencies. These additions eliminate friction from your closing process and allow your salespeople to continue building relationships with new customers.
How it works?
You can navigate to the HubSpot App Marketplace to explore the new integrations. From there, you can click to connect the integration of your choice and follow the on-screen steps to connect your accounts. These integrations are available to all HubSpot users.
How to get access?
The new CPQ integrations are now available to all users.
With connected CPQ tools and new integrations, you can more efficiently turn your quotes into deals, and deals into cash.
Streamlined Sales Reporting
Last but not least, sales leaders need total visibility into their rep performance and deal pipeline. The harsh reality is that most sales leaders are stuck in spreadsheets, struggling to piece together even the simplest monthly forecast. Sales Hub Enterprise brings together all your sales data and gives your sales leaders everything they need to plan the year.
Sales Analytics: Deal, Pipeline, and Coaching insights
The all new Sales Analytics tool gives you rich insights into the overall health of your sales pipeline so you can coach your team and improve outcomes over time. Sales Hub Professional and Enterprise customers can now access over 20 powerful reports like the deal funnel report — which gives you a classic view to understand the efficiency of your sales funnel.
When you are trying to understand the "why" behind changes to your pipeline, the deal pipeline waterfall report can help you do just that. Here, you can easily see the sum total of specific types of changes to deals in a given time period, and then go deeper — for example, if you wanted to see a list of the deals that had decreased or were pushed during a given time period.
Find out exactly why deals changed with the deal change history report. Here, you can see an up-to-the-minute feed of every change to deals in your pipeline. HubSpot even calls out important changes like new deals that were created, close dates that were pushed out, changes to deal amounts, and deals that have regressed to earlier pipeline stages.
Lastly, you'll get better Insights that help you coach and improve your reps' performances. Sales Analytics includes "Coach Reps & Teams" reports, so managers can hone in on individual rep performance in their coaching sessions and 1-on-1s.
How it works?
Navigate to Reports, then Analytics Tools. From there, click on Sales Analytics. You'll be able to toggle between different out-of-the-box reports on the left pane. You can easily customize the reports by clicking filters options.
How to get access?
Sales Analytics is now available in all Sales Hub Professional and Enterprise accounts.
Get started with Sales Analytics
Forecasting App
We're excited to introduce a new forecasting app that collects input from sales reps to generate more accurate, up-to-date sales forecasts while eliminating the need for double data entry.
How it works
Navigate to Sales, then Forecasts. You'll be able to see the goal attainment of reps within your sales teams. You can drill down into the deals that your reps are working through to suggest tactics and provide coaching.
How to get access
The new Sales Forecasting app is now available for all Sales Hub Enterprise and Professional customers.
With all new Sales Analytics functionality, you can bring together all of your data and be armed with accurate sales reports, sales rep productivity reports, and more.
Conclusion
For far too long, companies have turned to well-known sales CRMs that are powerful but painful to use and not well-liked. At HubSpot, we believe you shouldn't have to settle for bloated CRM software. Sales Hub Enterprise is easy-to-use and loved by all. It eliminates friction, brings tools together, puts people before process, and empowers sales teams to do their best work — helping increase efficiency and sales.
The new Sales Hub Enterprise, featuring custom objects and more, is now available.
Already a Sales Hub Enterprise user? Head into your account to try out all the new features.
Want to get access to Sales Hub Enterprise? Get in touch with the HubSpot team today.