Every month we bring you a slew of new updates across the Marketing and Sales Hubs that'll help you and your entire team be more efficient, effective, and enabled to grow better together.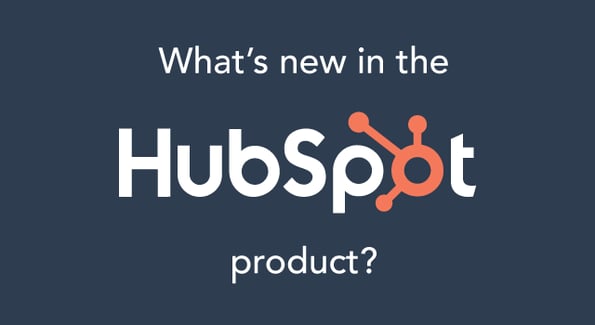 We have some exciting updates to share with you this month – let's get to it!
What's New in the Sales Hub?
New Outbox for Sequences
Sequences is a tool that lets you queue up a series of follow-up emails and tasks. But once a prospect is enrolled in a sequence, it can be tough to keep track of where they are in that sequence and which email they'll be getting next.
Not anymore! The all new outbox for sequences helps you keep track of who will be getting which emails and when. You can even edit your teed up emails or unenroll a contact from a sequence entirely.
Catalogue Custom Meeting Types Directly Within the Meetings Tool
Sales is all about efficiency and tracking your progress. Now you can save time and catalogue your custom meeting types directly within the meetings tool.
Recently, HubSpot launched the ability to create, set, and report on custom "types" for calls and meetings in Sales Professional. If you have custom meeting types created, you can now further streamline your process with the ability to catalogue meetings by type directly within the meetings tool. The meeting is then automatically logged by the custom type in your CRM – which means a more efficient and accurate logging process for you, saving precious time and keeping you more organized.
This update is available to HubSpot Sales Professional users.
Two New Updates to Tasks in Sequences
Using sequences to stay on top of tasks is easier than ever. The latest updates allow you to:
Assign a task on the same day as an email gets sent.

Have tasks (that are generated via a sequence) tied to your various task queues.
Sequences is built to help reps stay organized and ensure that leads never fall through the cracks. The latest updates brings more flexibility and control to how tasks are generated – creating a truly simple and seamless experience for reps.
This update is available to HubSpot Sales Starter and Sales Professional users.
A New Look for the Messages Widget
The messages widget has a new look. Moving forward, you won't have to decide between showing the messages icon or showing a personal avatar in the messages widget. That's right, we're showing both!
This change is the first step towards more efficient message routing and a better experience for the site visitor. Stay tuned for more updates on this coming soon.
Use Snippets in Gmail or Outlook
Sales Hub is a tool built to help your teams simplify their process, perfect their timing, and build better relationships. The snippets tool helps you do exactly that – and now you have the freedom to choose where you want to work, within HubSpot or directly in your inbox.
With the snippets tool, you can quickly add commonly used phrases or paragraphs wherever you work. Previously, the snippets tool was only available in the CRM, but now, the snippets can also be used in Gmail and most versions of Outlook.
What's New in the Marketing Hub?
New Design Manager & Modules Framework
The Design Manager has been completely rebuilt from the ground up in order to keep the process of building or changing content and layout for your developers and marketers as simple as possible.
The new Design Manager has all the features you have come to expect, but includes major improvements that allow developers to build out website templates and custom modules in a more efficient, intuitive manner. With tools like a new drag-and-drop way of organizing files, layout editor, code and module editor, and views of live updates, the refreshed Design Manager makes it easier than ever to meet scaling client expectations.
Follow Up With an Email in Lead Flows
Conversion points are a great opportunity to get a conversation started and build relationships. Now, you have the ability to send a single follow-up email to contacts directly from the lead flows tool.
Adding simple follow up emails to lead flows allows you to easily grow your relationship with prospects and customers by sending one simple, relevant email.
Edit the Canonical URL of a Page
Earlier this month we gave the blog post editor settings a visual refresh. Part of this update was changing how HubSpot handles individual landing page, web page, and blog post canonical URLs by default. Now, we no longer set a URL to self-canonicalize. Instead, you have the ability to edit the canonical URL of any blog post, landing page, or web page to suit your needs.
A canonical URL is an HTML element used by search engines to handle duplicate content. Let's say you have similar content on two different pages of your website. As Google crawls and finds similar pages, it will recognize that these different pages have similar content and omit duplicate versions from the search results. A canonical URL tells search engines which piece of content is the preferred version, and consolidates search authority to one page.
What's New in the Connect Hub?
Grow Better With the New HubSpot Connect Directory
This month we premiered a redesigned version of the HubSpot Connect integration listings directory. The directory is home to all certified (and beta) third-party technologies that have built an integration with HubSpot.
We consistently see that customers with three or more integrations grow faster – more traffic, more leads, more customers. While we don't necessarily correlate that growth to just having integrations, it is a good signal that sophisticated, successful companies integrate the different tools they use. Integrating the data and systems you use will help you stay nimble and connected as you grow.
That's it for January. We'll be back next month with more updates.