As a HubSpot user, you want to work as efficiently and effectively as possible.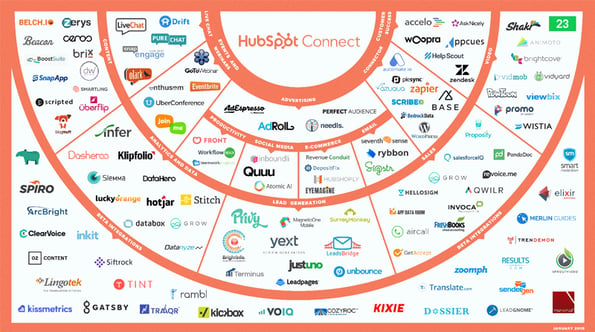 The HubSpot Connect program helps you do just that by bringing new companies into the platform to deliver helpful solutions to you, our customer.
We're building an ecosystem of product integrations that help you expand and improve your marketing, sales, and service capabilities—all while using HubSpot.
This month we're talking about Slack, SEMrush, Facebook, and more.
Each month we showcase several of our newest product integrations and beta integrators to let you know how that ecosystem is growing.
Maybe you're already using one of these technologies, and you're excited to learn about how it now integrates with HubSpot—or maybe you're in the market for a new tool to increase your team's productivity.
The HubSpot Connect program is growing rapidly. You can find all our integration partners here.
For now, let's get in to some of the newest beta integrators and certified partners in the HubSpot ecosystem.
New Product Integrations
If you use both HubSpot and one of these technologies, enable the integration in your HubSpot account to check it out.
Intercom (certified) — For the conversational marketer
Capture more leads from your website with Intercom, and sync new leads and conversations with HubSpot. Make sure you have all the context you need to create targeted workflows and emails and close deals.
G-ACCON (certified) — For anyone looking to securely sync Google Sheets
Connect your Google Spreadsheets directly to HubSpot through secure O-Auth protocol and HubSpot API.
Insycle (certified) — For the marketer looking to clean up data
Organize and cleanse data in HubSpot and other platforms: Merge duplicates by any field, import data and match by any field, bulk capitalize names, and more.
Cincopa (certified) — For the video marketer
Generate leads, nurture, segment, score, and notify sales using your videos. Pass video viewing data into HubSpot for video marketing automation.
Import2 (certified) — For the marketer excited about automated data upload.
Import from CSV files, clean up and export contact lists, identify missing data, and fix duplicates.
RightMessage (certified) — For the marketer who recognizes the importance of personalization
Increase conversions on your marketing site by personalizing your content based on the customer data you have in your HubSpot account.
CData (certified) — For the data-driven marketer or salesperson
See your HubSpot data as a database. Use standard protocols (JDBC, ODBC, ADO.NET, and more) to read and write live HubSpot data from popular BI, reporting, and ETL tools and from custom applications.
Oz Content — For the content marketer
Connect your content marketing to sales opportunities by creating blog posts that capture qualified leads to accelerate your inbound marketing.
Mavenlink — For the
project delivery team that needs sales pipeline visibility
Start right away with the information you need as a delivery team, while keeping account reps informed with real-time visibility into projects. Automate project creation from deals and provide users with key project information.
Power BI connector (by Bayard Bradford) — For the data-backed decision maker
Analyze data fluently without the hassle of Excel spreadsheets. Use a simple point and click setup, along with the included required cloud-based server and data warehouse.
Caputre (by MOV-ology) — For the lead-generation marketer
Capture lead form data the instant it's typed into your web form. You'll no longer lose leads due to incomplete forms.
RSSBus Connect — For the business trying to
connect data across disparate applications
Build and automate workflows between HubSpot and other applications such as Salesforce, MailChimp, Shopify, Google Apps, Dropbox, and more. Create APIs and microservices with RSSBus that trigger workflows, pushing HubSpot data to other applications and databases.
Smile.io — For the customer marketer looking to build up a brand
Grow sustainably through a community of engaged customers. When you connect to Smile, you can surface key customer data such as points balance or referral URL in HubSpot for use across your marketing campaigns.
Weekly Update — For the manager eager to improve visibility across the team
Collect short status updates from your team each week. With weekly reports, you'll have shorter meetings, better team communication, and stronger accountability for achieving goals.
Let us know what you think of these integrations. Know of any other technologies you'd love to integrate with your HubSpot account? Email us at connectmarketing@hubspot.com.