Having a CRM system doesn't do you a lot of good if it doesn't "talk" to the other parts of your sales process. Today, we're taking a big step in making connecting the many tools and parts of your company to HubSpot CRM easier with the new Zapier integration with HubSpot CRM.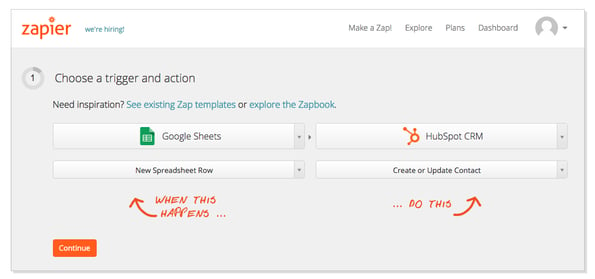 What Is Zapier?
Not familiar with Zapier? If you are as much of a tech geek as many of us are at HubSpot, take our advice and make sure you are sitting down before you read on.
Zapier is an integration platform that allows you to connect the HubSpot CRM to literally hundreds of other tools in just a few minutes without any technical knowledge. It's as simple as picking the app you want to connect to, and thinking through a few details of what data you want to sync and when.
The new Zapier app for HubSpot CRM currently works with contact data in HubSpot CRM. In the future, we plan to expand support of the Zapier app to work with company, deal and task data.
How does it work?
Getting started with Zapier in HubSpot CRM is easy. Here are a few steps to get you started -
First, you'll need to find your Hub ID. Log in to HubSpot CRM and look at the URL of the dashboard - your Hub ID is the (usually 6 digit) number at the end of the web address. You can also find your Hub ID these other suggested ways.

Once you've got your HubID, head over to zapier.com and create an account. It's a few simple steps.
Add a new app, and search for HubSpot CRM.
Note: when setting up Zapier, you'll notice that there are two HubSpot apps available in Zapier - the HubSpot CRM app (primarily for users of the standalone free CRM) and the HubSpot app (primarily for folks using the HubSpot marketing platform.) While what the two apps can do in the CRM is mostly similar, if you use HubSpot's marketing platform in the same portal as your CRM account, you may find some of the triggers related to other parts of the app useful (for example, working with form submissions, or the social media tool.)
You'll go through a quick process to authorize Zapier to connect to your HubSpot or HubSpot CRM account where you'll need to paste in that HubID we copied a minute ago.
Once Zapier is connected to HubSpot CRM, you are good to go in exploring all of the possible things you can do with HubSpot CRM & Zapier! You'll see an interface like the one below that makes it easy to explore the possibilities of which tools you can connect and what you can do with each one...


Start with some of the most popular "Zaps"
After integrating Zapier with HubSpot CRM, there will be an ongoing list of ways you can make the HubSpot CRM even more useful within your company. Here are a few ideas for where to get started. Below are some ideas based off the mot popular "zaps" we've seen folks using to date.
Sync your Eventbrite attendees to HubSpot CRM.
Use Eventbrite to register attendees for your events? Take the next step by passing them over to HubSpot CRM. Once they are in HubSpot CRM, you'll be able to easily be able to track all sorts of details on your attendees. Generate lists of contacts based on registration information. Easily follow up and track the results of your event after the fact.
Sync your GoToWebinar registrants to HubSpot CRM as new contacts.
Webinars are a great way to generate new leads, and HubSpot CRM is the perfect place to put them. Syncing your registrants to CRM will make it easy for your sales team to follow up immediately after the event. Set a property when syncing in your webinar registrants that allows you to manage a list of registrants.
Connect Google Sheets to HubSpot CRM to create new contacts.
Google Spreadsheets are a handy way to store and manipulate all sorts of data. If Google Sheets are a part of your process, it's easy to keep them in sync with your customer data. When you connect a sheet to HubSpot CRM, adding a new row to your spreadsheet can generate a new record in HubSpot CRM.
Connect a SurveyMonkey survey to HubSpot CRM to survey ne prospects.
Surveys are a great way to collect new information about contacts in your database. Now, when you run a survey via SurveyMonkey, connecting it to HubSpot CRM via Zapier eliminates the need for you to later import any new details you've learned or property data you've generated - it just flows in, automatically.
Have you tried the HubSpot CRM - Zapier Integration?
The above suggestions are by no means an exhaustive list of the possibilities, but it's a starting introduction to some of the possibilities. We'd love to hear what some of your favorite zaps and most interesting use cases are - share them with us in the comments below!