Being an innovative product — one that's started an entirely new product category — we've struggled to find the best way to connect and communicate with our audience while accurately measuring sales and marketing efforts and costs, especially during the rapid growth we've experienced in our first two years of business.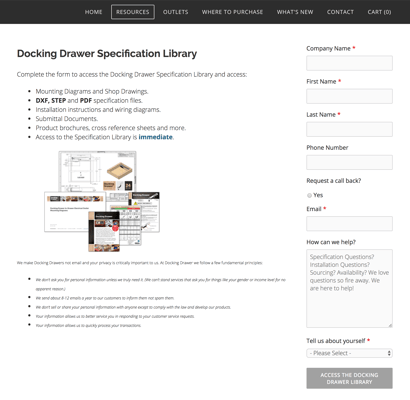 Then we started thinking about our landing pages differently, and everything changed.
At Docking Drawer, we offer in-drawer electrical outlets to the consumer, specifier, and construction markets. And without having the right processes, tools, or offers in place to acquire customer information, it was extremely difficult to determine the most effective methods of connecting and communicating with current and potential customers.
Implementing highly measurable landing pages on our website has, in various ways, solved this fundamental problem.
Our landing pages offer a natural transition for our customers. We can inform people about in-drawer electrical outlets and then educate them on how to specify, plan, and install in-drawer power outlets into their projects.
Here's the process we went through to build landing pages that help us connect with and convert our customers.
Step 1: Creating Conversions With Effective Landing Pages and Smart Forms
Because Docking Drawer created a new product category, we needed a website that not only attracted potential customers but also educated them on the first safe and legal in-drawer outlet solution to hit the market.
We put together a website strategy to educate and inform visitors. We explain there are two types of in-drawer outlet solutions: charging outlets for charging technology, and powering outlets for powering appliances, tools, etc. We cover our patented interlocking safety features and note that our products are tested and listed to the UL962a standard. This hooks them.
The landing pages are presented after this product introduction, once a visitor has been educated on the fundamentals and begins to seek more detailed information — that's when we direct them to our landing pages.
Here's how it works for us
We started by designing two simple landing pages using smart forms in HubSpot. When a new visitor arrives on one of these landing pages, we offer access to our detailed, content-rich resource libraries, which simplify the process of planning and installing an in-drawer power outlet. In exchange for this access, we ask for basic customer information, which helps us identify their persona and allows us to provide better customer service, build stronger relationships, and customize and tailor our future communications accordingly.
Hubspot's landing pages with smart forms act as the gateway to our technical content libraries, but they're also our number one source of connecting with new and keeping in touch with existing customers.
We're generating leads at an unforeseen rate. Becayuse anyone who fills out the form is seeking more in-depth information about our product, we can be confident these individuals are not only educated on our in-drawer charging and powering outlets but are likely considering a purchase.
While our old landing pages required visitors to submit forms prior to each and every visit to our resource libraries, a HubSpot smart form will remember each returning user, so the form submission is required only once, on the initial visit.
First-time visitors are automatically added as new contacts (or leads) into our CRM, and the behaviour of returning visitors is tracked within the system. HubSpot's smart forms give us the opportunity to ask returning visitors more questions about their projects, such as "What outlets do you want Docking Drawer to design?" and "How did you learn about Docking Drawer?" These questions help us with product development and allow us to more accurately measure the results of our marketing efforts.
Step 2: Promoting the Landing Pages
To maximize our lead-capturing opportunities, we promote our landing pages in strategic locations. The landing pages exist exactly where and when customers are seeking more technical information from our website, rather than in one central place. Links back to our landing pages and smart forms can be found right when and where our customers are seeking more in-depth information. For example, we insert landing pages links and smart forms in the following places.
1. Home Page
When visitors arrive on our homepage, we provide three starting points to communicate with customers at various levels: beginner, intermediate, and expert. Here's how the workflows are structured:
Beginner: We walk first-time visitors through a questionnaire to help guide them in selecting the right outlet, eventually directing them to the Specification Library landing page to get specs.
Intermediate: We guide visitors with an intermediate understanding of our company through a review of our product, and then direct them to a smart form for access to our Specification Library for the next level of information.
Expert: Those visitors who have a high level of familiarity with our product have the option to go directly from our home page to our Specification Library smart form, which will grant them access to information on the planning and installation of our in-drawer power outlets.
2. Product Pages
We position the technical information customers need right next to the products they are browsing to lead them back to our landing pages and smart forms. Access to our landing pages can be found on each of our product pages, so educational and technical information is easily accessible to customers (and potential customers) who are seeking to learn more.

3. Blog Posts
Similarly, we inform visitors about in-drawer outlets in great detail in our blog posts and then drive them back to our landing pages and forms at the end of each post, making it easy for them to find the technical information needed to take the next step.
The integration of our landing pages in these key areas offers a holistic approach to new leads, as users are provided with an intuitive path to access the information they're seeking. With the smart forms providing a gateway to the content-appropriate topics of installation and specification, we're able to educate our visitors without overwhelming them with information that's beyond their level of understanding.
Step 3: Tracking
We track all performance data for our landing pages in HubSpot's reporting dasboard, including traffic sources, submissions, and new contacts.
This year alone we've converted 26.3% of landing page visitors through our Specification Library landing page, resulting in 588 new contacts. We've converted 32.6% of landing page visitors through to our Installation Library landing page, resulting in 37 new contacts. That's over 600 contacts, or 100 new contacts per month. Even better, we've received 700 submissions from existing customers, allowing us to reconnect with, provide service to, and market to them.
To make our technical libraries even more valuable, we track each piece of content that exists within these libraries using HubSpot's Call-to-Action (CTA) tool to identify which technical resources are most commonly used. For instance, we're currently creating videos of the most popular CTAs to integrate within our Technical Libraries. Using videos will help us to further educate our customers, making them expert, self-sufficient specifiers. We'll monitor both downloadable and video CTAs to make certain the content resonates well with our visitors, then further develop and improve the popular content and reevaluate the underperforming content.
This type of data helps us to ensure we're creating and offering content that's of the most value to our customers as they're specifying our in-drawer electrical outlets.
Specification Library Landing Page Stats
Installation Library Landing Page Stats
We also integrated Google Adwords, Facebook, and other advertising channels using HubSpot's ad reporting tools. We have the ability to track the source of each visit, calculate ROI for specific marketing strategies, identify the most effective advertising channels for our business, and focus our time, resources, and budgets accordingly.
The Result
We've dramatically increased the number of customer conversions on our website — connecting us with our customer base and resulting in more educated and informed customers.
The HubSpot tools we used to create effective, measurable results were Hubspot Marketing and CRM, landing pages, smart forms, calls-to-action, the blogging tool, the ads integration, and the Hubspot customer success team.
A word of advice: Make the most out of your time with the Hubspot team by implementing action items between calls, not during. As we discussed inbound strategies with Brittany, our dedicated implementation specialist at HubSpot, we made a point to put those items into action before the next scheduled phone call. This not only allowed us to review and tweak our own strategies rather than discuss general implementation, but we ended up with more time to discuss strategy and big-picture initiatives.