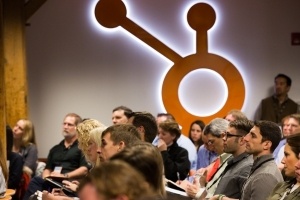 Today at HubSpot, we're celebrating our Partners. It's our annual Partner Day event, where our Gold and Platinum Partner Community comes together to learn about HubSpot, agencies and all things inbound.
It's also one of the biggest product launch days of our year.
We have exciting news to share about our new sales tool, Sidekick for Business, as well as Smart Content updates and new integrations available. Read on for the details!
Sidekick for Business
Your sales team plays an important role in driving the growth of your business. But many sales teams are held back by outdated tools that don't help them sell, and a sales process weighed down by manual work.

That's why we're releasing Sidekick for Business, a premium set of sales tools from HubSpot. Sidekick for Business works with HubSpot CRM or Salesforce to help your sales team adopt an efficient, modern sales process. Sidekick for Business lets you:­

Build and use templates that will save your team time and let you crowdsource the best approaches from across your sales team
Place calls directly from your CRM system that are automatically recorded & logged
Build a library of sales content, run live presentations, share documents, and collect valuable data on your content in the process
Sidekick for Business is now available for $50 per user per month.
New features
This awesome addition to our sales tools comes with new features we know you'll love.
Calling: Sidekick for Business lets you tee up and make an entire day's worth of calls from your desktop, all recorded (optional) and logged, without ever touching a phone. Now, you can set up a "call queue", which is a list of prospects a rep has teed up to place calls to. Here's what it looks like:
Now that your call queue is set up, you can place these calls. When a call is in progress, you'll see this green bar with the recording option switched on, which you can always switch off if you'd like:
Once the call is over, you can view it in the contact's timeline on their contact record, which will show the call (which you can easily play back) with any notes.
Templates: This new tool connects to your CRM and your inbox. So when you're sending emails, you'll be able to leverage templates to communicate faster, track engagement with your messages to hone your approach over time, and use time-saving tools to take the manual work out of email.
Here's an example template built out in Sidekick, where you can see the personalization tokens you can pull from Salesforce or the HubSpot CRM:
Once you've built out your templates, you'll be able to find them inside of Gmail for email sends. Sidekick for Business also connects to other popular email platforms like Outlook for Windows and Apple Mail.
Documents and presentations: Now with Sidekick for Business, you can manage a library of documents and sales content that your team can share with prospects in seconds. The best part? You can get alerts the instant a prospect engages with your content. Any engagement with your content is saved, so you can better understand what content is being used by your sales team, and how it is impacting the sales process.
This is what the documents library looks like, where content can be uploaded for your sales team to share and present either as a live presentation or via email:
When a live presentation is in progress, a salesperson can skip from slide to slide, while prospects view the live presentation in their browser.
Because Sidekick for Business allows you to save data on engagement with you presentations, you can pull reports demonstrating how different documents and sales content are being used by the sales team, and how they assisted during the sales process.
Excited about these new features? Learn more about Sidekick for Business.
Smart Content
With Smart Content, you can personalize your website for every type of visitor. Launched today are new smart content features which stretch that level of personalization even further.
These updates are available to any HubSpot Professional or Enterprise customer. If you're a Basic customer, you can try Professional for free for 30 days.
Smart Forms: Smart Forms enable forms on your website to automatically adapt based on the person looking at them. For example, you may want to shorten a form or remove it completely when a visitor comes to your site on a mobile device. Alternately, you may want to change the language of your form fields for visitors from certain countries.
When you want to make a form smart, you can choose to do so with any of the parameters that Smart Content already uses, shown below:
Smart HTML Modules: With Smart HTML modules no aspect of your website is left unadaptable. For example you can display a live chat window only to prospects and not customers who visit your website or to display different image sliders based a visitor's IP location.There are many ways to use these Smart HTML Modules to customize different aspects of your website.
On HTML modules on landing pages or site pages, you can click "Make Smart" to customize:
From there, you can customize your HTML module to your liking:
Smart Anonymous Calls-to-Action (CTAs): Now, you can generate more conversions by showing more relevant CTAs to your anonymous website visitors. The same Smart options for CTAs are still available, like Contact List and Lifecycle Stage, but now you can optimize your CTAs even further by doing so for anonymous visitors. For example, you can show different CTAs for folks who visit your website from different sources or from different devices.
Creating a Smart CTA follows the same process as the rest of Smart Content. After you choose the type of Smart Content you want to create and set up smart rules, you can choose to display different CTAs for certain types of visitors based on the type of content you are creating.
Template-Level Smart Content: Implementing personalization across your entire website can take a significant amount of time. With Template-Level Smart Content you can create it once, and roll it out across your entire website. With this new feature, you can make any Rich Text or Custom HTML modules smart.
Smart Icons: Smart Icons is a feature just for you, so it's easy to see which pages contain Smart Content and which do not. You can find these Smart Icons next to pages with Smart Content in the landing pages or site page dashboards.
New Integrations
Today we highlighted a new set of integrations curated for our customers' needs. These new integrations will allow you to connect data from frequently-used business applications into one central system of record.
Any HubSpot customer can use these integrations as long as they fulfill the requirements of each. Here's a list of the integrations we announced today and where to find more information about them.
SlideShare, the world's largest community for sharing presentations where you can upload, share and discover content.
Requirements: Paid subscriptions to HubSpot and SlideShare
Learn more: Here
*This integration is still in beta but will go live to all soon. The link above will be updated when it is available to all this summer.


Perfect Audience, the easiest way to retarget ads across the web, Facebook, and Twitter.
Requirements: Paid subscriptions to HubSpot and Perfect Audience

Learn more: Here


DataHero, a platform to chart any data, anywhere.

Requirements: Paid subscriptions to HubSpot and DataHero

Learn more: Here


Infer, a predictive lead scoring app for discovering which leads are most likely to convert.

Requirements: Paid subscriptions to HubSpot and Infer



Learn more: Here


HelloSign, electronic signatures that are business-caliber, easy-to-use, and legally binding.
Requirements: Paid subscription to HubSpot or the free CRM, HelloSign account (paid or free)
Learn more: Here

Invoca, complete call intelligence and analytics on your inbound calls.
Requirements: Paid subscriptions to HubSpot and Invoca
Learn more: Here



Bigcommerce, an ecommerce software and shopping cart platform.
Requirements: Paid subscriptions to HubSpot and BigCommerce
Learn more: Here
Scripted, a curated network of freelance writers where you can order content on demand.
Requirements: A paid subscription to HubSpot and a Scripted account
Learn more: Here

Shopify, an ecommerce software and shopping cart platform.
Requirements: Paid subscriptions to HubSpot and Shopify
Learn more: Here

Brightinfo, a platform that allows you to display personalized recommendations to your online visitors.
Requirements: Paid subscriptions to HubSpot and Brightinfo
Learn more: Here

Appcues, mobile and web software designed for user onboarding and in-app communications.
Requirements: Paid subscriptions to HubSpot and Appcues
Learn more: Here