Subscriber heartache. Each time I travel to a new city for HubSpot Classroom training the topic of "what is a subscriber" comes up at least once, if not more. With all the fancy properties and settings in HubSpot, it's hard to know exactly how to automate your new blog post notifications to your opted-in contacts — your subscribers, if you will. Read on if you've ever found yourself in one of these two subscriber conundrums: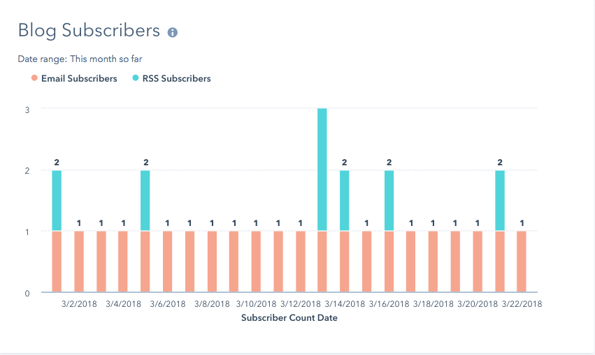 You've imported a list of your subscribers with the import wizard and you made sure to import them with the lifecycle stage property of "Subscriber". Beyond your successful import, you find you have no idea what being a lifecycle stage of "Subscriber" actually means or does in HubSpot.
You've come across the blog subscription settings within content settings, toggled some switches, and noticed that nothing really happened or only a few of your subscribers are actually receiving new blog post notifications.
Let's embark on this subscriber journey together.
Scenario 1
Lifecycle stage tracks a contact's progress through the buying process. Don't use this for sending new blog notifications.
Instead, use the "[Your Blog Name] Email Subscription" property to assign your contacts a frequency for receiving blog notification emails.
When first learning HubSpot, most users learn pretty quickly that the lifecycle stage property is definitely important to HubSpot. It's true, without marking your contacts with the proper lifecycle stage at the right time, you won't enable HubSpot's reporting features like the marketing dashboard and traffic analytics reports to close the loop on which marketing channels are working the best to generate leads and customers for your business.
The "Subscriber" lifecycle stage is actually the lowest of all of the lifecycle stages in HubSpot in terms of lead quality. Essentially, being a subscriber shows a passive level of engagement with your business. These contacts enjoy reading and are subscribed to receiving your content but are most likely not in an active buying process right now.
If you're trying to gather all of your contacts that have subscribed to receiving new blog post notifications, we're actually going to assign a different property to them first.
After setting up the name of your blog in HubSpot during the technical setup, you'll now see a property on all contacts called "[Your Blog Name] Email Subscription." You can assign one of four blog notification frequencies to your blog subscribers: instant, daily, weekly, or monthly. Assigning any of these four options for this property to your contacts can be done with a HubSpot workflow. However, if this is the first time uploading your subscriber base to HubSpot, the import wizard is just as easy.


Prepare a new .CSV file of your contacts to be subscribed and include their email and any other relevant information you want to import to HubSpot.
Include a new column in the .CSV called "[Your Blog Name] Email Subscription" and add a frequency value in each of the blank cells to assign to all of your contacts: instant, daily, weekly, or monthly.
Import the contacts (as lifecycle stage of "Subscriber") to HubSpot and be sure to map your new "[Your Blog Name] Email Subscription" column to the "[Your Blog Name] Email Subscription" property. Check for any errors.
Assuming all went well with your import, you now have a subscription frequency property implemented on your contacts to be able to segment them with different reports and lists. Smart lists for instant, daily, weekly, and monthly subscribers are typically in place out-of-the-box in your lists tool and subscribers should now be populating on each list depending on their given frequency. The next piece of the puzzle is to set up your automated blog notification emails.
Scenario 2
Blog notification emails only go out to contacts that have an email frequency set on the "[Your Blog Name] Email Notification" property.
Your blog's automated email notifications need to be set up by going to Content > Content Settings > Blog (under Marketing) > Subscriptions. None of these email notifications are enabled out-of-the-box when first setting up HubSpot. You'll need to choose if you want to enable just one of these email frequencies or if you want to give your new contacts the choice of frequency when they become a subscriber on your blog's subscription form.
Edit the email notification(s) you want to enable for your subscribers by clicking on the "Edit" links for each email frequency. Once you've made your changes to the look and feel of the email(s), be sure to hit the publish/update button and go back to the subscriptions menu to toggle each notification frequency to "On".


Back to scenario 2, if you've ever flipped those toggle switches in the blog content settings to "On" prematurely, without assigning a subscription frequency to your contacts, you probably noticed that most of your contacts didn't actually receive any automated notifications except for a select few.
Since the majority of your contacts most likely didn't have a frequency value set for the "[Your Blog Name] Email Subscription" property before turning those emails on, the system may have only recognized a few contacts to send the notification to the next time you published a blog post. Those "select few" were most likely new contacts or engaged contacts that converted on your live HubSpot-hosted blog's subscription form typically found in the right-hand side bar area. This form will automatically turn contacts into the lifecycle stage of "Subscriber" if they are completely new contacts, but it will also set a default blog notification frequency using hidden form fields. Sneaky, huh?

So the next time you are updating lifecycle stages or reviewing reports of blog subscriber count, be sure to remember that subscriber means different things in HubSpot depending on the context. The lifecycle stage of "Subscriber" simply denotes that a contact is at the subscriber phase of their buying process. On the other hand, the "[Your Blog Name] Email Notification" property is what actually assigns a subscription frequency for a contact to receive blog email notifications and the email for that frequency needs to be turned on within blog content settings for the system to automatically send out the notifications.
You can now officially say goodbye to those HubSpot subscriber blues.