As a HubSpot user, you want to work as efficiently and effectively as possible.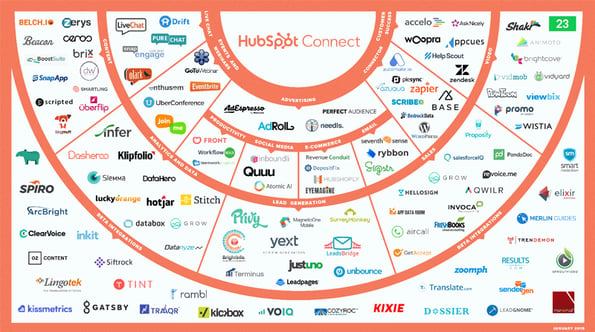 The HubSpot Connect program helps you do just that by bringing new companies into the platform to deliver helpful solutions to you, our customer. We're building an ecosystem of product integrations that help you expand and improve your marketing and sales capabilities — all while using HubSpot.
Each month, we showcase several of our newest product integrations and beta integrators to let you know how that ecosystem is growing.
Maybe you're already using one of these technologies and you're excited to learn about how it now integrates with HubSpot, or maybe you're in the market for a new tool to increase your team's productivity.
The HubSpot Connect program is growing rapidly. You can find all of our integration partners here. For now, let's get in to some of the newest beta integrators and certified partners in the HubSpot ecosystem.
New Product Integrations
If you're a user of both HubSpot and one of these technologies, enable the integration in your HubSpot account to check it out.
CallRail (certified) — For the sales rep looking to track and analyze both calls and texts.
Send inbound phone call data into HubSpot, create new leads or add phone calls to the contact activity timeline, segment and score leads based on calls and texts, and more.
Postalytics (certified) — For the marketer who wants to personalize the direct mail experience.
Automate direct mail postcards and letters with HubSpot lists and workflows, and let Postalytics track the delivery and response. Sync everything to HubSpot contacts for easy multi-channel campaigns.
Kixie (certified) — For the power-dialing sales rep who wants to record calls.
Automatically log all calls with lifetime call recordings through Kixie inside HubSpot contact records.
HourStack (certified) — For the task management guru.
Make more time for your leads by dragging HubSpot tasks to your weekly schedule.
Salesmsg (certified) — For those who want to automate text conversations for their sales team.
Easily send and receive SMS text and MMS picture message conversations at scale with HubSpot CRM and workflows in real-time.
Map My Customers (certified) — For sales reps who want to visualize their customer opportunities.
Bring the power of customer mapping, deal visualization, and sales team accountability to your HubSpot account
briX (certified) — For the lead gen marketer who can't code.
Create HubSpot pages with no coding – drag and drop modules to build more pages in less time, saving you hours of design and development work.
Cincopa

— For the content marketer who loves media.
Use videos, audio, and images to better engage your visitors. Track their status and measure their progress in your marketing funnel.
PlusThis — For the marketer who has a passion for automation.
A library of various add-ons you can use to create different strategies with your marketing automation software.
Yuso — For the cutting-edge marketer interested in AR/VR.
Captivate trade show attendees and capture leads with the Yusō AR/VR engagement platform. Potential customers can experience your products in Augmented Reality or Virtual Reality while Yusō tracks their behavior and feeds actionable information to the HubSpot timeline.
Visible — For the data visualization and reporting wizard.
Create beautiful dashboards, reports, and data visualizations with only a few clicks. Sync data nightly and distribute reports via email, PDF, Slack, the web, and more.
Yip Yip — For the marketer looking to grow
reach and engagement

.

Expand reach and engagement for your inbound marketing campaigns by enabling your business/agency to reach across the social networks of your sales team or clients.
Attribution — For the marketer who calculates ROI.
Multi-touch attribution for HubSpot so you can see your true return on marketing and advertising effort by cohort.
Insycle — For the data.
Effortlessly organize, cleanse, and analyze HubSpot, Salesforce, Intercom, and Zendesk data. Merge duplicates, standardize field data, import upload enrich data, bulk update and delete, and more.
CData — For the technical, data-driven marketer.
See your HubSpot data as a database. Use standard protocols (JDBC, ODBC, ADO.NET, and more) to read and write live HubSpot data from popular BI, reporting, and ETL tools and from custom applications.
Let us know what you think of these integrations. Know of any other technologies you'd love to integrate with your HubSpot account? Email us at connectmarketing@hubspot.com.