As a HubSpot user, you want to work as efficiently and effectively as possible.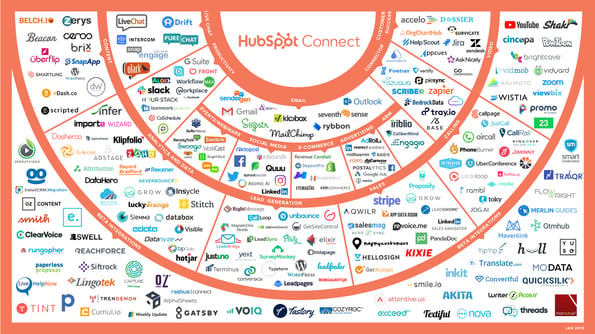 The HubSpot Connect program helps you do just that by bringing new companies into the platform to deliver helpful solutions to you, our customers.
We're building an ecosystem of product integrations that helps you expand and improve your marketing, sales, and service capabilities — all while using HubSpot.
This month we're talking about Integromat, MAXG, Attentive, and more.
Each month we showcase several of our newest product integrations to let you know how that ecosystem is growing.
Have a few minutes? Tell us what you think of the User Blog in this survey.
Maybe you're already using one of these technologies and you're excited to learn about how it now integrates with HubSpot, or maybe you're in the market for a new tool to increase your team's productivity. The HubSpot Connect program is growing rapidly. You can find all the integration partners here.
For now, let's get into some of the newest certified partners in the HubSpot ecosystem.

New Certified Product Integrations
If you use both HubSpot and one of these technologies, enable the integration in your HubSpot account to check it out.
PlusThis
PlusThis is a library of add-ons that you can use to create different strategies with your marketing automation software. The PlusThis toolkit has nearly 30 tools including advanced SMS, webinar connections, Facebook synching, appointment scheduling, expiring offers, and more.
Why is it important?
As you look to grow sales, delight customers, and save time, you're going to want to be increasingly creative and efficient. The PlusThis integration lets you add additional functionality to your HubSpot workflows with over 25 tools, including automating webinar registrations, sending text broadcasts, and creating offers that expire based on behavior.

How does it work?
This integration is live and free to HubSpot customers who also have PlusThis.
Wootric
Wootric helps you improve customer experience and create an army of brand advocates through automated Net Promoter Score (NPS), CSAT and CES customer surveys that integrate with HubSpot.
Why is it important?
In today's world of endless consumer choice, it's more important than ever to monitor customer sentiment and take action that drives revenue retention. Wootric allows you to do this by helping you easily create a voice of customer program within HubSpot through established CX metric surveys like Net Promoter Score, Customer Satisfaction (CSAT) and Customer Effort Score (CES).
How does it work?
This integration is live and free to HubSpot customers who also have Wootric.
MAXG
MAXG is an AI-powered marketing, sales insight, and recommendation engine that analyzes all the data HubSpot is generating and shares prioritized insights and recommendations.

Why is it important?
As a marketer or salesperson, you have access to a lot of customer and company data, but that data can only go so far. You also need to analyze it to deliver prioritized business recommendations, and MAXG uses an AI powered analytics dashboard to help you do just that.
How does it work?
This integration is live and free to HubSpot customers who also have MAXG.
PhoneWagon
PhoneWagon allows you to see your contact's phone calls, listen to call recordings, create new contacts, view referral sources and analyze keyword data directly in your HubSpot account.

Why is it important?
As a sales representative, keeping track of your customer's or prospect's calling interactions with your business is key to maintaining contextual, relevant conversations. PhoneWagon lets you see all of your phone calls, creates a new contact if the incoming phone number is new to your list, and adds call activity to existing contacts' timelines –– all within HubSpot.
How does it work?
This integration is live and free to HubSpot customers who also have PhoneWagon.
Attentive
Attentive is your AI-powered accomplice when it comes to making your sales team's life easier. The integration with HubSpot ensures an updated pipeline via daily actionable notifications when information is missing or hasn't been updated within a certain time frame.

Why is it important?
Sales teams should be spending more time with customers and less time filling out forms. Attentive helps improve productivity by providing teams with predictable revenue pipelines that are consistently updated with accurate, real-time overviews of everything that's going on with every deal.
How does it work?
This integration is live and free to HubSpot customers who also have Attentive.
Integromat
Integromat can be used to connect HubSpot to any online services to automate even your most advanced workflows –– no coding required.

Why is it important?
It can be challenging to automate workflows or create integrations between your CRM and various cloud services or API's, especially as your tech stack becomes more complex. Integromat makes it easy to do this within HubSpot by using an intuitive visual builder and zero code.
How does it work?
This integration is live and free to HubSpot customers who also have Integromat.
Ready to get started?
Let us know what you think of these integrations. Know of any other technologies you'd love to integrate with your HubSpot account? Email us at connectmarketing@hubspot.com.
Want to connect with others on HubSpot tips, tricks, and updates? Head over to the HubSpot Community to join a conversation or start one of your own.