Brothers and sisters, gather 'round and imagine a world where your sales and marketing teams work together in perfect harmony.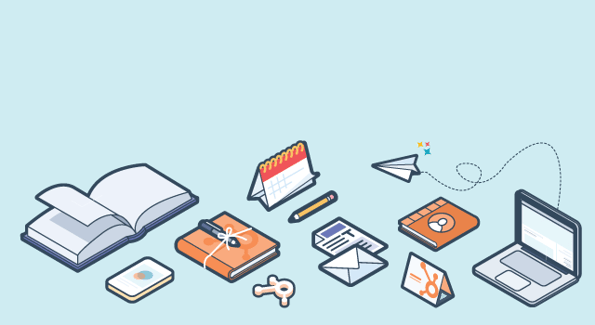 Perhaps when you leave a meeting with your Head of Sales, she says, "Wow, the marketing team has been really helpful lately."

And maybe later that week your Marketing VP says, "I'm really looking forward to my meeting with the sales team later today."

I've worked with enough companies to know that unfortunately sales and marketing don't always get along. It's a shame, really -- they're working toward the same goal! Both groups want to generate new customers for your business.

My friends, I am here to tell you that a world where sales and marketing align can exist. In fact, in many companies it already does, and we refer to that world as Smarketing.

The good news is we at HubSpot don't want that relationship to be a challenge. At our INBOUND conference this past week, our fearless leader Brian Halligan introduced the new HubSpot CRM as part of the new Sales Platform, giving sales people access to the same HubSpot fire power that marketers have been using for years. And better, we made the CRM free for all current customers.

If you're interested in getting HubSpot's free CRM, feel free to go to HubSpot.com/Sales and sign up. The HubSpot CRM is currently in beta, and existing HubSpot customers will be the first to get it.

Now HubSpot's sales and marketing platforms share the same DNA, so we have the tools necessary to work together as sales and marketing partners. Let's take a look at four ways that you can use HubSpot's marketing platform and the new HubSpot CRM together to help turn your Smarketing dreams into Smarketing realities.

Develop Personas in the Personas App with Sales

Let's start with the Personas App found right on your marketing dashboard for all HubSpot customers. This tool gives you a chance to develop fictional representations of the different types of customers your company works with. It is incredibily important to include your sales team as well as your marketing team in the persona development conversation. It's quite possible that your sales team has a much deeper understanding of your customer on a personal level than you do.
Now that all of your existing and incoming leads are marked with their persona type, the sales team can use your new persona designation to create tailored views in the HubSpot CRM. This is helpful, because most likely c
ertain sales people will work better with some personas than others. By segmenting them right in the CRM, the sales managers and reps will have an easier time assigning and working with those leads.
Set Lifecycle Stage to Track Buyer Stages
Now let's talk about setting lifecycle stages, which is a contact property on all contacts in HubSpot. The lifecycle stage property is available to all HubSpot customers, and allows markers to identify where the contact is in the buying cycle. Marketers can use this information to understand where each contact is in their buyer's journey, so they can "warm up" leads before they are sent to a salesperson.
The first step to setting lifecycle stages is for the marketer and the salesperson to work together and clearly define each stage (Marketing Qualified Lead, Sales Qualified Lead, etc.). Once the stages are defined, a marketer can use the List and Workflows Apps to correctly segment their current contact database into the correct lifecycle stages.
They can also set up rules to apply the correct lifecycle stage automatically to new contacts when they take specific steps. Once again, the sales person can create a custom view within the HubSpot CRM so they only see contacts who have reached a specific lifecycle stage, for example sales qualified leads.


Score Your Leads to Help Improve Sales Efficiency
The next feature is one of my personal favorites and I believe one of the most underused tools by HubSpot customers, and that is lead scoring. The goal of using the lead scoring tool is to give salespeople a chance to prioritize which contacts they want to reach out to first. You can find this tool by visiting Contacts Settings and selecting Lead Scoring within the list on the left.
To begin this process, the sales team and marketing team should get together and list the different actions that contacts take as they go through the buying cycle. Then the teams need to associate a point value to the actions that indicate a higher close rate. For example, if contacts who fill out an"request a demo form" close as customers 20% of the time, then you should assign 20 points to any contact who completes that action.
Once you have identified several actions that indicate a contact is more likely to close and assign the appropriate point values, sales can now create a custom view and filter by lead score to help prioritize their sales process. See a pattern?
Pro tip: Lead scores should be revisited frequently -- I suggest on a quarterly basis. As your marketing and sales efforts change, so will your indicators of success. Making sure your lead scores are accurate will be a big help to the sales team.
Toggle Between the Marketing and Sales Platform
The last tool is probably the simplest of them all: the toggle button in the top left-hand corner that allows users to switch between the marketing tools and the sales tools. This simple button creates a level of accountability for each team. Having the ability to monitor both your marketing and sales efforts helps managers set goals for each team.
When team goals are being discussed, many Smarketing teams put an SLA or a Service Level Agreement in place. The most basic agreement is for the marketing team to agree to deliver "X" SQLs per month, and for the sales team to attempt to contact each SQL at least "Y" times. This little toggle button allows each manager to view each others performance to see how the month is developing.
This is not meant to make each group snoop on each other, but rather allow everyone visibility into how their teammates are performing so they can make adjustments to help each other in real time. For example, one report that may be helpful is the new Revenue Report, which is available to Enterprise customers only. A marketer can pull a report showing which traffic sources are driving the most valuable customers and make it available to sales. Then the team can adjust their strategy together to focus more on the most valuable traffic sources that drive sales.

Moving to the world of Smarketing can be tough, but it is worth it. If your team is already a bunch of Smarketing pros, or you are hoping to take your first step into this world, leave us a comment to let us know how its going. If you want to learn more about Smarketing then check out our academy class, The Power of Smarketing