As a HubSpot user, you want to work as efficiently and effectively as possible.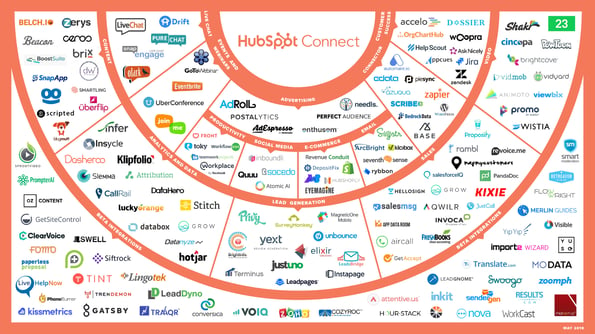 The HubSpot Connect program helps you do just that by bringing new companies into the platform to deliver helpful solutions to you, our customer.
We're building an ecosystem of product integrations that help you expand and improve your marketing, sales, and service capabilities — all while using HubSpot.
This month we're talking about Slack, SEMrush, Facebook, and more.
Each month we showcase several of our newest product integrations and beta integrators to let you know how that ecosystem is growing.
Maybe you're already using one of these technologies and you're excited to learn about how it now integrates with HubSpot, or maybe you're in the market for a new tool to increase your team's productivity.
The HubSpot Connect program is growing rapidly. You can find all of our integration partners here.
For now, let's get in to some of the newest beta integrators and certified partners in the HubSpot ecosystem.
New Product Integrations
If you're a user of both HubSpot and one of these technologies, enable the integration in your HubSpot account to check it out.
Slack (certified) — For the digital worker looking to automate tasks, notifications, and contact information gathering.
Slack is a digital workplace that connects you to the people and tools you work with everyday. Tools like HubSpot. You can now get HubSpot tasks, notifications, and slash commands directly within Slack. Say goodbye to the days of wasting time switching between tools. Instead, work where you want with HubSpot and Slack.
SEMrush (certified) — For marketers who want to take keyword tracking and SEO to the next level.
Transfer all the keywords you've been tracking in HubSpot to SEMrush position tracking. Track a website's daily rankings for a custom set of target keywords for any location and any device type (mobile phone, tablet or desktop).
Workplace by Facebook (certified) — For the employee looking to stay on top of notifications.
A space for teams to share ideas, brainstorm, and achieve more together. More than a collaboration tool, Workplace connects organizations of every size to familiar features like chat and groups, as well as integrates with business tools people use every day to get work done.
JIRA by Atlassian (certified) — For the sales rep who wants the full context before jumping on a call.
Gain more context about your customers through valuable insight from your support and development teams. Always be prepared with more informed sales and renewal conversations with the Jira Cloud and HubSpot integration.
Skyvia (certified) — For the data-driven salesperson or marketer.
Integrate HubSpot with major cloud apps and databases, including Salesforce, Dynamics CRM, Zoho, SugarCRM, NetSuite, SQL Server, MySQL, PostgreSQL, Redshift, and many more. No coding required. Backup and restore HubSpot data in few clicks.
Elevate — For the marketer who wants to turn customer location into lead generation.
Integrate your leads directly into HubSpot and log their offline activities. You'll be able to segment your customers based on when and how they visit your locations — in the same way you do with your website. Sync HubSpot with Elevate to understand customers' offline behavior.
Paycove — For the sales team looking to
automate invoice and quote generation.
For both large-scale and up-and-coming sales teams to be more efficient with their sales flow. Paycove customers have saved hundreds of collective hours automating invoice and quote generation. With Paycove, you'll be able to save time, money, and cut down on dreaded data double entry.
Hull — For data driven, customer-focused teams.
Hull is one unified customer database to transform, enrich, segment and sync data across all your tools in real-time — including HubSpot contacts and lists. The customer data platform trusted by HubSpot users like Drift, Appcues, Mention, and more.
Taboola — for the marketer interested in driving traffic through content recommendations.
Launch a Taboola campaign straight from the HubSpot blog tool. Follow a campaign wizard and define your campaign title, targeting, and budget.
RightMessage — For the marketer who knows personalization matters.
No two customers are ever the same, so why is your website saying the same thing to everyone? With RightMessage and HubSpot, you can instantly change your content and calls-to-action based on data you have stored on your subscribers, how they're behaving on your site, and where they are in your funnel.
Gtmhub — For the metric-driven manager or team member.
Whether you're working with SMART goals, OKRs, MBOs, or just want measure what matters, many of your metrics live in HubSpot. With Gtmhub you can easily track and visualize any metric, using simple SQL queries or R for more advanced statistical analysis. Metrics tracked in Gtmhub can be linked to goals and OKRs, eliminating the need for manual updates.
Let us know what you think of these integrations. Know of any other technologies you'd love to integrate with your HubSpot account? Email us at connectmarketing@hubspot.com.