This post originally appeared on HubSpot's Marketing Blog. To read more content like this, subscribe to HubSpot's Marketing Blog.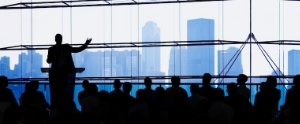 This coming September, marketers of all types, backgrounds, and levels will descend upon Boston for HubSpot's annual INBOUND conference with the hopes of returning home with some new marketing expertise that'll help them grow their businesses and become better at their jobs.
While there will be a lot going on at INBOUND this year, we know many of you are wondering: Who will actually be speaking at INBOUND this year, and what will they be talking about?
I'm thrilled to announce that we've already begun announcing speakers and sessions for this year's conference. Although the agenda isn't completed yet, the sessions on there so far are killer.
We'll continue to add more speakers and sessions over the coming months -- but, in the meantime, we wanted to give you a little sneak peek of the ones we think marketers absolutely shouldn't miss. (So far, at least!)
1) Robert Michael Murray, Former VP Social Media at National Geographic
"The Power of Data, the Importance of Moments, and the Future of Storytelling"
Robert Michael Murray's work in digital communication strategy, social media, and live-event production has earned him both national and international coverage on outlets like BBC, CNN, C-SPAN, The New York Times, and others. As one of the first social media executives for a global media company, National Geographic, he built a global social footprint of over 90 million fans.
Come learn from an expert how data will shape the way we connect with one another, create contextual moments of engagement, and enable us to share the stories of our lives in ways we never even imagined. In his session, Robert will walk through learnings from his time leading National Geographic's social media efforts. He'll also share tips from his new work leveraging the power of data, design, and technology to create experiences that deliver more meaningful and personalized moments.
2) Porter Gale, Former VP Marketing at Virgin America
"The Inside Story: The Hearts and Minds of Unicorns"
Unicorns are companies that are valued at a billion dollars or more, including the likes of Pinterest, Uber, Airbnb, Spotify, and more. In her session, Porter will uncover marketing and cultural insights behind the success of unicorns based on interviews with CEOs, CMOs, and founders. She'll cover topics from product-market fit, to strategic learnings, to marketing recommendations.
Reddit, the platform for communities to share interesting content they've found in other places, has become huge in the past few years. One facet of their success is the hundreds of AMA's (Ask-Me-Anything sessions) they've had with celebrities, politicians, and athletes including Tesla CEO Elon Musk, astrophysicist Neil deGrasse Tyson, President Barack Obama, and an astronaut named Chris Hadfield who was orbiting Earth at the time.
While his session topic hasn't been released yet, I wouldn't miss this one. With his company at the forefront of connecting users with content, as well as the recent launch of Reddit Video, I have no doubt his session will be an interesting one to learn from.
4) Jenifer Kern, VP Marketing at Celerity
"Creative Strategies to Get Your Sales & Leadership Teams Jazzed About Inbound Marketing"
One of the hardest parts of the transition to inbound marketing from a traditional outbound approach is getting your leadership team and sales force to share your vision -- especially if your company has seen success with outbound marketing. And that transition isn't just a strategy change; it's a mindset change that requires a new way of thinking about marketing to your customers -- both inside and outside your organization.
To help you overcome this roadblock, Jenifer will walk through some creative strategies her marketing team at Celerity used to get both the leadership team and the sales force totally bought into inbound, even after they'd seen significant success with outbound.
5) Sonia Simone, Chief Content Officer at Copyblogger
Sonia Simone heads up the content team at Copyblogger, a reputable hub for all things online marketing advice, including topics like SEO, copywriting, email marketing, and keyword research.
She may choose to speak about the elements of a successful piece of content, or perhaps she'll tell the story of why Copyblogger shut down its Facebook Page. Whatever she decides to cover, it's sure to be a can't-miss session.
6) Jeremy Goldman, Founder & CEO of Firebrand Group
"Using Analytics to Create Content"
Analytics provide a lot of value for different parts of your marketing strategy -- especially your content marketing strategy. Many marketers are interested in learning how to use data to inform the types of content they create, how and when they promote it, and so on. How exactly can we leverage our website's analytics to create amazing content?
In his session, Jeremy will teach us the best way to create real-time content as a result of data observations. He'll also cover how to use Google Trends and other tools to predict which types of content to create from this data.
7) Tara Hunt, Director of Audience Development at Totem
"The Essential Power of Market Research"
Think about some of the best marketing campaigns you've ever seen. (Or see our shortlist here.) Many of them were inspired from insights that came from in-depth market research -- into an audience's culture, behaviors, habits, trends, interests, and more.
Marketers talk a lot about the importance of market research. But how cool would it be to learn about case studies that prove it? In her session, Tara will cover several of these case studies showcasing how critical market research is to overall strategy. She'll also reveal some powerful tools and processes she's used that'll help you uncover the kinds of insights that will guide you towards campaigns that work.