To do inbound marketing well, you need to start your journey with the HubSpot marketing software the right way.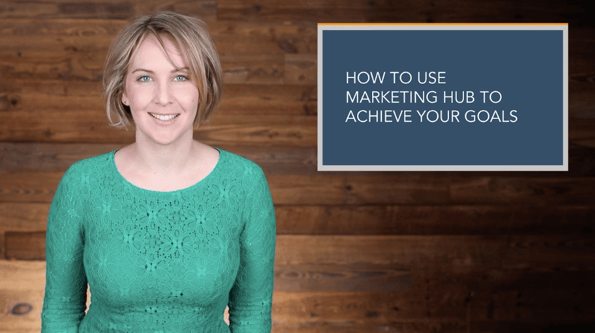 It's a big platform with a lot of tools, and to get the most value out of them, you need a foundation of knowledge and an understanding of how they all work together.
During the past six months, the HubSpot Academy team has been working hard to update the HubSpot Marketing Software Certification.
And, well, it's here.
The HubSpot Marketing Software Certification is one of many HubSpot Academy courses you can use to learn how to be successful with inbound and HubSpot.
And today, this core course is new, full of value, and better than ever.
The Problem With Marketing
Inbound marketing is about creating meaningful, one-to-one relationships that have a positive and lasting impact on people and your business.
How do you do this? You attract prospects and customers to your website through helpful content. Once they arrive, you engage with them using conversational tools like email and chat and by promising continued value. And finally, you delight them by continuing to act as an empathetic advisor and expert. These steps form a single methodology that any marketer can use: attract, engage, delight, and repeat.
The problem is, often in marketing, you're forced to use disconnected tools, which leaves you managing different parts of your marketing in different places. Disconnected tools and channels means it's tough to measure results, and the experience for your visitors and leads often feels disconnected, too.
The good news is, Marketing Hub is the all-in-one software where all your marketing comes together.
This is a huge help for marketers, but there's also an approach to doing marketing in HubSpot that solves this problem — and that's what a marketing campaign aims to do. A campaign is what you use to tie the tools together to help you reach a specific goal. But we're talking about more than the steps to creating a campaign. We're talking about approaching every action you take in Marketing Hub with a campaign mindset: an understanding that to develop great relationships with people, every tool, action, and channel you use must be connected.
A campaign mindset means:
You start with the customer in mind. A campaign is built to attract, engage, and delight — not annoy. It's about taking every interaction into account to generate new, interested leads, and turning them into quality leads and happy customers through relevant, compelling content.
It means you use integrated tools to connect everything. A campaign uses interconnected tools to weave context about a lead into every channel and every tool. The result is a smooth, personalized experience for your customers and better results for marketers and salespeople.
And you can use a campaign for any situation. Whether you're starting with a webinar, a tradeshow, a product launch, or a new list of leads, you can apply the campaign mindset to organize and improve your efforts.
And along the way, it's all about developing lasting relationships with every action you take.
If you're starting your learning journey with the HubSpot Marketing Software Certification, we recommend you complete the Inbound Marketing Certification course first to understand the strategy behind inbound marketing. Then this course will show you how to execute it.
Take the new HubSpot Marketing Software Certification now.
Why Update the HubSpot Marketing Software Certification?
Updating the certification this year allowed us to improve the quality of the education and better align the course with the current marketing product and techniques. This update helps us ensure we're providing a training experience that gives you the necessary education to be successful with inbound marketing and Marketing Hub.
During the past three years the certification has been live, the inbound marketing world has changed and added new ways to communicate with prospects and customers. The HubSpot product has also improved and expanded, and there are new tools to add to your daily routine.
As the world continues to evolve and new technologies help you provide the most value to your prospects and customers, the way your marketing tools connect with your inbound strategy will shift.
This is why, in 2018, the HubSpot Marketing Software Certification course has been given an update.
HubSpot Marketing Software Certification: The 2018 Version
The new HubSpot Marketing Software Certification course covers how to use the HubSpot marketing tools to create and implement a cohesive inbound marketing strategy.
While some of the lesson topics remain the same as the previous version of the course, all of the educational content is brand new, and we've extended the breadth of topics and tools that are included.
The course tests your knowledge of inbound marketing best practices and their ability to apply those practices using HubSpot.
The new HubSpot Marketing Software Certification badge.
Who's the course for?
This course is designed for HubSpot customers who are new to using the marketing software. Maybe you've just signed up, maybe you've just started using your team's Marketing Hub account, or maybe you've been using some of the tools for a while but you want to develop your skills. Either way, this course will take you on a tour of Marketing Hub and demonstrate how to use the tools to create and implement a cohesive inbound marketing strategy.
If you really want to understand and master Marketing Hub, this course is for you.
The HubSpot Marketing Software Certification is a free online marketing course that is open to all HubSpot customers, but to become certified, you must have a HubSpot subscription that includes access to all the tools in this course: this means Marketing Hub Pro and Enterprise only. Depending on what type of HubSpot subscription you have, you'll have different tools available to you. You can find your subscription under Account and Billing in your account.
What's included in the course?
These new lessons will equip you with the fundamental understanding you need to do marketing well using HubSpot. From content strategy to social media, lead nurturing, workflows, and reporting, this certification tests your knowledge of inbound marketing best practices and your ability to apply those practices using the HubSpot marketing tools.
The new course offers 17 lessons made up of four and a half hours of video content, quizzes, practical exercises, and a 75-question final exam.
Lessons: 17
Video time: 4 hours 48 minutes
Practical exercises: 1-2 hours
Exam time: Learners have 3 hours to complete the exam.
The lessons
Understanding Marketing Hub
Exploring the Contacts Database in HubSpot
Using Buyer Personas in HubSpot
Creating a Content Strategy in HubSpot
Creating a Campaign in HubSpot
Understanding Blogging in HubSpot
Understanding the HubSpot CMS
Creating Landing Pages in HubSpot
Creating Calls-to-Action in HubSpot
Creating Forms in HubSpot
Creating Lead Flows in HubSpot
Understanding Social Media in HubSpot
Understanding Workflows in HubSpot
Understanding Segmentation in HubSpot

Understanding Email in HubSpot

Understanding Reporting in Marketing Hub

Launching an Inbound Marketing Campaign in HubSpot [Case Study]
The practical exercises
In the past, the HubSpot Marketing Software Certification has been a results-based certification, asking you to fulfill certain requirements in the final practicum to become certified. This was a great way for you to actually see results using the tools, but it was a lot to ask customers at that early stage in their journey with HubSpot.
We wanted to improve that experience. This course is excellent training for new customers to get started in the tools. So, as we plan more comprehensive levels of training in the future, we can offer this course as that introductory software training.
Now, the practical exercises are designed to help you first understand and use the tools. We're asking you to "create" rather than prove results — focusing on how to create a great first call-to-action instead of immediately proving a 2% click-through rate on it, for example.
Farther down the track, we'll offer more advanced certification courses with strategic consulting to help you prove that you've achieved those results using the platform. These higher-level advanced courses will be for customers who really want to display their mastery using HubSpot.
Ready to Learn?
It's more important than ever to bring all parts of your inbound marketing strategy together to build trust and create a human, helpful, and holistic experience for your audience. This updated course will put you on the path to success with this growth.
This was one of the HubSpot Academy team's most collaborative projects yet — we worked with people all around the company to create this training.
The revamp of this certification course was motivated by the data, research, and direct feedback from certified users. We LOVE to get feedback from you. It helps us improve our education and provide training that helps you grow. So will you do us a favor? Go take the new course and tell us what you think. Send your feedback to academy@hubspot.com or reach out to us on Twitter.
One more thing: Before getting started, invite your colleagues, team members, classmates, or friends to take part in this learning experience with you. Not only for moral support, but because people who learn together grow together.
Good luck, and happy learning.